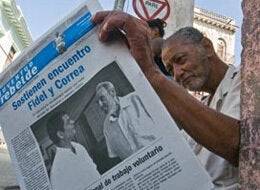 Today I am twice as old as I was in 1993, when I began taking care of myself and decided to leave home. I gave up the protection, the hot food--or rather the joke of food, because it was the worst moment of the Special Period (a time of great hardship in Cuba after the collapse of the Soviet Union and the loss of its subsidies for Cuba)--the minimum financial support that my parents could offer me and the shield they formed between the hardness of the street and my adolescent dreams. Loaded with a bird cage, a pile of books and my only change of clothes I launched myself without a net, looking for that independence which even today I'm obsessed with.
This September 4, I will already have spent half my life being responsible for my actions. In this time I have learned to value autonomy, to distrust the subsidies and all these "gifts" that they constantly throw in the faces of citizens. I enjoyed and suffered from having to answer for what I did and not being able to take refuge in the phrase, "I don't know, ask my mom." After many setbacks, I've come to understand that my true home has the form of an Island and that from this, at least, I don't think of leaving and slamming the door behind me. I already walked out once with my belongings on my back, now--that I am twice as old--I have to stay.
My friend Orlando Luis Pardo Lazo created this video as a birthday present to me, and I invite you to watch it.
Related
Popular in the Community