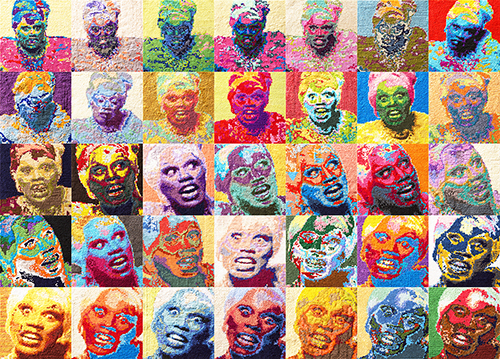 Photo: Aubrey Longley-Cook
Legendary drag queen RuPaul has inspired many men to don outlandish wigs, glittery dresses and towering heels to step up their lady game. For Atlanta artist Aubrey Longley-Cook, the diva provided inspiration of a different sort. Longley-Cook created the RuPaul Cross-Stitch Animation Workshop, a community art project in which 35 people, including me, spent months embroidering portraits of the performer, altogether contributing nearly half a million stitches.
"I am an artist using drag queens as muses," said Longley-Cook, a tall, bearded 28-year-old with a disarming manner. "Ru is more than a muse. She's a role model and a mother in many ways for the drag community. She is deserving of a portrait of this scale."
Images for the portraits were taken from "Supermodel (You Better Work)," RuPaul's 1992 music video which put drag culture on the mainstream playlist. The RuPaul Animation Cross-Stitch project repackages some of the good energy expressed in "Supermodel," the exuberance that made the supermodel twirl in the middle of a city street.
As the centerpiece of the RuPaul project, Longley-Cook made a looping animation video uniting the 35 portraits. "The animation is crazy. It has a kaleidoscopic effect," he said. The video and portraits premiere on Saturday in an opening at Erikson Clock performing arts venue that will almost certainly be one of the hottest parties in Atlanta this holiday season.
Throughout the month of January the video will bring a carousel of color and gay culture awareness to the heart of downtown Atlanta. Business people heading home at dusk may see the glowing animation on six large-scale screens at The Window Project, a storefront public art space that is part of the Digital Arts Entertainment Laboratory of Georgia State University. As if it were the law of karma, the former Atlanta go-go boy who was probably shunned by corporate types now is coming home in their face in psychedelic hues. RuPaul launched his career in Atlanta and galvanized the city's underground gay culture.
Later the brief animation (four seconds) will travel to New York to be part of the group show "Queer Threads: Crafting Identity and Community" at the Leslie-Lohman Museum of Gay and Lesbian Art (January 17 - March 16).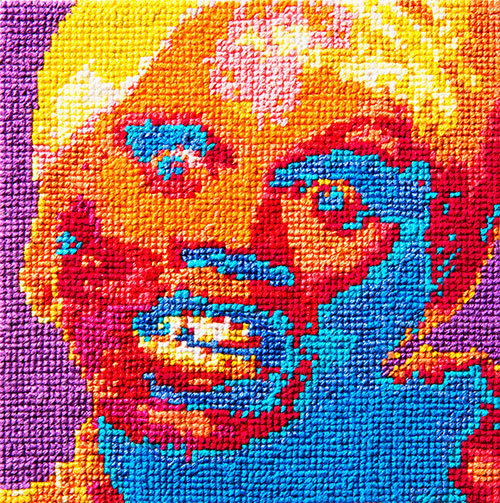 Cross-stitch by Jane Garver, 5.5 x 5.5 inches. Photo: Aubrey Longley-Cook
The works are part of Longley-Cook's solo show "Serving Face" (December 14 - January 4) in the Castleberry Hill Art District, a historic neighborhood known for its warehouse lofts, restaurants and cutting-edge galleries. "Serving Face" (drag slang for striking an intense pose) is billed as an exploration of the local drag scene. Co-sponsored by prominent Barbara Archer Gallery, the exhibition will include embroideries inspired by the Village Queens, a collective of artists who perform together. A nine-frame embroidered animation of Lavonia Elberton will be on view, as well as needlepoints of Cayenne Rouge, Xee Xee Bow Dong, Brigitte Bidet and Ella/saurus/Rex, all in dialogue with the RuPaul works. At the opening gala, the Village Queens will give special performances incorporating fiber materials into their looks and acts.
"The group I've chosen to document does work that's avant-garde," Longley-Cook explained. "What I was drawn to in them was the ability to incorporate their drag practices into a greater creative discipline, whether that is dance, poetry or performance art."
When I came across the call for participating artists in the RuPaul Cross-Stitch Animation Workshop, I signed up in a spontaneous act of adventure. I wanted to learn how to cross-stitch, to participate in a creative collaboration and to know more about my fellow queers in the drag queen subculture.
Our first meeting took place on a cold February night at WonderRoot, a non-profit arts center in a clapboard bungalow. Longley-Cook assigned each of us a template requiring 12,800 stitches, an undertaking on a scale that few of us had anticipated. It was my first attempt at cross-stitch. Selecting my own color palette was another scary proposition when I had no idea how the 11 colors form RuPaul's face. It was comforting to munch on homemade cupcakes, sing Fleetwood Mac songs and trade stories as we stitched.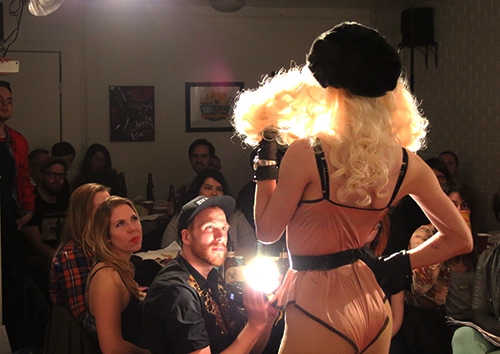 Violet Chachki performs at the workshop as Longley-Cook shines a flashlight. Photo: Mike Stasny

Over the course of four sessions, I became totally enchanted with drag queens, mesmerized by their seductive allure. Members of the Village Queens and others gave private performances at the workshop, whisking me away into an alternative realm filled with fluttery eyelashes, heaving bosoms and energizing music. There is a magic in men transformed into beautiful women, and the workshop cracked open this world for me, making it up close and personal. Raised a Southern debutante, I now love attending shows at Mary's, a dive bar where queens lip-synch their hearts out in an intimate space. Xee Xee Bow Dong and Cayenne Rouge, two of the queens who performed at the workshop, have embraced me with warm hugs after spotting me at drag events.
I wish I'd been on the scene in 1983 when RuPaul sang with his new wave band Wee Wee Pole. But moving forward with no regrets, I appreciate the young queens who carry on his legacy -- their creativity and talent, their individuality and their humanity.
Other participating artists in the RuPaul Cross-Stitch Animation Workshop include Ashley Anderson, Paul Bazen, Kimberly Binns, Jess Bernhart, Katherine Bernhart Rachel Burnstein, Clay Butterworth, Shay Buckley, Kaitlin Commiskey, Olisa Corcoran, Lauren Cunningham, Jared Dawson, Kate Doubler, Sarah Durning, Jane Garver, Maggie Ginestra, Brooke Hatfield , Tricia Hersey-Patrick, Andre Keichian, Taryn Kelly, Christina León, Adrienne Lowe, Romy Aura Maloon , Lauren McDonald, Amy Salley, Steve Sauer, Chris Seely, Nathan Sharratt, Nathaniel Smith, Christa Tinsley Spaht, Hester Starnes, Mike Stasny, Drew Watts and Elizabeth Yates.
Check out some of their dazzling portraits in the slide show below:
PHOTO GALLERY
RuPaul Cross-Stitch Animation Project: Selected Portraits
REAL LIFE. REAL NEWS. REAL VOICES.
Help us tell more of the stories that matter from voices that too often remain unheard.