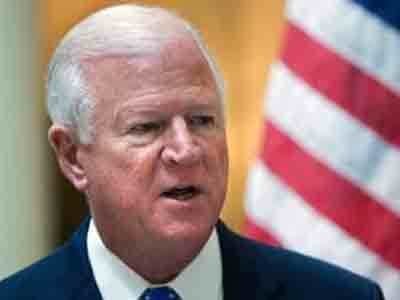 It's not easy to get 35 Republican senators to vote against defense spending -- unless hate crimes legislation is involved.
The Senate narrowly invoked cloture on Thursday, 64 to 35, on the defense authorization package with the bill named for Matthew Shepard attached. The bill, named for a gay Wyoming teenager who was kidnapped and beaten to death in 1998, makes it a federal crime to assault someone on the basis of their sexual orientation or gender identity.
Senate Republicans conceded that the Shepard bill swung their votes against the defense package. "The bill includes hate crimes legislation, which I firmly believe is unnecessary, irresponsible, and certainly not germane to this bill," Saxby Chambliss of Georgia said. "There is little evidence that indicates that violent crimes motivated by hate go unpunished in the United States. Every single state has criminal laws that prohibit the antisocial behavior addressed by hate crimes legislation, including laws against rape, assault and battery."
Those are states' rights issues, said Chambliss. "I do not believe the federal government should interfere with the criminal laws already on the books in our states," he said.
John McCain decried the inclusion of the hate crimes provision as an "abuse of the Senate process," arguing that it was not germane to the broader defense authorization bill. But Sen. Carl Levin (D-Mich.) noted that this was nothing new -- the Senate has included hate crimes provisions in previous defense bills.
Only Sens. Dick Lugar of Indiana, George Voinovich of Ohio and Olympia Snowe and Susan Collins of Maine voted with Democrats to move the legislation to a final vote, which is expected Thursday night or Friday.
"I'm disappointed that Senate Republicans have decided that defeating hate crimes legislation takes precedent over supporting our troops," Senate Majority Leader Harry Reid said in a statement. "It is outrageous and unacceptable that Senate Republicans would vote against pay raises for our troops, battlefield equipment upgrades and increased funding for veterans' health care as we continue to fight two wars. And they decided to do this all for the sake of stopping passage of landmark legislation that will bring justice to those who commit violent crimes based on bigotry and prejudice. What message does that send to our country and, more importantly, to our troops?"
Thirty Republicans also touched a nerve in a separate defense bill recently, when they voted against an amendment that would deny defense contracts to companies that ask employees, including rape victims, to sign away the right to sue. That time, they were actually joined in some of their concerns by the Department of Defense.
A final Senate vote on the defense bill is slated for Thursday night or Friday morning. It passed the House two weeks ago, 281 to 146, so it would proceed from there to the White House. President Obama has promised to sign the Shepard bill, a reversal from the policy of the Bush administration.
Calling all HuffPost superfans!
Sign up for membership to become a founding member and help shape HuffPost's next chapter