Few days of the year are as important to us as a friend or loved one's birthday. Whether we want to admit it or not, we expect a certain level of special treatment on our birthday and we also expect happy birthday wishes from those who are important in our lives. When your friends, family, spouse, boyfriend, girlfriend or other important people in your life have a birthday, we usually send them a birthday message greeting them and wishing them well. However, we often don't give the birthday wishes careful thought. And on a day that is so important and personal to so many people, why not take the time to craft a clever, heartfelt, romantic or funny birthday wish that can help make their special day a bit more special?
However, it can sometimes be a bit difficult to come up with the right birthday message or to know what to write in a birthday card. But don't worry, because we've got you covered. We have chosen for you the 35 best birthday wishes, quotes and messages perfect for any occasion. And not only that, but these birthday quotes are all on funny, touching or romantic images, because a picture can help say so much more.
This collection contains birthday greetings for anyone you know who is having a birthday including birthday wishes for a friend, co-worker, husband, wife, son, daughter, sibling, boyfriend, girlfriend and more. We even have some belated birthday wishes, because we all have moments of forgetfulness!
Feel free to share these with those you love and care about and enjoy the celebration of life. Happy birthday to us all!
This sections includes birthday wishes for friends, coworkers and general greetings for acquaintances. It also includes a few birthday wishes for best friends.
I hope today is as special as you are. Happy birthday!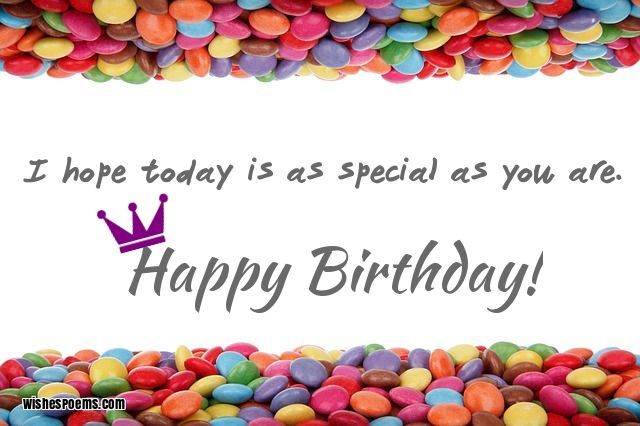 Don't ever change! Stay as amazing as you are, my friend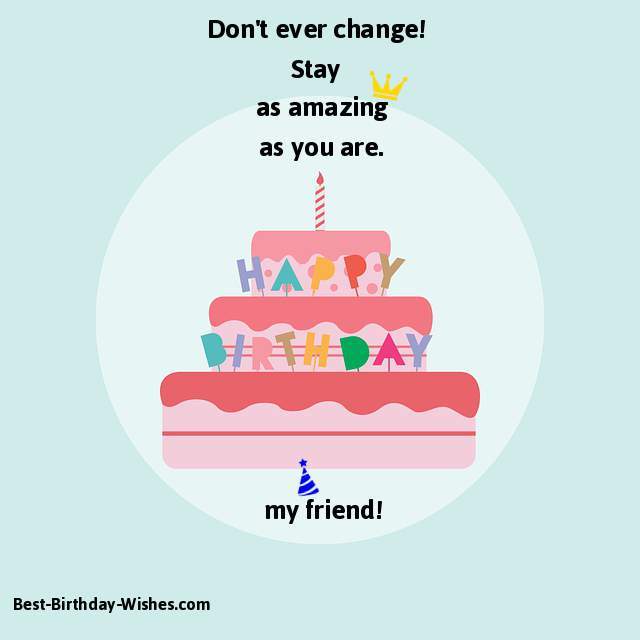 Here's to the sweetest and loveliest person I know. Happy birthday!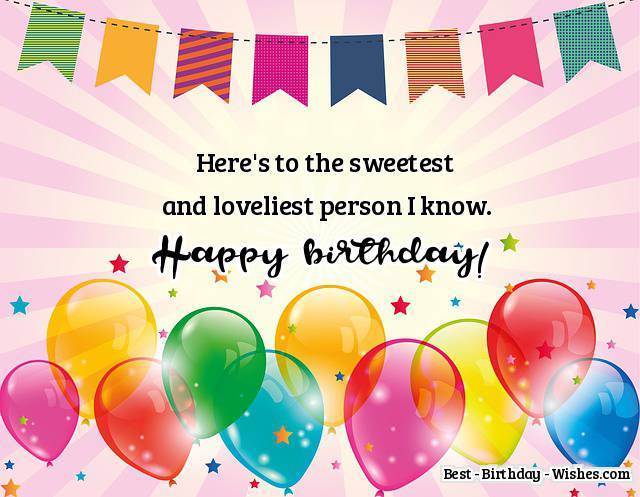 Happy birthday to my best friend, the one I care about the most!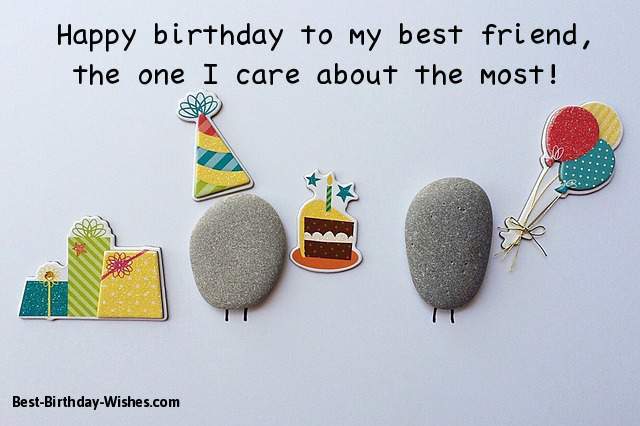 Happy birthday! Here's to a bright, healthy and exciting future!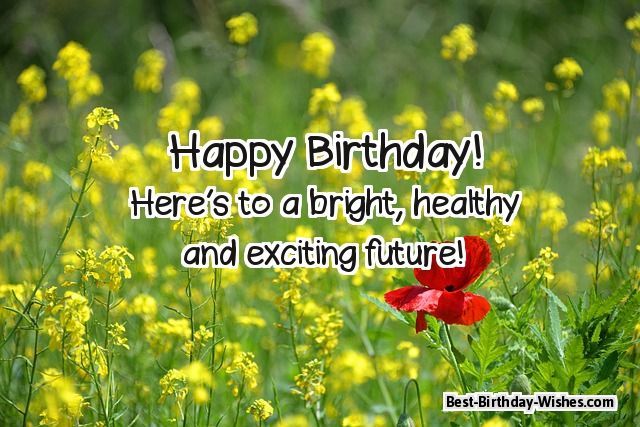 I gt a feeling that you'll look really good when you get older. So don't feel bad about how you look now. Happy birthday my friend!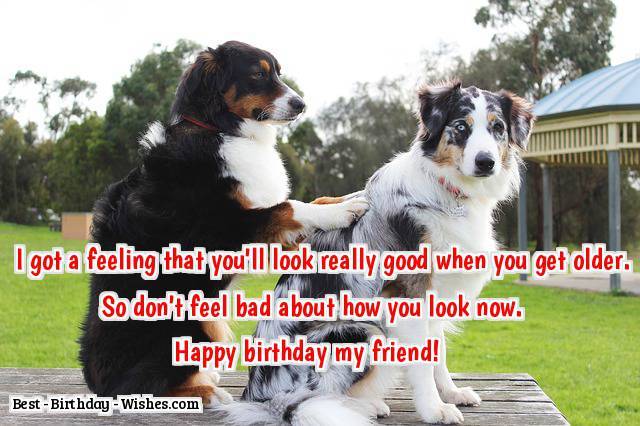 You know all about me, I know all about you. We're best friends, yada yada yada. Since we can read each other's minds I don't need a creative message.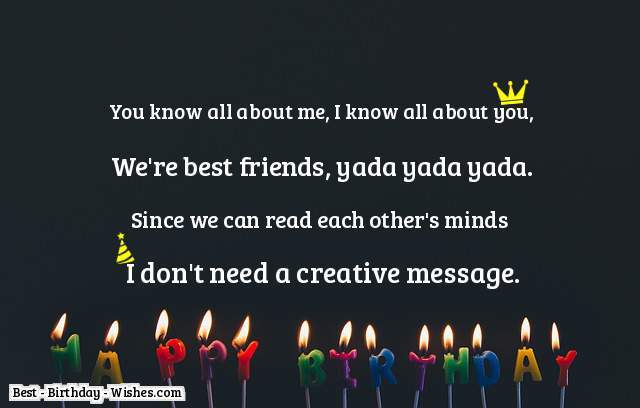 Hope your birthday is as wonderful and extraordinary as you are.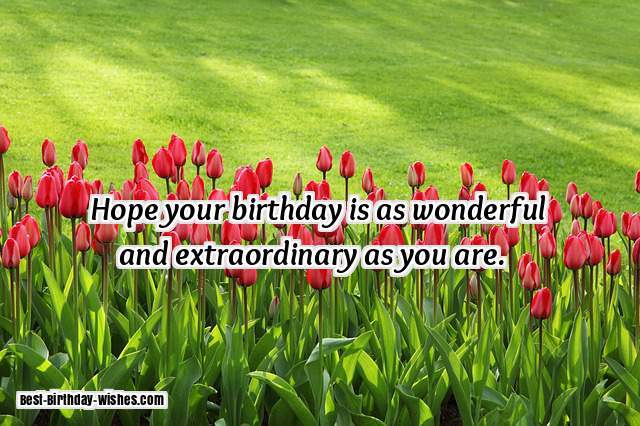 Are you looking for the perfect way to say "happy birthday sister"? This collection of happy birthday wishes for sisters will help you to choose just the right message for your sister.
Donald Trump called and said he wants his hair back. Happy birthday to my tolerant and forgiving sister! (certainly one of the most timely funny birthday wishes for sisters)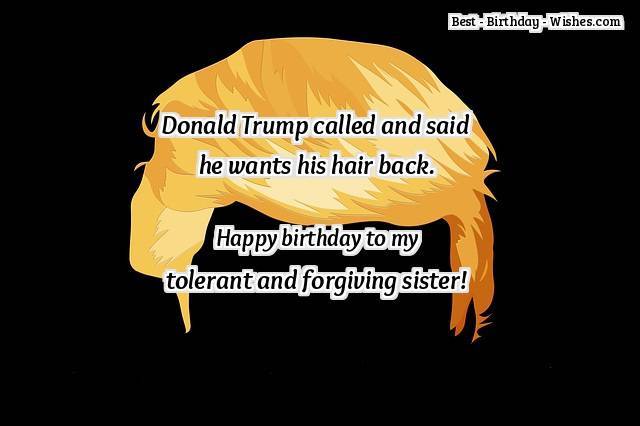 A birthday wish for elder sisters: Behind every great sibling is an extraordinary big sister. Cheers to my wonderful sister. Happy birthday!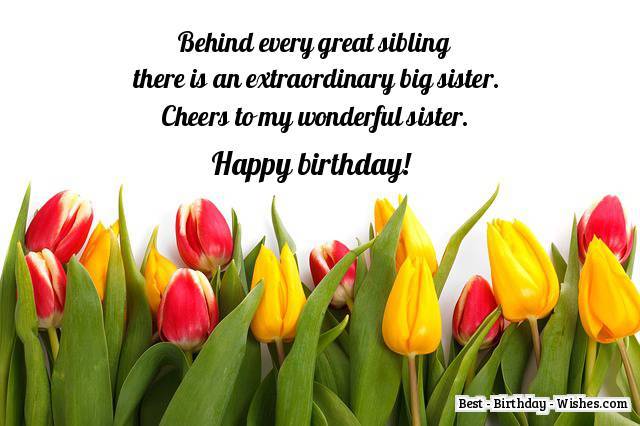 A birthday wish for younger sisters: You are incredible in every way. Keep on shining and smiling. Happy birthday my little sister!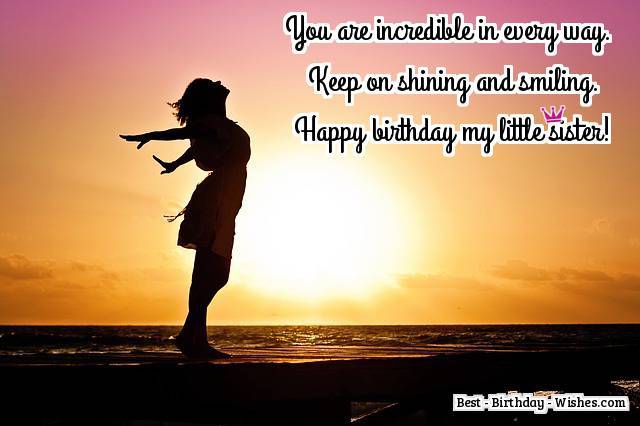 These birthday wishes for brothers will help you to make his day extra special. We hope these help you find the perfect way to say "happy birthday brother!"
I appreciate all the things you do for me. Having a brother like you makes me feel so lucky.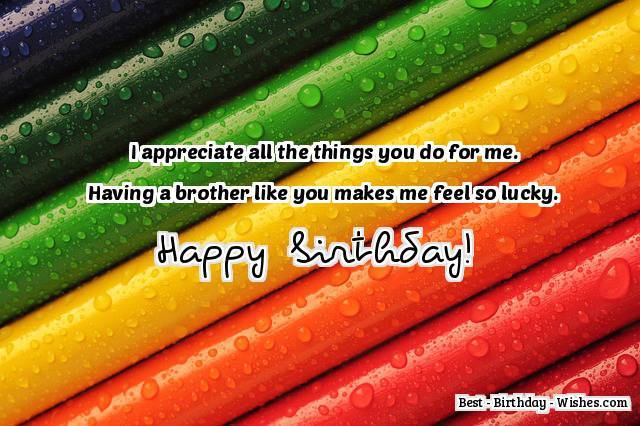 Happy birthday to the second favorite child. - From the first favorite child. (one of the most classic funny birthday wishes for brothers)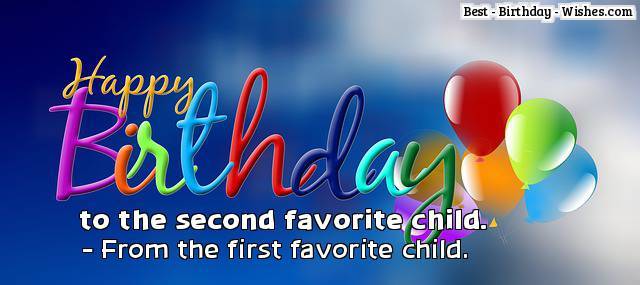 A birthday wish for younger brothers: Thank you for putting up with me. I might be older than you but you are wiser in so many ways my brother.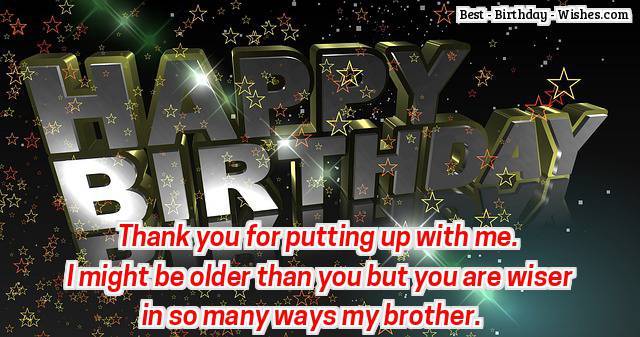 Show your daughter how much you care with one of these heartfelt birthday wishes for a daughter. Send her a message much more touching than a simple "happy birthday daughter".
May your day be as bright as your smile and as lovely as you. Happy birthday my daughter!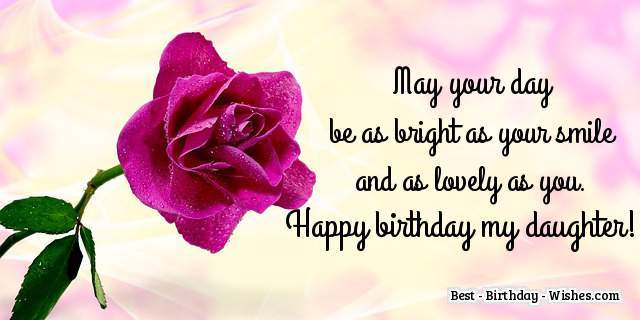 A birthday wish for daughters from mom: When you came into this world I fell in love. You are always loved sweetheart. Happy birthday!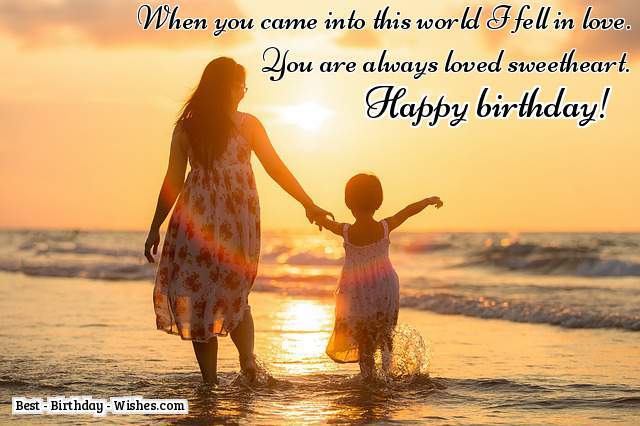 A birthday wish for daughters from dad: Roses are red, violets are blue, I am one proud happy papa, to have a daughter like you!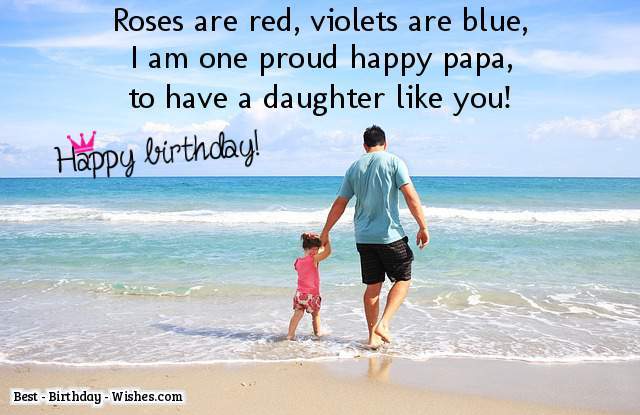 "My daughter is my passion and my life." - Tamara Mellon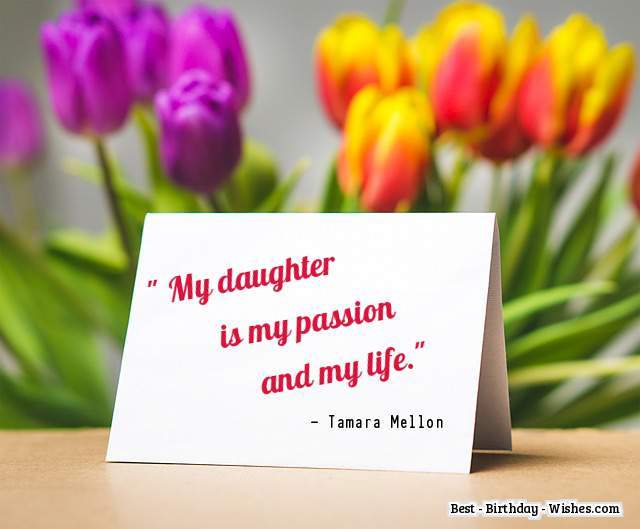 What is more precious than your child? And what is more important than their birthday? This section will help you find the most touching birthday wishes for a son.
Happy birthday my precious son! You are loved, today, tomorrow and always.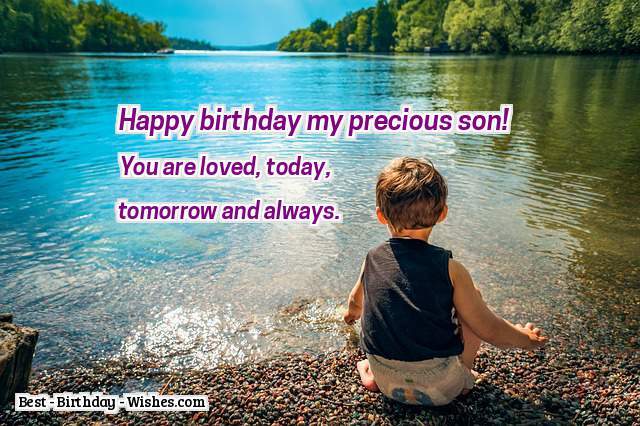 A birthday wish for sons from father: You are my pride and joy, a man after my own heart. Happy birthday my son!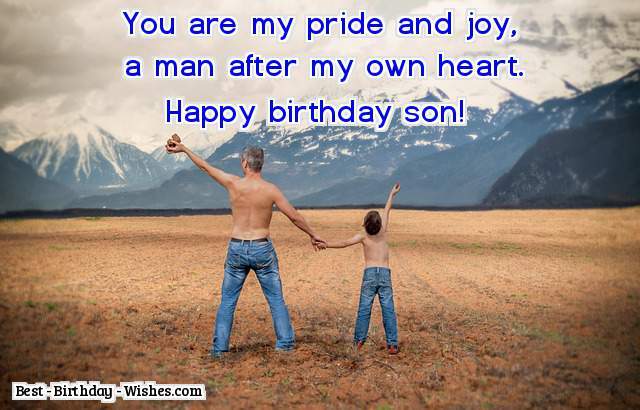 A birthday wish for sons from mother: You will always be my sunshine my little angel. Your mother loves you so much! Happy birthday son!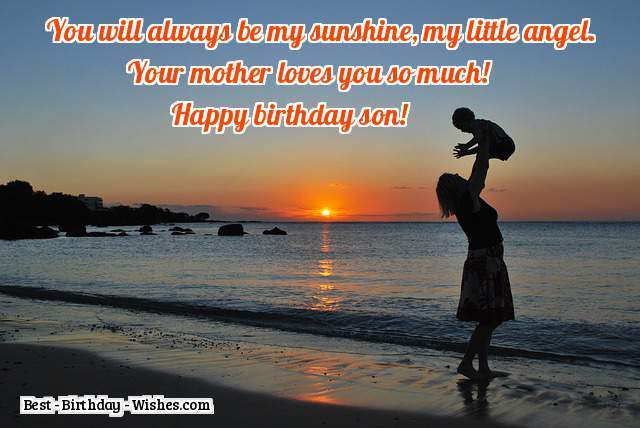 "Son, you outgrew my lap, but never my heart."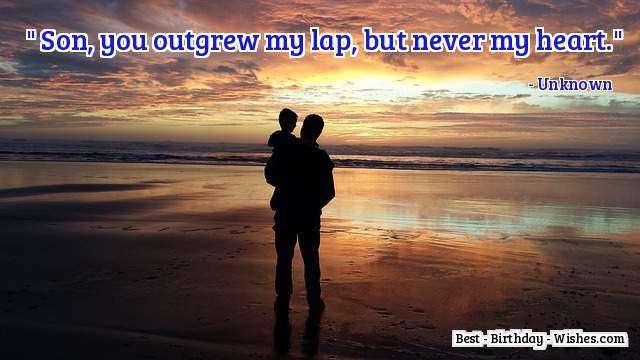 Rule number one for a happy marriage: never ever miss your wife's birthday. So on her special day send her one of these funny or romantic birthday wishes for wife.
"Happy is the man who finds a true friend, and far happier is he who finds that true friend in his wife." - Franz Schubert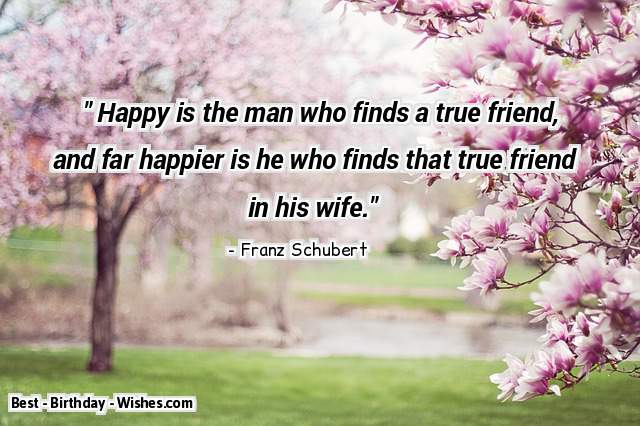 Roses are red, violets are blue, since it's your birthday, I'm happy to do the dishes for you.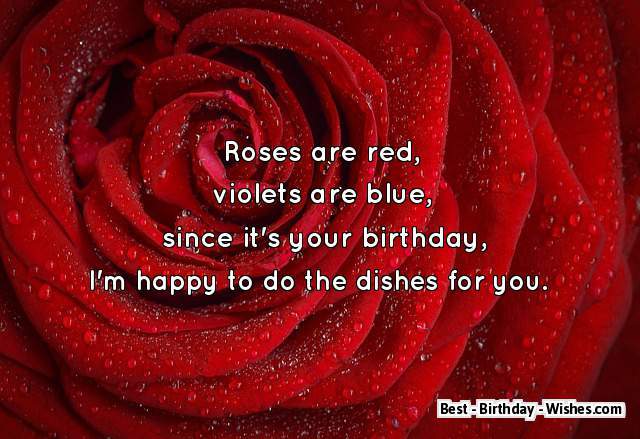 Happy birthday to my one and only love! I am a rich man because I have you as my wife.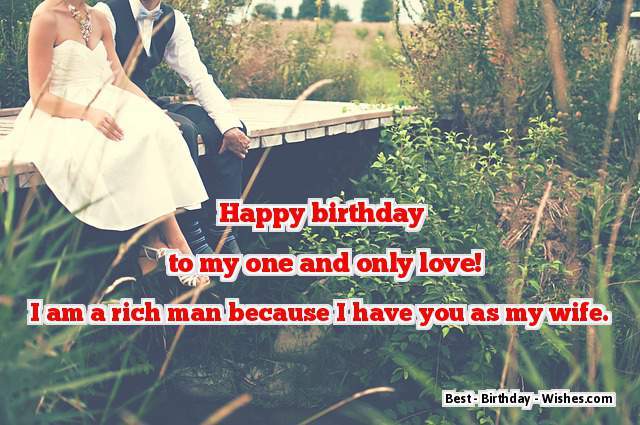 Remind him of how important he is and how much you love and care for him with these happy birthday wishes for husbands.
When you're married to the best man in the world, there's nothing more in life that you could ask for. Happy birthday my husband! (one of the most romantic birthday wishes for husbands)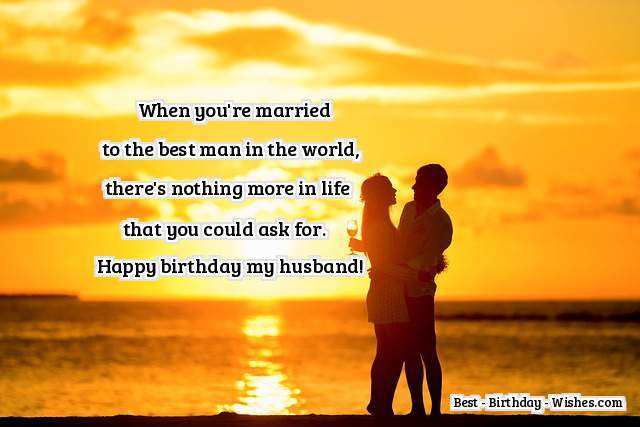 We don't need a cake for your birthday, I'll just put a candle on your head because like a cake, you are yummy, scrumptious, sweet, special, heavenly and irresistible.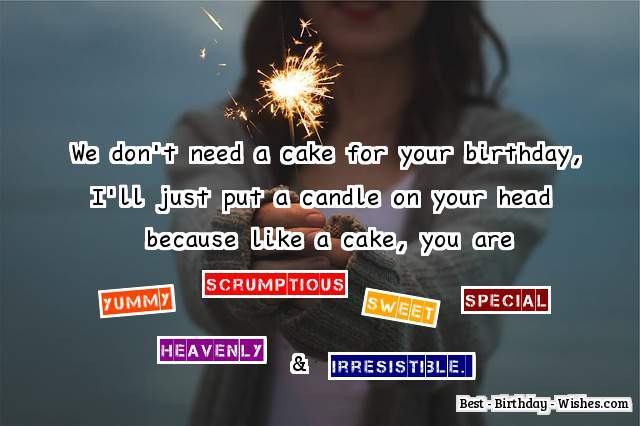 "In all the world, there is no heart for me like yours. In all the world, there is no love for you like mine." - Maya Angelou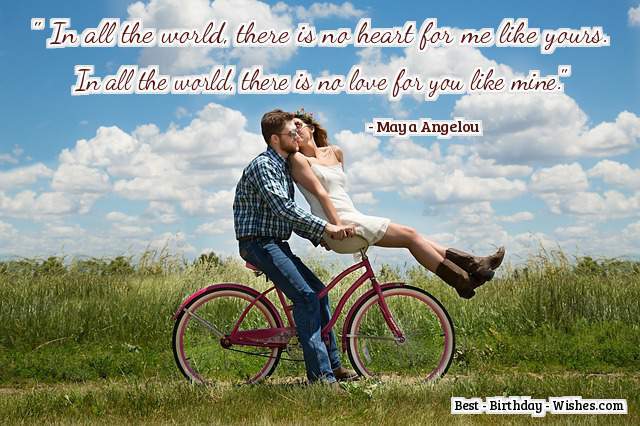 Don't forget your girlfriend on her birthday! Choose from our funny or romantic birthday wishes for girlfriends and help make her day extra special.
May your birthday be as nice as your butt and as incredible as your brain. Happy birthday baby!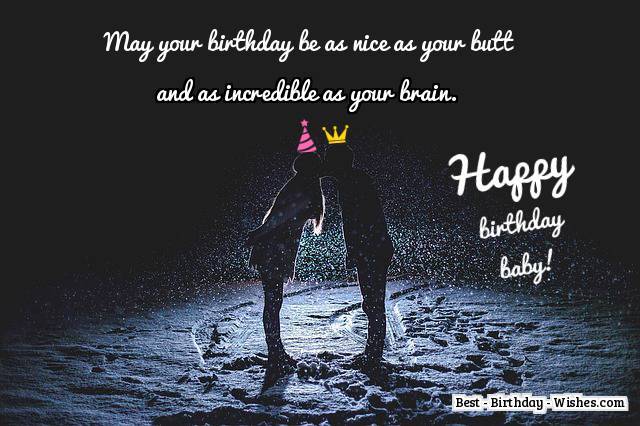 Being with you is heaven on Earth. Happy birthday babe, I love you!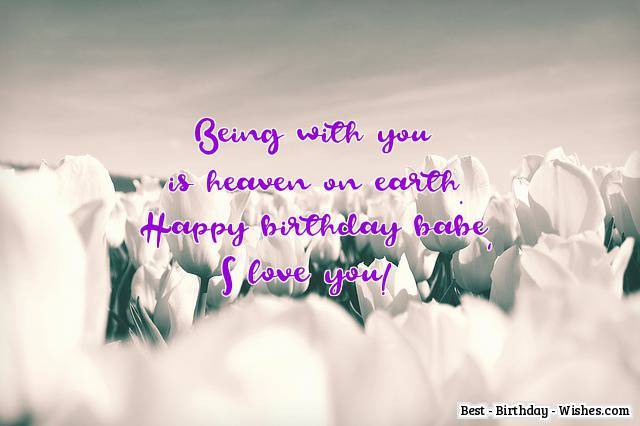 Let your boyfriend know you are thinking about him and show him how much you care with one of these birthday messages.
Romantic birthday wishes for boyfriend: My heart and eyes only belong to you, my love. Happy birthday!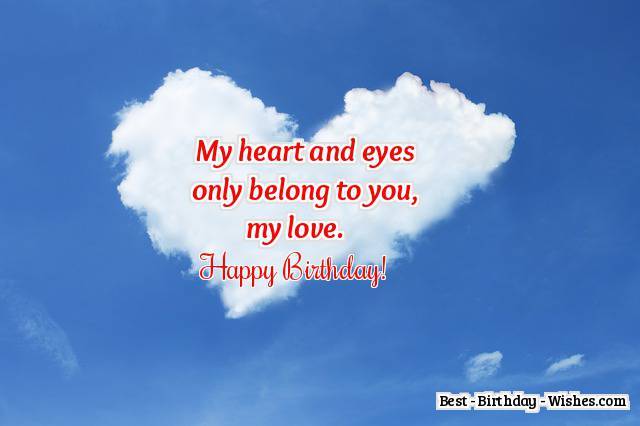 Funny birthday wishes for boyfriend: We are a perfect combination. I am smart, gorgeous, funny, sexy and a one-of-a-kind girlfriend and you... are YOU!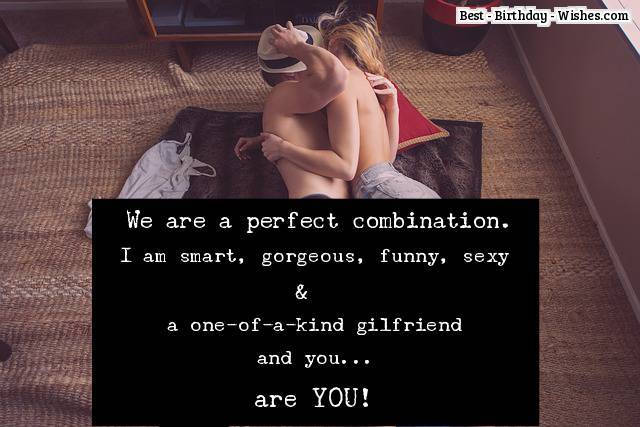 We are all forgetful from time to time, but as the saying goes, better late than never. So, send them one of these happy belated birthday wishes and make up for being a bit behind.
Sorry! I had a brain far, I'm chronically challenged, I am a slow turtle, I'm doggone late, and I need memory pills so badly. Forgive me for missing your birthday.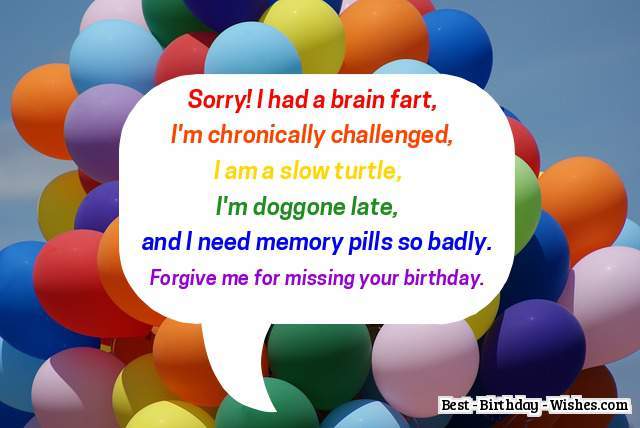 I feel terrible for being late to wish you a happy birthday...forgive me...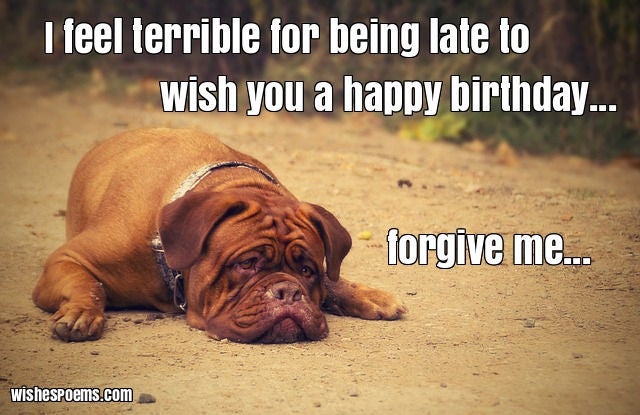 Please forgive me for the delayed wishes. Hope your day was nothing but extraordinary. Happy late birthday my friend!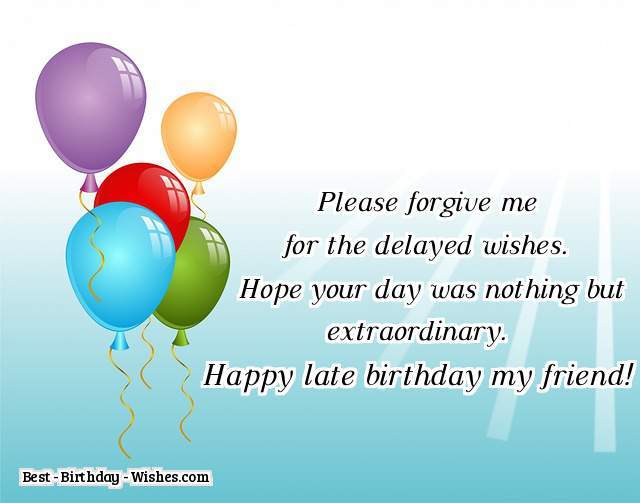 We hope you have enjoyed these happy birthday quotes, wishes, and images. Visit Best Birthday Wishes for more ways to say happy birthday. And a special thanks to wishespoems.com for sharing some of their happy birthday wishes.
Related
Popular in the Community