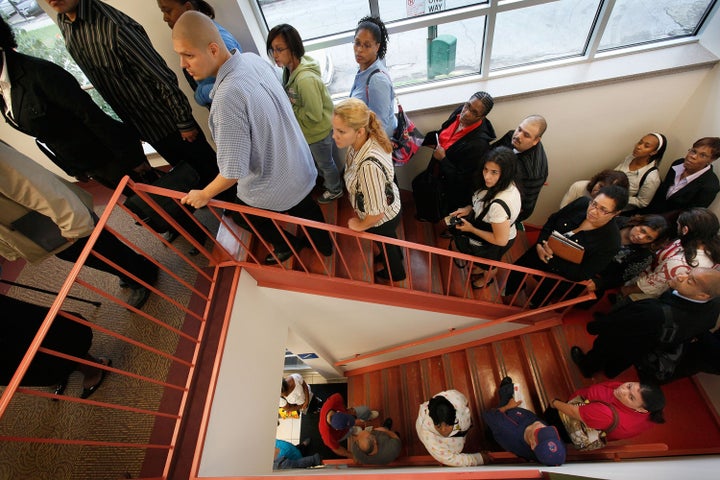 As many as 35 million Americans might experience joblessness at some point this year, according to a new report from the Economic Policy Institute.
Labor Department data show that in 2008 (the most recent year for which this info is available), 21.2 million people were out of work at one point or another, while the average monthly total number of unemployed was 8.9 million. So far this year the average monthly total has been closer to 15 million, which, by 2008's monthly-average-to-yearly-total ratio, would amount to 35 million people getting a taste of the layoff life in 2010.
Despite the huge number of people out of work, Congress has had more luck reforming a recalcitrant financial industry with today's passage of a Wall Street reform package than reauthorizing extended unemployment benefits, which lapsed at the end of May. At that time, EPI notes that 10.2 million people were receiving unemployment benefits -- and more than half of them were receiving the federally-funded benefits that lapsed.
So far, more than 2.1 million people who've been jobless for longer than six months have missed checks because of the lapse, a number that climbs by several hundred thousand every week as people finish up their 26 weeks of state benefits or current "tier" of federal benefits and then find themselves ineligible for the next level up.
Senate Majority Leader Harry Reid (D-Nev.) has said Senate Democrats will try again to break the Republican filibuster on Tuesday, after a replacement for the late Sen. Robert Byrd (D-W.Va.) has been sworn in. If the bill is approved, people who missed checks will get all of the money they missed during the lapse.
EPI estimates that the extra jobless aid first put in place as part of President Obama's stimulus 2009 bill has been "responsible for over 1.2 million full-time equivalent positions" and that the $152.1 billion spent on the benefits raised gross domestic product by $244.8 billion, a 1.7 percent boost.
REAL LIFE. REAL NEWS. REAL VOICES.
Help us tell more of the stories that matter from voices that too often remain unheard.