On January 12th, 2010 the world's eyes were fixed upon Port-au-Prince, Haiti. In the aftermath of the 7.0 earthquake came a roar of outside support; Haiti cried and the world listened... albeit briefly.
Many activists and aid workers worried that the relief efforts would subside when the related news cycle ran the end of its course. Sadly, their worries were not unfounded, and in many ways their worries can be an indictment of our media driven culture as a whole and not just as it relates to this one earthquake and the relief response. Our most-used media is becoming more and more socially driven, in part this opens the playing field and encourages democracy, but it comes at the cost of homogenizing the news into a series of google and twitter driven call and respond "trending topics." Humanitarian aide and it's media support can't be reduced to an allotted news trend cycle, physical aid and it's supporting media needs to be a sustainable lasting effort that does not blink until all of the needed work is done. The immediacy and accessibility of new social media may have allowed Wyclef Jean to almost instantly raise $9 million through his Yele Haiti Foundation, but as the tide of media coverage ebbed so did some of the support to Haiti from governments and NGOs. What we see now, nine months later, is a smaller group engaged in the relief efforts; only the idealists, the determined, and the fiscally invested have buckled downed for the long haul in Haiti. A mere 2% of the devastation has been cleaned up since the quake, and none of the 1.1 billion dollars pledged by the U.S. government to be used towards rebuilding has actually made it to Haiti, unfortunately the problems on the ground did not go away with the news cycle.
On January 12th, film maker Dustin Miller was sitting at home behind his computer when the social networks lit up with hyperactive, truncated snippets of news about what was unfolding in Haiti. As half of a two-person film production company called Flesh Profits Nothing Dustin steps outside the confines of 140 characters and shortened hyperlinks to place emphasis on the personal side of stories, to lend an eye to color saturation, storyboard, frame and lens. Unlike that of the micro-blogisphere the media that Dustin works with is less immediate, far more deliberate, and cultivates lasting memories. With clients ranging from Dane Reynolds, Mikey DeTemple, Kelly Slater, the Hobgood brothers and the association of World Professional Surfers to more socially conscious and weighted content in "The Heart Screened T-Shirt" a film about a family who adopted three sisters from Liberia, and regular video content work for To Write Love on Her Arms a grassroots network of peer-based support for survivors of self injury, abuse, and addiction, Dustin Miller and Eric Hires (the other half of Flesh Profits Nothing) are both artists as well as story tellers, painting visual stories about real life people in surreal circumstances. Motivated by faith and a passion for life and justice Dustin and Eric aim to capture some of their more complicated subjects in an aesthetic that people will be moved by and also easily understand. When the news of what was happening in Haiti came across Dustin's computer screen he knew immediately that he had to do something and that his art would be a part of it. In less than three weeks Dustin, Eric, and their friend, mixed media artist Nathan B. Lewis would find themselves in Port-au-Prince and Petit Goave, Haiti with cameras in hand, their aim would be to show the faces, spirits, and very personal stories of the people buried beneath the headlines. Beneath the over-arching news segments were people of spirit whose personal lives were uprooted like quake-shook telephone poles, or whose loved ones were crushed or became memories like the imprints left behind in the place of so much of Port-au-Prince's lost architecture.
"When the earthquake hit, like everyone else, I wanted to do something. Instantly, I think of telling stories. That's all I could think about. So, a couple weeks later, we were there...Their words and the look in their eyes... I will never forget any of them. Everywhere we looked were stories, most tragic and some beautiful." - Dustin Miller, Flesh Profits Nothing
From the reels shot during the weeks that Dustin, Eric and Nathan spent on the ground in Port-au-Prince and Petit Goave, Haiti comes "35 Seconds," a 13 minute collection of visually-loaded short stories from the lives of nine people who were knocked down, buried alive, mourning the loss of family, and one celebrating the recovery of her daughter. Shot entirely in Creole with English subtitles "35 Seconds," "tells the story of a mother who held on to her daughter so tightly that she tore her clothes, an uncle who returned home to find his nephew dead, a man who saw "buildings dancing" and then fall flat, and a woman who was trapped for two days with five of her friends and was the only one to make it out alive. It tells the story of a young man who lost his penis, a mother who did not put her baby down for a nap that afternoon, and a little girl trapped under her house for four days."
"There is no structure... anywhere. I say that meaning with government, help, and actual buildings. Tarps are starting riots. To be honest, I'm not sure where to start... They need help." - Dustin Miller, Flesh Profits Nothing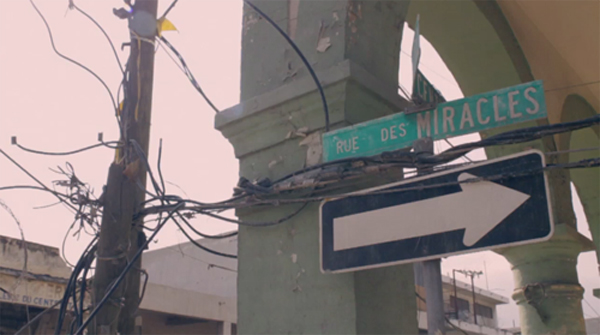 In "35 Seconds" the story of the nine Haitians impacted by the 35-second-long quake that forever scarred their lives is paralleled with an analogy of rebirth and renewal after hardship. With "35 Seconds" closing story set at Rue Des Miracles (The Road Of Miracles) a family recalls waiting four days to uncover the body of their daughter from underneath the rubble of their house, they had already prepared a casket and a change of clothes for her funeral, when they hear a scream. The family who had been preparing for a funeral immediately felt a renewed joy.
When buildings toppled and lives were buried, broken and lost it was a dire tragedy that impacted the people of Haiti in the most direct way. It also was a tragedy that struck at the hearts of people around the world who watched from afar and suffered inside. However, out of that darkness shone a light of renewed volunteerism, selfless action, solidarity, and love. It is this love that we need to expand upon, it is this rebirth that we need to cultivate like a garden after a winter's thaw, and in solidarity we must start asking serious questions about third world debt like that which is imposed upon Haiti. We must petition our own government to forgive Haiti's debt so that they can rebuild, sustain, and seek their own self-determination.
"35 Seconds" is both a story and an invitation to become part of the renewal. As I write this Dustin, Eric and Nathan are planning their anxious return to Haiti; this time they will focus on supporting Haitian mango farmers and the surrounding communities they sustain. Most of us reading this whether it's on our laptops, iPhones, in our offices, or via social media websites have some degree of privilege, we can easily re-direct that privilege to the people who still are in need in Haiti. Below is a list of organizations and people just like Dustin, Eric, and Nathan who have taken their privilege and used it to better the lives of those affected by the earthquake, I invite you to do the same.
These groups make up a fraction of the amazing efforts on the ground in Haiti, please share these links with others, and please get involved!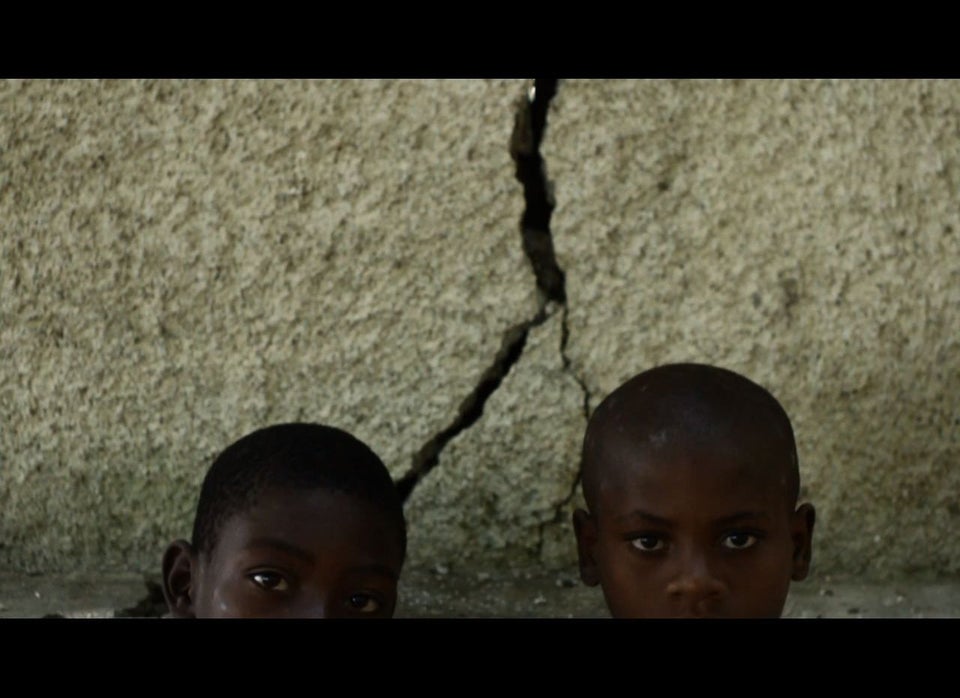 Frame-Grabs From 35 Seconds - Short Stories From Haiti
Popular in the Community