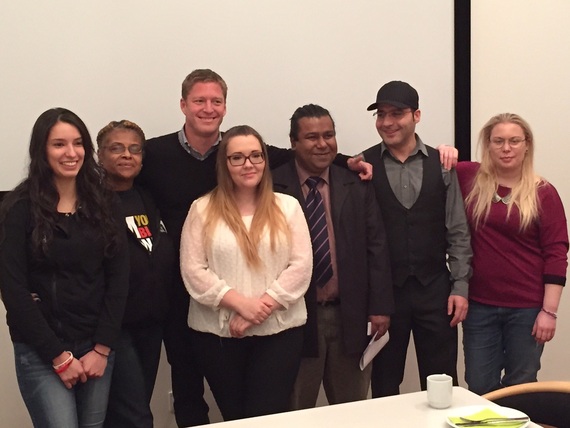 Adriana Alvarez (left) with fastfood and underpaid workers from the US (left) and Nordic countries (right) earlier this year in Copenhagen
This month people like Adriana Alvarez will come to Oak Brook, Ill. for the annual McDonald's shareholders' meeting. As McDonald's pats itself on the back for its highest-ever stock price, Adriana and hundreds of other McDonald's workers will protest and call for $15 and union rights.
Adriana is someone to watch. Earlier this year she met with other fast food workers in Denmark. There she said: "I really fear for Christmas because I can't afford the toys my son wants and I know he will be disappointed."
In Denmark she shed light on the reality of everyday life for the millions of low-wage fast food, homecare, childcare, airport, adjunct, retail, and other underpaid workers across the United States and the world.
While others are eating, drinking, and celebrating with their families, millions more, like Adriana, are dreading Christmas morning in basement apartments, public housing, a relative's extra room or couch, and for some, homeless shelters.
In Denmark and the other Nordic countries that Adriana and her coworkers recently visited, most fast food workers do not fear for the holidays. They at least have the basics of a decent life: instead of minimum wage, they benefit from national bargaining agreements that allow them to earn more than $17 per hour (US) and enjoy fully paid healthcare, pensions, sick days, personal days, and up to 30 paid vacation days per year.
And the cost of a Big Mac? Contrary to assertions by McDonald's and other companies that say they can't afford living wages and benefits that a union contract would bring, the price difference between a Big Mac in the US and a Big Mac in the Nordic countries is only 40 cents.
Adriana is a true leader in the Fight for $15. Without her bravery and sacrifice, the presidential candidates would not be weighing in on the federal minimum wage. Her courage, and that of many people around her is essential to winning $15 and a union at the nation's largest fast food chains, and it reminds me of an effort by workers in the Midwest more than 30 years ago.
In 1980, US Steel and GM were still major employers in the country, but McDonald's and other fast food giants were gaining fast. Oil shocks and economic shocks were throwing millions out of work and some of the few remaining jobs were in fast food.
In the early 1980s, workers employed by McDonald's and Burger King in Detroit started organizing for better wages and benefits. The workers partnered with United Labor Unions (ULU), an offshoot of the national community organization, ACORN. I was a young organizer working alongside this first generation of fast-food leaders at the Greyhound Burger King inside the bus station in downtown Detroit. After three years, workers won a union contract, one of the first union contracts in fast food settled in the United States.
But even with that victory, it was clear that management would do anything to fight off workers' attempts to organize and had the money and resources that workers did not.
From that small effort, workers learned how the fast-food giants think and that they will stop at nothing to keep wages low, jobs part-time, and zero benefits. Almost 30 years later the tactics of McDonald's have not changed.
In November 2012 a new generation of courageous fast-food workers called for $15 an hour in New York City and were supported by fastfood workers in Chicago. A few months later, they did the same thing on Chicago's Magnificent Mile. Like the earlier effort I was involved in, the workers received critical support from the community--this time from SEIU, New York Communities for Change(NYCC), Chicago's Action Now, Leadership for the Common Good, and ACCE.
With workers taking the lead and unions and community groups showing support, a movement rose that has expanded to more than 300 cities and tens of thousands of workers. This is a model that works.
Homecare and childcare providers, university adjuncts, nursing home workers, health care workers, airport workers and security guards are joining together and speaking out, contributing to the recent passage of minimum wage laws that put more than ten million workers on a path to $15 per hour. Across the country, 17 million workers have won big raises since those brave workers in New York City started their Fight for $15 in 2012.
The workers in the Fight for $15 are learning the same lesson we learned 35 years ago--when workers come together and take a stand, they win.
Keith Kelleher is president of SEIU Healthcare Illinois, Indiana, Missouri, and Kansas (HCIIMK), the largest SEIU local union in the Midwest, representing over 92,000 homecare, childcare, nursing home, hospital and healthcare workers. He began his organizing career organizing fastfood and other low wage workers in Detroit in 1980, resulting in the first fastfood contract at that time. Since 1980, his local has organized over 70,000 new homecare, childcare and healthcare workers, and helped spark a movement that has led to over 600,000 homecare and childcare workers joining SEIU. An early strategist and supporter of the Fight for 15 organizing of fastfood, homecare, childcare and healthcare workers, he is actively organizing and supporting these efforts today.
Calling all HuffPost superfans!
Sign up for membership to become a founding member and help shape HuffPost's next chapter