I come from a fairly large family. There are 13 people in my immediate family and 49 people in my extended family. (With more being added on soon!)
The only disadvantage of coming from a large family is knowing how much to cook for intimate gatherings. I always have leftovers. Lots of them.
Even though the majority of my family lives on the opposite side of the country, I never ever feel far away from them. I think that's the best advantage of coming from a large family circle. We're somehow always connected.
Growing up I was convinced my Grandpa Red was magical. He always had this look about him that made me believe he knew what was going to happen before it actually happened.
He turned 86 recently. To celebrate his life, I'm highlighting lessons I absorbed from watching him over the course of my 36 years on Earth.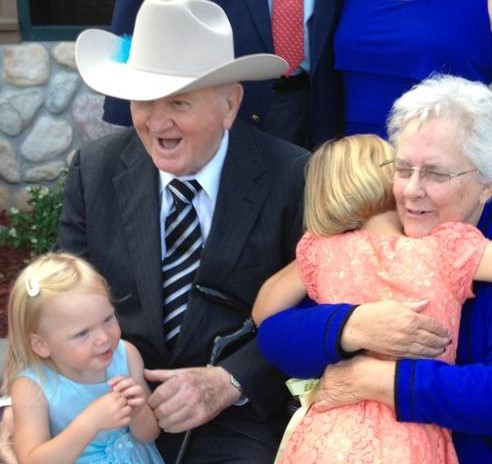 1. A diner is the best place for a heart-to-heart conversation. And they have the best home fries.
2. Stop struggling against life's path.
3. My flaws make me one-of-a-kind. Embrace them.
4. Reinvent myself when I feel called to.
5. Focus on what I have -- not what I'm missing.
6. Be bold about my passions.
7. Apologize when I cause pain to someone I love.
8. Have unwavering faith that good will always find a way to shine through.
9. Get good with God every day.
10. Continuously search for deeper lessons in life.
11. Family always comes first.
12. Addictions happen.
13. Breaking up with addictions happen too.
14. Cowboy hats aren't for everyone.
15. Love big and forever.
16. Fight for what I believe in.
17. It's ok to hang out on the couch in my PJs all day when necessary.
18. Oranges make good stocking stuffers.
19. Write often and always from the heart.
20. Hiding from my feelings is cowardly.
21. Handshakes are an easy way to sneak a $20 to someone.
22. Laughing is the best cure.
23. Don't work at summer camps infested with snakes.
24. Always bring carrots when horseback riding.
25. Silence is good for the soul.
26. Show up to Sunday dinners and eat everything on my plate.
27. My big family, and all the chaos involved, is a gift.
28. Keep the cookie jar stocked in case of surprise house guests.
29. The word "welcome" is a way of life not just a word on a doormat.
30. Always end phone conversations with "I love you."
31. Think of everyone as my pal.
32. Take the scenic route whenever possible.
33. Don't run with a walking stick.
34. Humility is healing.
35. Positive thinking is powerful.
36. Know my roots and come home often.
I'm sure everyone else in my big family circle has absorbed their own lessons.
These are mine. And I know them deep in my soul.
I hope to gain more lessons. And I look forward to passing them all on one day to my own family circle.