Picture yourself preparing a delicious meal for your bae. You're slicing, dicing, sautéing and even deep-frying, and you're doing all of it completely naked.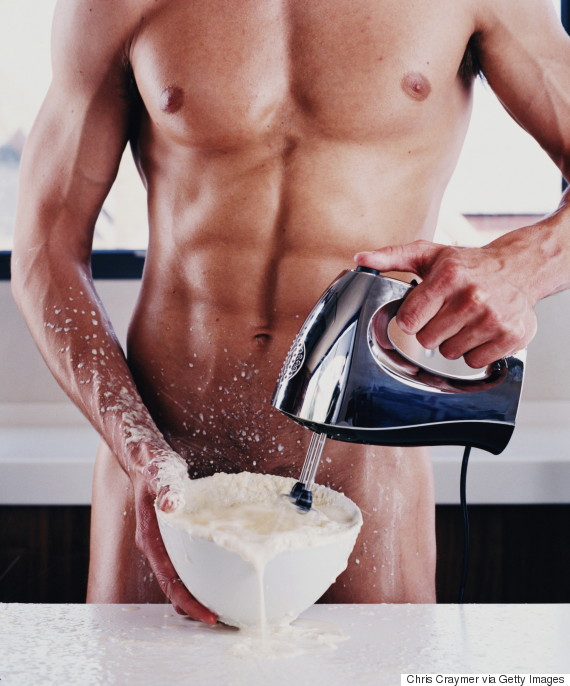 Aren't they worried about getting hurt? There are many dangerous things in the kitchen. I don't like using a mandolin to slice vegetables when I'm fully clothed, and I avoid any recipe that calls for a flambé, because I'm worried that I'll singe my eyelashes off, or worse.
One in five Americans said that someone who cooks well is just as much as a turn-on as someone who has a nice body. Could that be the reason so many people are cooking in their birthday suit?
In addition, almost one-quarter of the respondents admitted to using their cooking skills to impress and/or seduce a companion. Though, if you're dead-set on cooking without clothing, you should strongly consider raw foods. I've never heard of anyone injuring their private parts with a salad-spinner.
More interesting highlights from the survey:
66 percent think that cooking is an art form that should be cultivated.
29 percent agree that cooking a fantastic meal can be better and more satisfying than sex.
The weirdest response? 2 percent of the respondents answered "Don't know" when asked if they ever cooked in the nude. Wouldn't you remember making that pasta dish while you were only wearing an apron and a smile?
"These results confirm what many adults already knew ... that cooking is sexy," said Seth Goldman, CEO of HelloFresh U.S. "And what better way to prove that than by preparing a delicious, wholesome home-cooked meal -- for or with your significant other."
But if you're both naked, how much cooking will actually get done?
The takeaway message seems to be, if you can stand the heat, get yourself into the kitchen for some nude cooking; baking, broiling, and browning are the ultimate seduction tools.
Be extra careful when you're cooking without clothing, and watch out for grease fires.
More from YourTango: