This article was written by AskMen's audience development editor, Marlee Kostiner, following her press trip to Las Vegas. Read about other AskMen staff's press trip experiences, like when Emma went to the Bahamas or when Alex went to Arizona to train like an NFL prospect.
I was fortunate enough to have the opportunity to spend a week in Las Vegas (my first time!) a few weeks ago with Tourism Nevada as the wonderful hosts.
Firstly, I'm delighted to announced that I made it out alive... but just barely. I kid, but it was intense, that's for sure. If you've been to Vegas, you understand.
We had totally jam-packed days with intense adventure-themed activities including zip-lining, racing Ferraris and taking a helicopter ride over the Grand Canyon (just to name a few). With all of those 6 a.m.-to-midnight days, I got to experience some pretty cool things. (Sleep was not one of them.)
The weird thing was that the focus of the trip was pretty far from the typical gamble-drink-swim-drink-party-drink-repeat scenario I associate with Vegas.
Almost everything we did was pretty un-Vegas-like in the stereotypical sense. And it was incredible. So I'm happy to share these experiences (as well as some other activities that I didn't have the chance to try this trip) so you can keep them in mind next time you venture to Vegas.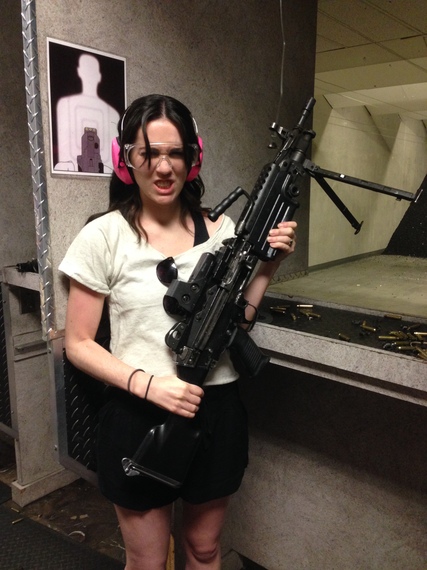 I've never seen a gun in person. I've never held a gun. I'm scared of guns. I support gun regulation. But I have to admit, going to the shooting range was INSANE! In a good way.
It was also informative and eye-opening. I was one of two Canadians on the press trip and we were both a little more uncomfortable with the guns than our American counterparts -- who have all seen a gun or know someone who has one, whereas this was totally new for both of us.
We were also a little thrown off the see that they offered a "kids package" at the range. We asked about it and the amazing PR lady, Emily Miller, gave us some insight. She explained that guns are a lot more prominent in the US (particularly in certain parts) and they view the kids package as a way to educate kids about the danger of guns and how to stay safe. They do a full demo on all parts of a gun so they're educated on what it does. We hear horrible stories on the news about kids finding a gun in their friend's dad's closet and accidentally shooting it. This demo is a way to educate kids on safe use, but it also helps stave off their curiosity. Also, I know from experience that shooting a gun is a huge reality check. They are powerful machines and actually using one reinforces how dangerous and deadly they really are.
While I'm definitely not a converted gun enthusiast, I can see how education is really beneficial where tighter gun legislation isn't an immediate option.
On a lighter note, shooting my poster/target of a Nazi zombie was a crazy thrill.
2. Ride the Mechanical Bull @ Chayo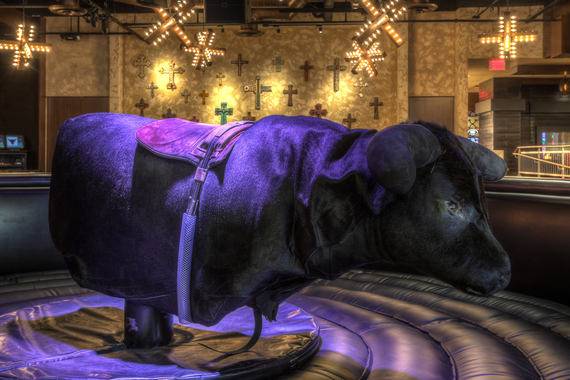 My one regret I that I didn't have the chance to ride the mechanical bull at Chayo. I haven't ridden one in over a decade, but if my memory serves me correctly, I was quite the bull-riding prodigy as a pre-teen.
But back to the point, this bull is the centerpoint of the Vegas restaurant, but it seems that they only turn it on once dinnertime is coming to a close and the focus is more on drinks (which makes sense... because most people need a stiff drink or two before clambering on a mechanical bull in front of a large group of people). Just try not to eat or drink too much right before hopping on. That probably won't end well.
3. Visit the Techatticup Mine @ Eldorado Canyon Via Pink Jeep Tours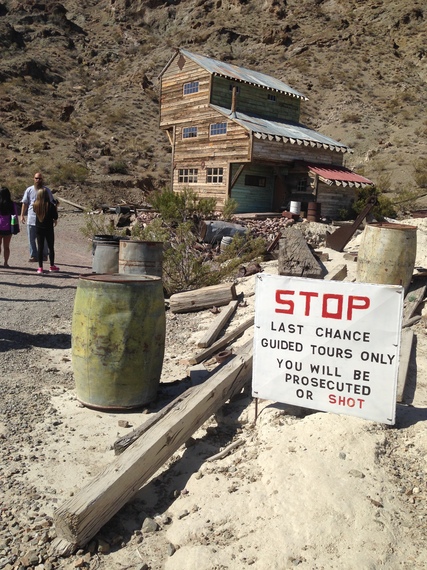 To be honest, I was unsure how interesting a tour of a mine would be, but it actually ended up being pretty cool. This activity was organized through Pink Jeep Tours and we were transported to the mine site by (shocker) a pink Jeep!
When we arrived at the site, there was an overwhelming array of knick-knacks everywhere. Everything looked super old, yet new -- like we were in a time warp.
Everywhere you looked, there was something worth seeing. On one side, there's a custom-made triple decker bus. On another, there's a plane nose-deep in the dirt with debris all around it (reminiscent of a plane crash stunt that was shot there for a big Hollywood film).
Our guide explained that they've hosted lots of Hollywood films (3000 Miles to Graceland) and celebrity photo-shoots (Beyoncé) over the years.
The guide is really knowledgeable about the history of the mine and tells some really interesting stories of the history of the mine, going back a hundred years. The tour of the mine itself was a little creepy, but also interesting. If you suffer from claustrophobia, I wouldn't recommend going inside the tiny cave. But if you can push through it, I would recommend it.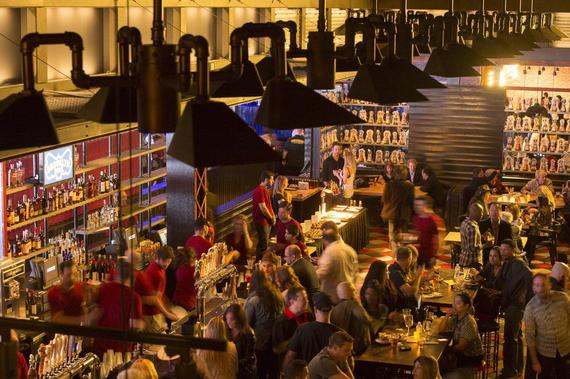 This Vegas restaurant (unsurprisingly) originated in Brooklyn -- and it's obvious the moment you walk in. A Brooklyn-style restaurant in the middle of the Vegas strip is definitely unique. It's a nice haven for the hipster travelers to feel a little more at home. The ambiance is warm and rustic, yet hip and modern. The food is delicious with nice presentation, but tastes homestyle.
It's definitely a great spot to go for a nice dinner or just for drinks. Best part: After dinner, you can go bowling right in the restaurant! This venue managed to make bowling cool and luxurious with the right decor and lighting.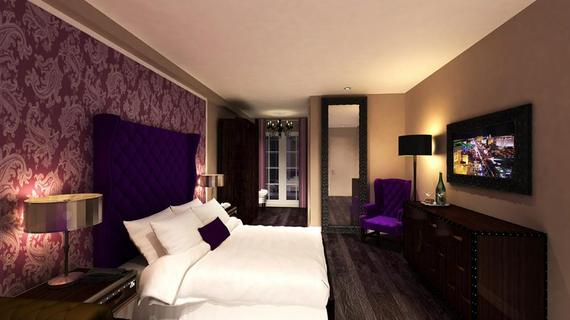 If you're looking for an un-Vegas-like hotel on the strip, The Cromwell is where you should stay. I got a tour of the brand new boutique hotel (it's actually a boutique hotel with only 188 rooms) and I was really impressed. I has the perfect mix of sultry, modern and comfortable.
This hotel is all about the details. Every guest gets the VIP experience with steam showers, Muk bath products, plush robes, and complimentary coffee and tea in the hallways.
After my visit, I was totally sold. The rates are significantly higher than other hotels on the strip that offer dirt-cheap rates, but you really get what you pay for. For a weeknight, I found as cheap at $179 and weekends were at $309. The hotel is now open to the public!