Thirty years. Three kids. Four grandkids. A total of three Labrador retrievers. And 360 monthly mortgage payments behind them.
This past April, Cheryl and Michael Ritchie made the last payment on their 30-year adjustable-rate mortgage with Franklin Mint Federal Credit Union. They now own outright their four-bedroom home in the Brandywood section of Wilmington, Delaware. While some might say an old-fashioned mortgage-burning party was in order, the Ritchies preferred marking the milestone in a quieter way with a celebratory dinner.
What makes this achievement so remarkable is its rarity. The vast majority of people either move, refinance, or pay off their mortgages early. Very few make payment after payment for 30 years on the original contract.
"We are very happy with the house and area," Cheryl says. "We never had a reason to move or change the terms of our mortgage since the payments were so reasonable." She even kept the amortization schedule provided at closing three decades ago.
Cheryl and Michael married in 1972 and she became a Credit Union member in 1979. In 1986, the Ritchies were among the first people to apply through the Credit Union for a mortgage that would be serviced by the newly-established State Financial Network, LLC., a wholly-owned FMFCU subsidiary which originates and services mortgages for credit unions.
The Ritchies bought the house after their third child was born. Needing more room, they liked the Wilmington neighborhood and there were other advantages to the move. "We could stay in the same school district and a community school was within walking distance. There were also nice, young families nearby and we were in a cul-de-sac, so the kids could play outside without any worry of cars driving through. It was the perfect scenario," Cheryl says.
Now with the kids grown and married, the dining room gets crowded on holidays and get-togethers. "We don't have a big enough table to seat everyone, so it's buffet style. Everybody serves themselves and then grabs a seat wherever they can. It doesn't matter if we're cramped, I love having everybody here," Cheryl says.
The Ritchies have done "painting and normal upkeep" on their 60-year-old brick two-story colonial. The roof is new. The heater is new. The kitchen is updated. A few years ago, the carpeting was pulled up and the hardwood refinished underneath.
Next steps for the Ritchies might depend on whether physical steps become an issue for Michael, who had two hips replaced this year. "It hasn't been too much of a problem so far," Cheryl says. "We did sell our Jersey Shore house last year that was in the family for 70 years, so we might consider buying a beach condo. For the time being, we are comfortable here. There is a nice, cozy family room with a fireplace, which is just what we wanted when looking 30 years ago."
So having made their 360th and final mortgage payment, it appears the Ritchies are probably staying put for a while longer and enjoying their house finally being paid off.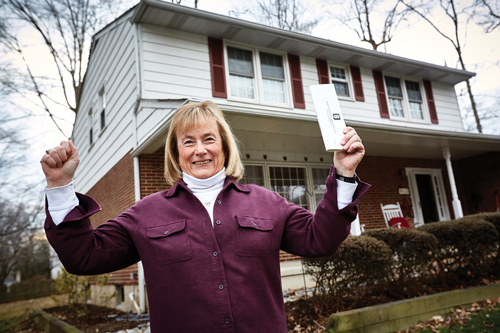 Calling all HuffPost superfans!
Sign up for membership to become a founding member and help shape HuffPost's next chapter