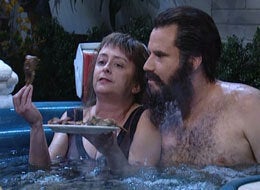 The New York Times ran a story on Sunday about two couples who tried to combat marital ennui the old-fashioned way: with lots and lots of sex. Charla and Brad Muller, conservative Christians from North Carolina, vowed they'd do the deed every day for a year (except when business travel interfered, and even then they'd attempt to make up for it). Doug and Annie Brown, backpackers from Colorado, promised to get it on for 101 days straight. The national average, incidentally, is 66 times a year.
Charla Muller promised her husband "the gift," as she refers to their year of passion, for his 40th birthday--a particularly inspired alternative to, say, an expensive watch:
"This is something no one else would give him," she said in an interview. "It didn't cost a lot of money. It was highly memorable. It met all the criteria for a really great gift."

Brad was less than fully enthusiastic, mostly because, he says, his wife often has big ideas and poor follow-through. After all, she hadn't been especially generous in that department since they'd had their two children. He paid closer attention when he realized that she was serious.
But as with any marathon, the couples hit a few bumps along the way. First came fatigue:
The Mullers, or at least Charla, hit a wall somewhere around the 10th month. In her book, she describes the gift then as "my stupid idea" and "a hidden cross to bear."
Then, for the Browns, came vertigo:
And were it not for [Annie Brown's] competitive zeal, their streak might have died well short of 100 days. Annie even forced her husband to have sex during a bout of vertigo. "I'm not a quitter,' she said. "The night he had vertigo, I said, 'I'm sorry, guy, but you've got to keep going.' "
And, yes, there was even boredom:
Doug said in an interview that on their 101st day, he felt "sort of like you had some long-forgotten appointment to hear some tax attorney talk about estate planning."

After that, he said, "I think we didn't do it for a month."
But, in the end, it was all about the lessons learned:
Charla Muller and Annie Brown both talk about how mandated physical intimacy created more emotional intimacy. "It required a daily kindness and forgiveness, and not being cranky or snarky, that I don't think either of us had experienced before," Charla said.

Annie said that she and her husband reached a place in their relationship that they have seldom approached since. "It was just this intense closeness," she said. "We were so aware of wherever the other person was mentally and emotionally and physically."
And tell us below: Do you think a sex marathon would solve or perpetuate sexual boredom? Have you ever tried it? Does the thought leave you exhausted? Discuss.