This Saturday highlights the incredible longevity of Southern Exposure, when it celebrates it's 39th birthday. This venerable arts non-profit launched in 1974 in San Francisco's Mission District with the challenging mission of supporting artists and commissioning work that celebrated pure artistic creativity and curiosity -- without regard to the often stifling expectations of commerce.
To have survived through the '70s, '80s, '90s, and especially the last decade in San Francisco's fickle art world is a most incredible accomplishment. And the reason they're still here is largely due to the efforts and ingenuity of Courtney Fink, SOEX's Executive Director for the past decade. Ten years ago, Fink remarked:
At SoEx, we have a very collective model, and as a result, we're forced to work with many people and address the community's needs. We have to stay on top of the ideal. I'm always wondering why what we do is different from what other galleries do. How can we provide something that the other spaces don't? Why do people want to come to SoEx? What is we're trying to do? It's definitely an issue. And survival--constantly having to fight your way from one phase to the next while staying ahead of the curve can be really challenging. It's easy to get caught up in raising money. In all of my years of doing this, I haven't gone one year without at least going to one conference where there's a huge conversation about "why do we still exist", or "how are we going to survive the next five years?" or "how is this economic downturn going to affect us?" "What can we do to actually come out of it and survive?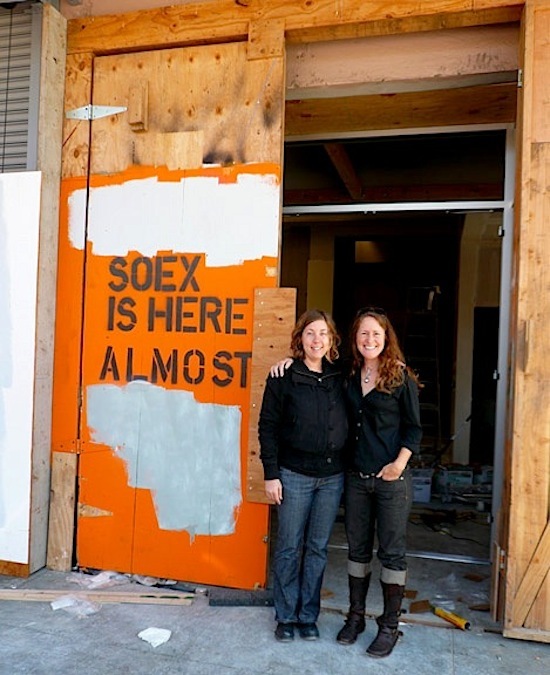 Executive Director Courtney Fink and Board President Tracy Wheeler at the SOEX site in August 2009 shortly before opening their new building
They're still here, and they're not going anywhere. And they're throwing a big birthday party this Saturday to celebrate that accomplishment. If you're in San Francisco, come and join the party - details are below:
Southern Exposure's 39th Birthday Block Party & Opening Reception for The Long Conversation
Saturday, September 21, 2013
4-10 PM
FREE
Celebrate 39 years of Southern Exposure and the organization's unwavering commitment to visual artists with a block party on Alabama and 20th Streets. The afternoon and evening activities mark this momentous anniversary and the opening of our new exhibition and performance series The Long Conversation with related live works. Its Artists in Education Program's Youth Advisory Board present a new project, and five Alternative Exposure grantees represent their ongoing programs. Enjoy snacks from local food trucks, delicious libations and the unveiling of "39 Reasons to Love Southern Exposure."
Also: OPENING OF THE LONG CONVERSATION
Join SoEx as It proudly celebrates the opening of The Long Conversation, an exhibition and performance series featuring the work of 27 artists and collaboratives whose practices are rooted in the strategies of the West Coast, alternative, idea-based, experimental and time-based work. Artists include Amy Balkin, Renée Gertler & Josh Greene, Cliff Hengst, Rhonda Holberton, David Ireland, Bessma Khalaf, Paul Kos, Pawel Kruk, Tony Labat, Mike Lai, Lynn Hershman Leeson in collaboration with Mark Hellar, Jennifer Locke, Nathan Lynch, Whitney Lynn, Mads Lynnerup, Mail Order Brides/M.O.B., Tom Marioni, Jim Melchert, Lucas Murgida, Christian Nagler, Rigo 23, Moira Roth & Anne Walsh, Jon Rubin, Alice Shaw, Peter Simensky, Anne Walsh and Michael Zheng.
Guerrero Gallery's Last Show at 2700 19th Street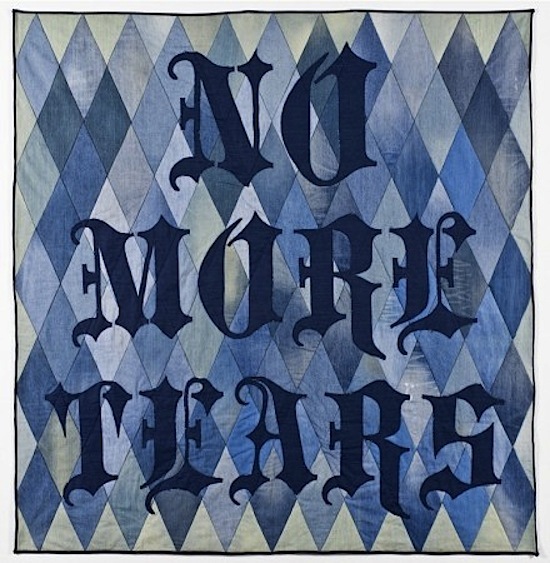 Ben Venom, "No More Tears," Hand-made Quilt, Used Denim Jeans, Fabric, Batting, Thread, 75in x 79in, 2013, Courtesy of Guerrero Gallery and the artist
Sadly, this will be Guerrero's last exhibition at their gorgeous gallery space because they've been forced to find another locale, but we know they'll survive, as well. Watch this column for further updates.
Popular in the Community