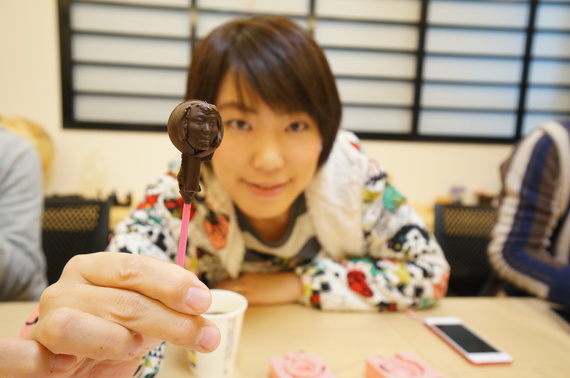 Recently I've become totally obsessed with all of people's attempts to 3D-print chocolate. It seems so illogical and yet inevitable at the same time, and I can't look away.
Hershey's is working on the technology, and I interviewed a guy a while back who is building a MakerBot-style chocolate printer too. There are a slew of people making one-off pieces this way too. Some claim that it's really easy to work with chocolate this way, but given what I know about chocolate's temperamental viscosity and general crabbiness, I find that hard to believe.
Here are two of the coolest projects I've seen so far.
The first one comes from Australian pastry chef and chocolatier Ryan Foote in a few weeks to figure out how he 3D-prints chocolate in myriad forms; here's a stunning plated dessert he made recently.
And this second one isn't technically 3D-printed chocolate, but involves 3D printing in general. In Japan around Valentine's Day a few years ago, FabCafe offered a workshop where patrons 3D-printed a mold of their head, filled it with chocolate, and then offered that bonbon as a special present in a larger box of candies to their beloved. Surprise! Terrifying or fun? You decide.
Is 3D-printing vital to these sweets, or is it just a gimmick? I'm on the fence. If the resulting chocolate is chockfull of crazy details that could only be achieved with a printer, then fine. But otherwise, I'm not sure what's gained by printing the chocolate versus making it (or its mold) in more traditional ways.