The nation's leading gun safety groups are asking a judge to block an online company's plan to publish downloadable blueprints for 3D-printed plastic firearms, information that they say would open the door for people to secretly produce fully functional, untraceable weapons.
In a Thursday filing in the U.S. District Court for the District of Western Texas, the organizations questioned the federal government's recent decision to settle a lawsuit with Defense Distributed. The settlement allows the Texas-based digital firearms nonprofit company to post its controversial gun blueprints online, which it will begin doing on Aug. 1, according to the Defense Distributed website.
Defense Distributed celebrated the decision, saying it would soon bring upon the "age of the downloadable gun." But in a letter to the judge this week, gun safety groups called the agreement "troubling," "dangerous" and "potentially illegal," while claiming it could have a "significant and permanent impact" on national security and public safety. The three organizations ― the Brady Center to Prevent Gun Violence, Everytown for Gun Safety and Giffords Law Center to Prevent Gun Violence ― are now seeking an emergency injunction to halt the publication of the blueprints. They want the court to have additional time to consider their concerns. A hearing is reportedly scheduled for Thursday afternoon.
In recent years, gun violence prevention advocates and lawmakers have raised fears about the rise of so-called "ghost guns" ― homemade, often meticulously manufactured plastic or metal firearms made without serial numbers. As 3D printing technology becomes more widely accessible, they worry that this ghost gun ecosystem will only grow. And with advances in printing materials and an ever-expanding library of gun blueprints just a click away, they say the line between homemade firearms and professionally manufactured ones could become increasingly indistinct.
When police find guns at a crime scene, the Bureau of Alcohol, Tobacco, Firearms and Explosives can typically trace an attached serial number on the firearm back to a federally licensed dealer. This can help authorities identify suspects, crack down on bad actors and glean other vital information about how guns end up in the hands of criminals. But with ghost guns, there's no method of tracking and no way to deny a purchase by a prohibited individual because there's no point of sale.
Thursday's court filing request marks the latest chapter in a legal saga that began in 2013 when Defense Distributed founder and self-described anarchist Cody Wilson shot his way into headlines with a YouTube video. In the video, he shows off "the Liberator," a single-shot .380 caliber handgun made almost entirely of 3D-printed plastic.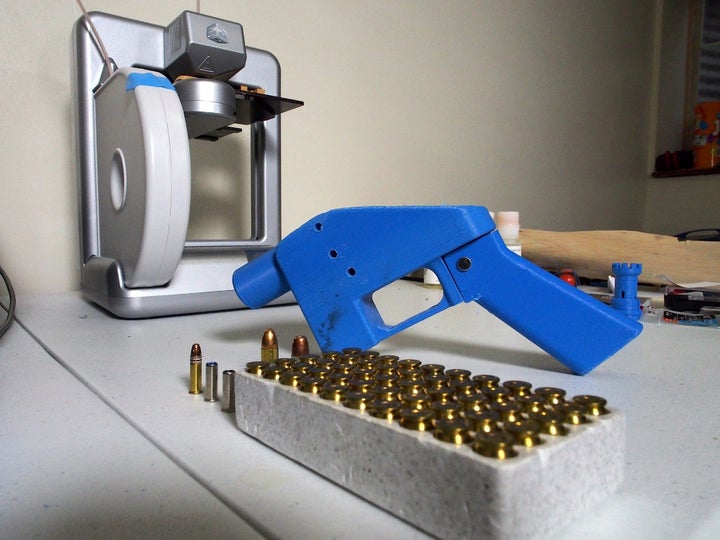 The Liberator may look like a gun best suited for a Lego man, but it has since been shown to be able to fire a number of rounds without failing, so long as it's printed with a strong plastic. Months after Wilson released his video, Israeli reporters smuggled a weapon based on his design through a metal detector and into an event featuring Prime Minister Benjamin Netanyahu. Although the Liberator contains a small strip of metal ― which Wilson included to make it compliant under a U.S. law banning undetectable firearms ― the journalists were reportedly able to get it through unnoticed.
With media outlets around the world covering the Liberator, it quickly caught the government's attention. The State Department took action against Wilson in 2013, accusing him of violating arms export control laws by releasing "technical data" related to prohibited munitions. It demanded that he take down blueprints for the Liberator and nine other firearms posted on the Defense Distributed website. By the time Wilson complied, more than 100,000 people had already downloaded the files, ensuring that they'd live on forever in darker corners of the web.
In 2015, Wilson sued the State Department, claiming the motion against him had violated his First Amendment right to free speech. At first, Wilson appeared to be facing an uphill battle. Federal courts batted down his team's request for a preliminary injunction against the State Department in 2015. The case was eventually kicked up to the Supreme Court, where it was denied earlier this year. As recently as April, the government seemed prepared to see their defense through.
Then late last month, the feds changed course, entering into a settlement with Defense Distributed that said the company could post its gun blueprints online after all. The government also agreed to reimburse Defense Distributed for nearly $40,000 in legal fees.
In the settlement, lawyers for the Justice Department said that under a recent proposal to loosen foreign arms trafficking regulations, Wilson's "technical data" ― in this case, computer-aided design models of firearms ― would be exempted from stricter licensing requirements.
But gun safety groups have raised issue with that claim. Although the Trump administration published notice of the proposed rule change in May, the groups point out it hasn't officially gone into effect yet.
This discrepancy is an example of the administration "putting the cart before the horse," Avery Gardiner, co-president of the Brady Campaign, told HuffPost. She also raised broader questions about the nature of the settlement, saying the government had done "a complete about face." It didn't solicit input from any gun safety group before making the decision, Gardiner added, saying it has yet to offer a detailed explanation for what prompted the shift.
The State Department has said little publicly about the settlement, except to note that it was voluntary and agreed upon by both parties. Neither Defense Distributed nor the law firm representing the company immediately responded to HuffPost's request for comment.
Shortly after the settlement was announced, the Brady Campaign filed a Freedom of Information Act, hoping to get additional details about the reversal. But those documents likely won't be returned until after Defense Distributed reposts the blueprints online, at which point the gun safety groups say the potential damage would be "irreparable."
"Part of what we're asking the judge to do is to keep the status quo as it is until we can get more information about what caused the government to change its mind and to see if that's proper," said Gardiner.
"This isn't the way we're supposed to govern," she added. "We're supposed to govern by having open and transparent processes."
Ghost gun technology has evolved rapidly since the early days of Wilson's Liberator. Defense Distributed has already developed schematics for an AR-15 ― or technically for each of the dozens of components needed to construct one of the semi-automatic rifles ― which they intend to make available to the public. With these blueprints, anyone with a 3D printer and the ability to follow directions could build their own military-style rifle without anyone else's knowledge.
The surreptitiousness of DIY gunsmithing is a draw for some firearms enthusiasts. Defense Distributed has profited off and propelled the practice by selling a $1,500 "Ghost Gunner" milling machine that can be programmed to construct individual firearm components out of metal to be assembled by the user.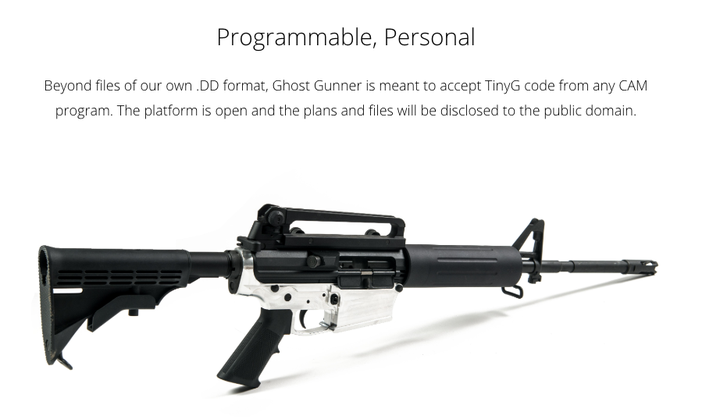 With conventional firearms already so easy to get ahold of in the U.S., whether legally or illegally, concerns about 3D-printed ghost guns may not be at the forefront of many people's minds. 3D printers are still expensive, and models capable of printing a functional gun can range from several thousand dollars to more than $500,000. Although that may be a deterrent now, Wilson has said his ultimate vision is to develop blueprints that will deliver working firearms even on the cheapest 3D printers.
"Anywhere there's a computer and an Internet connection, there would be the promise of a gun," he told Forbes in 2012.
That prospect has raised alarm among gun safety groups and law enforcement alike. So far, these weapons rarely factor into crimes. Although, they have been used in a few deadly shootings, including one by a convicted felon in California who otherwise would have been barred from purchasing guns through legal channels.
Unfettered access to 3D-printed gun blueprints could also have much broader implications overseas, the gun safety groups say, where people could use them to circumvent tougher gun laws or establish another arms pipeline to criminals or terrorists.
Wilson meanwhile seems to be reveling in the idea that his campaign could disrupt efforts to regulate firearms in the U.S. and abroad. In a tweet after the announcement of the settlement this month, he appeared to celebrate the death of "American gun control."
Wilson later told Wired that he was on the verge of unleashing a "Cambrian explosion" of digital content related to firearms. He hoped it could extinguish the current youth-led movement for stronger gun laws that emerged in response to routine gun violence and high-profile mass shootings in places like Las Vegas or Parkland, Florida.
"All this Parkland stuff, the students, all these dreams of 'common sense gun reforms'? No. The internet will serve guns, the gun is downloadable," Wilson said. "No amount of petitions or die-ins or anything else can change that."
Over the past few days, congressional lawmakers have called for hearings on 3D-printed guns, as well as new legislation to block the release of Wilson's blueprints. At a Senate hearing on Wednesday, Secretary of State Mike Pompeo said he'd "take a look" at his department's policy on sharing that sort of data.
But with Aug. 1 rapidly approaching, Gardiner said she's worried the time to act is running out.
"We need to block this settlement from going into effect so that Congress can hold hearings and do its job as a check on the executive branch," said Gardiner. "It's unlikely that this all gets figured out and resolved unless there's a delay of the settlement going into effect."
Popular in the Community