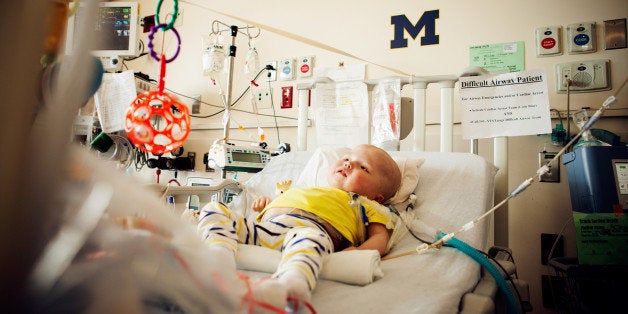 Breathing is a function that most of us take for granted.
Her son, Garrett, was born with a weak, soft cartilage in his windpipe -- a rare condition called tracheobronchomalacia -- which would cause him to stop breathing at a moment's notice. "When he got upset, or even sometimes just with a diaper change, he would turn completely blue," Peterson told NPR.
But a recent development in 3-D printing has allowed 16-month-old Garrett to breathe again.
Scott Hollister, a University of Michigan biomedical engineer, and Dr. Glenn Green, a trachea specialist, created a 3-D-printed flexible splint to hold open his windpipe until it's strong enough to work independently, at which point it'll dissolve.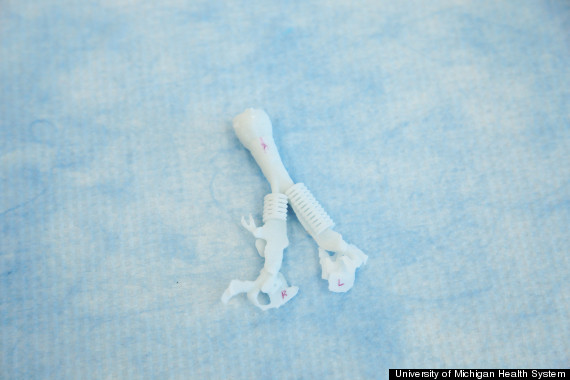 A model of Garrett's airways with splints made of the biopolymer, similar to those implanted during the surgery.
Baby Garrett is not the first patient of this kind for the duo, who originally developed this procedure last year for then 6-month-old patient Kaiba Gionfriddo. (See his story in the video below.)
The process of building computer-designed 3-D models from flexible materials such as plastic is starting to have an impact in medicine. Outside of trachea diseases, 3-D printing has been used to help pediatric patients with issues such as skull deformities and replacement appendages.
In a Reddit 'Ask Me Anything' session, both Green and Hollister advocated for more 3-D printing procedures, citing them as more cost effective and customizable to individual patient's needs than traditional medical manufacturing.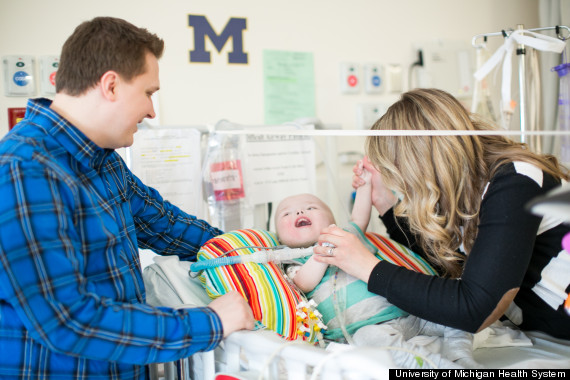 Parents Jake and Natalie Peterson cuddle with their son Garrett Peterson about a month after his surgery at the University of Michigan's C.S. Mott Children's Hospital.
For now, the Petersons are just happy to see their son breathing easy. "He's being more interactive and more alert and reaching more for his toys," Jeff Peterson said in the NPR interview. "He's just starting to be more like a normal child."
Related