According to Gartner, 3D printing has great potential. Total spending is predicted to grow at a 66.5% CAGR to $17.7 billion in 2020 with over 6.5 million printer sales. Gartner also predicts that "by 2020, 75% of manufacturing operations worldwide will use 3D-printed tools, jigs and fixtures made in-house or by a service bureau to produce finished goods. Also, 3D printing will reduce new product introduction timelines by 25%." Enterprise 3D printer shipments is also expected to grow 57.4% CAGR through 2020.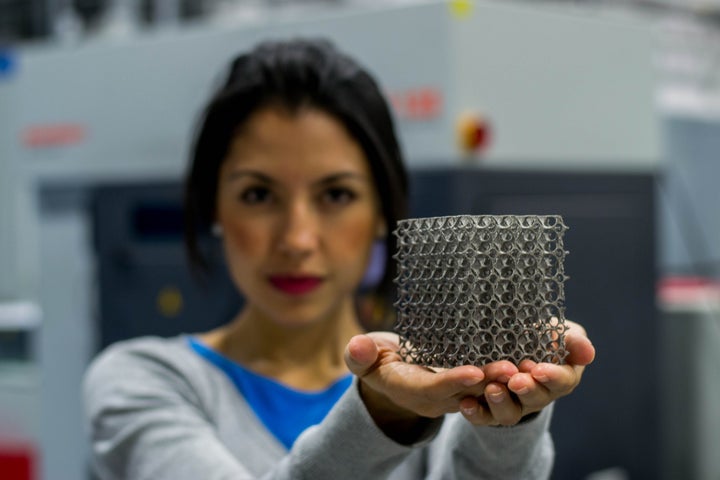 57% of all 3D printing work done is in the first phases of the new product development
55% companies predict they will be spending more in 3D printing services and solutions in 2017
47% of companies surveyed have seen a greater ROI on their 3D printing investments in 2017 compared to 2016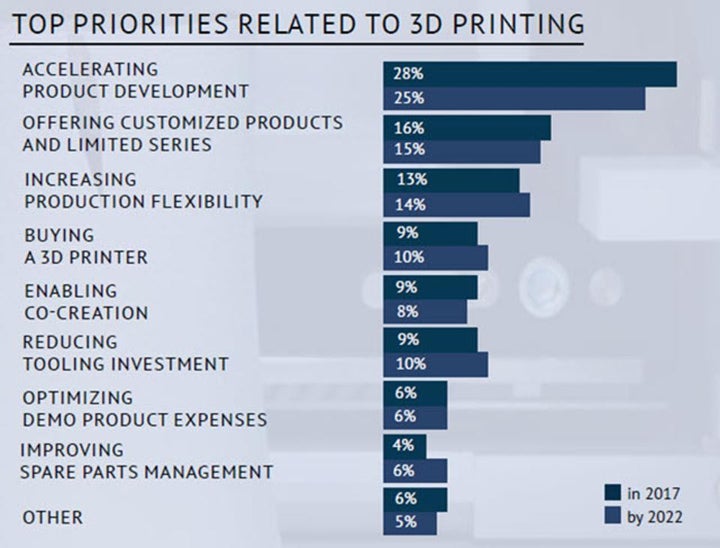 The 3D printing industry is growing fast and manufacturing is the next frontier. The infographic below illustrates the projected growth and future market size of 3D printing:
15 times more 3D Printing units expected to be sold by 2020
$21 billion projected 3D Printing revenue in 2020
71% of manufacturers are currently using 3D Printing
50% of manufacturers expect to increase 3D Printing spending in the next 12 months
60% of manufacturers use 3D Printing to make functional parts

I am fascinated by the incredible pace of 3D printing innovation. Here are five examples of how 3D printing innovation is changing the world - these stories that I share on Twitter show how 3D printing can build houses in less than 1 day, create models of the human heart, 3D print tires that will never go flat, personalized Adidas sneakers that are printed in minutes and robots autonomously building 3D bridges.
It takes vision and precision to transform an industry, especially one as vast and varied as the $12 trillion manufacturing segment. But, that's exactly what's happening as 3D printing moves from innovation and prototyping workloads into mainstream production manufacturing workloads.
After earning early acceptance in prototyping and accelerating the New Product Introduction (NPI) process, the adoption of 3DP, also called additive manufacturing, stalled. The technology fell short in performance, materials and economics compared to traditional manufacturing methodologies, such as injection molding. Of late, however, thanks to a steady stream of technology advancements and high-profile success stories, 3D printing is taking a front-and-center position for its proven ability to support volume-scale manufacturing.
According to a recent survey on 3D Printing Trends by Dimensional Research and Jabil, manufacturing industry decision makers are picking up the pace, with 40% expecting to more than double their use of 3D printing over the next five years and nearly a quarter hoping to boost use by a factor of five or more. The impending deluge is real judging by the fact that the overwhelming majority of those polled say 3D printing will change how they think and operate.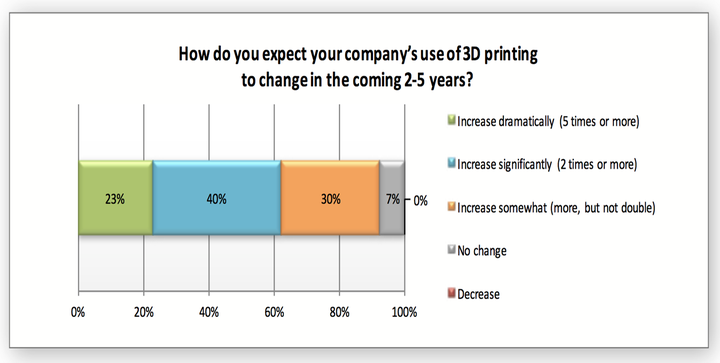 For Jabil, one of the world's biggest and most technologically advanced manufacturing solution providers, being a 3DPrinting front-runner requires adopting a different mindset. "You have to envision a completely new way of designing and making products," explains John Dulchinos, the company's VP of Advanced Digital Manufacturing. "What it takes is an end-to-end digital solution that connects R&D, product quality, supply chain and manufacturing processes."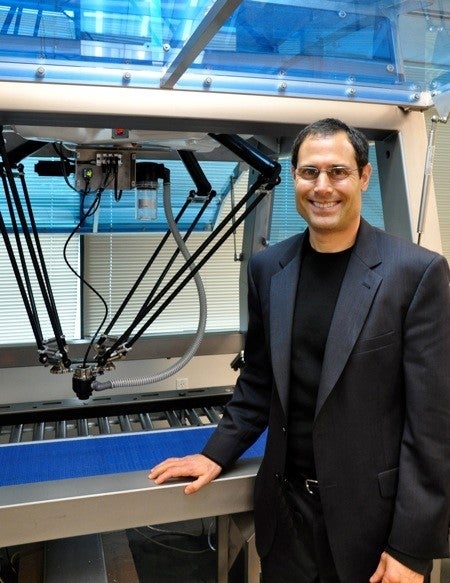 Manufacturers put enormous effort into ensuring the quality of everything they make, so converting traditional methods to digital processes takes an unwavering commitment to the rigors of manufacturing. Equally challenging is convincing risk-adverse R&D, engineering and supply chain teams to swap-out time-proven methodologies and cost models for new, disruptive approaches. That's probably why 85% of the survey participants would prefer to follow, not lead, in adopting 3D printing. While the majority characterize themselves as being able to move quickly once success rates climb, about a fifth expect to wait for 3D printing to become the norm before they make a move.
Joanne Moretti, the CMO of Jabil, thinks "that might be too late for some, given how technology is causing two distinct pressure points for traditional OEM's; on the one hand technology is raising consumer expectations around speed and personalization through the roof, and on the other hand it's causing the barriers of entry to drop for new and nimble entrants who basically grew up with cell phones and toy 3D printers in their hands – all of which are now being applied into the mainstream product development processes." Moretti goes on to say, "there are no barriers where millennials are concerned, they don't see guard rails, and they apply agile thinking and approaches as well as technology to all problems and challenges they encounter, which will basically wreak havoc for OEMs who still operate with traditional manufacturing and supply chain approaches."
From my vantage point, Moretti is correct, manufacturers that wait on their 3DP plans will lose customers and market share because the future of 3DP has arrived. Need proof? Sending a digital file across the globe so products can be manufactured closer to end customers is the holy grail of distributed manufacturing—and it's being enabled today by 3D printing. The ability to manufacture products efficiently and economically in local markets not only reduces transportation costs and speeds delivery times, it may bring jobs back to local markets. Jabil and other trail blazers continue to make strides in proving the value of 3D printing for distributed manufacturing. Today, Jabil is making 50 final production parts at volume for HP printers—with HP's Multi Jet Fusion 3D printing technology today.
The benefits depicted in the Print the Printer video are powerful and persuasive: Breakeven points up to 40,000 units; the completion of 19 part-iterations in the time it would take to do one; a part that once cost $20 to make can be produced with 3DP for less than $6—and it's 70% lighter since it can be printed as one part, which eliminates sub-parts, screws and assembly.
These proof points alone should entice product makers to step up their game. But perhaps the best part of this real-life "Print the Printer" story is the ability to showcase distributed manufacturing. Jabil's R&D team in Silicon Valley works seamlessly with production groups locally and at a Singapore smart factory, where final parts are produced and integrated into the manufacturing line. Parts made for NPI and final production are conceived and shared through the exchange of digital files, empowering manufacturing processes to be streamlined and rebalanced as needed.
Highly qualified production teams then apply additive and traditional manufacturing in a distributed environment that delivers the best of both worlds to meet customer demands and the dynamic nature of manufacturing. To accomplish all that truly takes vision, precision and 3D printing!
Related
Popular in the Community