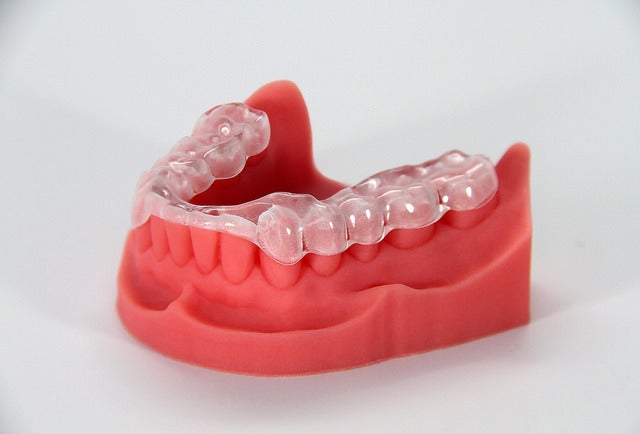 The next time you go to the dentist or orthodontist in need of a night guard, braces or a crown, chances are increasingly good that you won't have to get a gooey impression and wait a few weeks for your appliance or restoration.
Instead, the dentist may wave a digital wand in your mouth to scan your teeth and email a digital file to a printer in the office or a dental lab, where your parts will be 3D printed in FDA-approved materials directly to fit your mouth. A custom night guard these days could take all of 45 minutes.
That's because the hottest market right now in the 3D printing industry is actually the dental market, where more than $4 billion in prosthetic, orthodontic and other dental parts are made each year.
Dental laboratories, orthodontists and dentists are rapidly adopting 3D technologies in pursuit of the "digital dentistry" of the future.
Not only is this technology making dentistry more affordable, customized and convenient for patients, but it's also bringing back manufacturing work from overseas.
U.S. dental laboratories have been losing business for years to labs in Asia, where dental parts have been made by hand more cheaply. In fact, the number of U.S. dental labs has declined by more than half from its peak, to about 6,500 today.
But now, 3D printing technology is flipping the business model for dental labs and bringing that business back to America. Albensi Laboratories outside Pittsburgh and Bay View Dental Laboratory in Chesapeake, Va., are just a few examples.
This month in Chicago, dental lab owners and technicians will meet at LMT Lab Day, a large industry trade show, where they will look over the latest 3D scanners, CAD/CAM software and 3D printers to make dental parts as the industry continues a rapid transition to all things digital.
There have been lots of signs that the 3D dental industry will heat up and change how patients get their dental and orthodontic needs met even more in the future.
For now, 3D printer sales to dental professionals are racing ahead. At EnvisionTEC, for example, 3D printers sales to the dental industry grew 75% in 2016 over 2015.
In the future, 3D printing has the potential to change the way most everything is made, but for now, that promise is taking root in your local dentist's office.
Popular in the Community