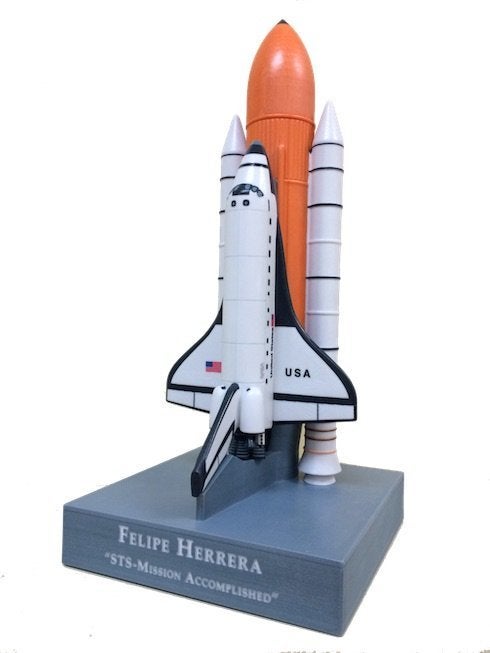 Felipe Herrera decided long ago that he wanted his body to be cremated after he died. His family found a creative way to follow through with his wishes.
Before the 95-year-old former NASA engineer took his last breath this month, his daughter Yvette Wilson gathered with her son, daughter-in-law and fiancé to surprise Herrera with an urn that was also a 22-inch replica of the space shuttle Columbia. Helping build the original shuttle was one of Herrera's proudest moments.
In her father's Temecula, California, home, Wilson asked Herrera to sit down. She covered his eyes with a shirt, then gently lifted it so he could see the gift.
"You're not going to leave today or tomorrow, but the day you go, all your cremains will go inside of here, and it will fill this base, and then they'll seal this -- just like this," she told her dad. She read the inscription on the hollow statue's base: "Felipe Herrera. STS-Mission Accomplished."
In some families, presenting such a gift might have been uncomfortable or even insulting. Herrera didn't see it that way.
"That's beautiful. … What can I say?" he told the family gathered around him, as Wilson recalled and captured in a video she uploaded to YouTube.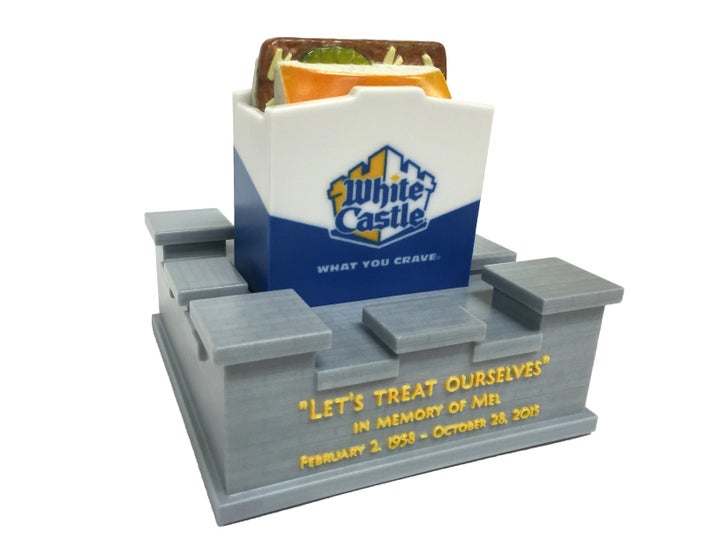 The rate of cremations in the United States has doubled in the last 15 years, with the method now being chosen over burial in more than 46 percent of deaths. Seeking a personalized experience at the time of death has become, in some ways, de rigueur for the 2.5 million Americans who die each year and the aging baby boomer population. Caskets now range from plain pine boxes to extravagant final resting places with customized stained wood, elaborate chiseling and velvet interiors, and it's not unusual to find colorful funerals with upbeat pop music, costumes and even performances.
"The rate of cremations in the United States has doubled in the last 15 years."
Yet, the options for what to do with ashes have remained slimmer, and urns tend to be more mundane and generic. Many are ceramic, wood or glass vases with two handles and personalized inscriptions or photos.
Now, a new startup is using 3D printing to take cremation urns to another level. The Minneapolis-based company Foreverence lets customers request custom-designed urns online that are delivered within 10 days.
So far, in addition to Herrera's spaceship, the company's dozens of designs have included a red Chevrolet Chevelle (for a sports car fanatic), a battleship (for a former Navy sailor) and even a White Castle hamburger with pickles (for a burger lover, of course).
"There is inherent sadness and grief associated with death," said Foreverence founder and CEO Pete Saari, who works with a team of eight others. "Our mission is to add not only personality, character and individuality to each person's memorial but possibly some relief and joy. If we can replace just a little sadness with just a little joy, then mission accomplished."
Saari came up with the idea after years of working as a 3D-printing consultant who sold technology and services to corporations and medical companies. Foreverence, he said, is also trying to elevate the cremation experience, which has historically been a less costly option than burial.
"We are here to dispel a notion put forth by the funeral service industry that people choose cremation for financial reasons. The fact they've chosen cremation does not diminish their desire for something unique, personal and meaningful," he said.
The company's clients have included families whose loved ones died years ago and whose cremains were stored in urns they didn't like, as well as people like Wilson, who helped her father plan for his death.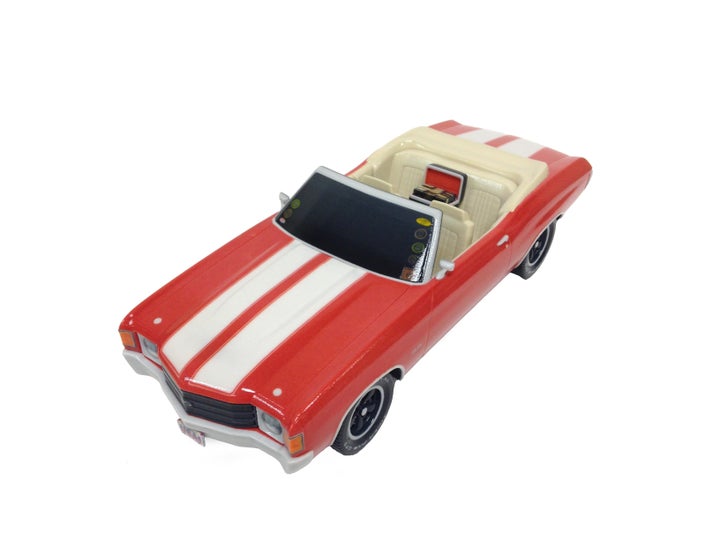 "We wanted to share in the memorial process with him," said Wilson, who is taking the urn this week to her Carlsbad, California, home, which has custom niche for it. "We all sat in silence, blown away by such an amazing completed work of art that so perfectly encapsulates our dad and grandfather. When we saw it, it wasn't what we thought of urns. It wasn't, 'holy cow, there is a dead person.' It wasn't sad, it instead felt amazing."
Foreverence has also gotten a celebrity boost.
Before it officially launched a little over a year ago, the company's first client was the family of Bob Casale from the famed '80s band Devo. After Casale's death in 2014, Foreverence designed two urns in the shape of the iconic red energy domes band members wore during performances. One was given to Casale's family members in Akron, Ohio, and the other to his relatives in Los Angeles. Each took about nine hours to print.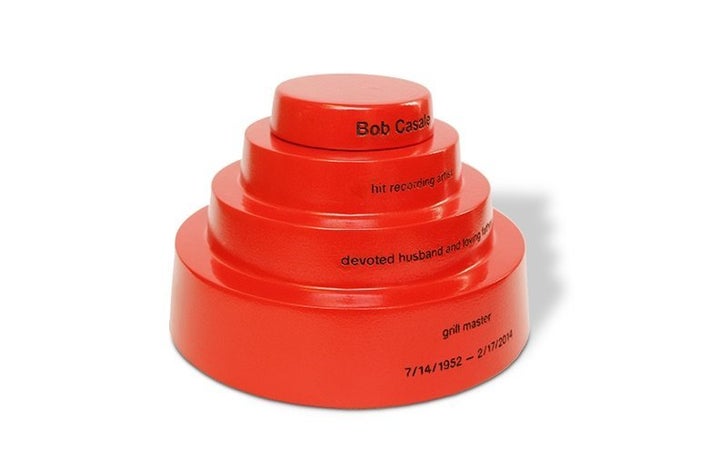 The urns aren't cheap. While each varies in price and the funeral directors the company typically works with are able to charge their own rates, the one Wilson chose for her father cost around $2,500. The average urn in the U.S. had a price tag of $280 last year, according to the National Funeral Directors Association.
"We are definitely a high-priced product compared to [regular] urns. And if you're just looking for a 'container,' we're not a good choice," Saari said.
Saari, 49, hasn't given much though to an urn for himself. He's an avid traveler -- his passion for visiting different countries kicked off when he immigrated to the U.S. from Hungary at age 7 -- and wants to commission an artist to design an abstract urn that reflects his various interests, which also include music and theater.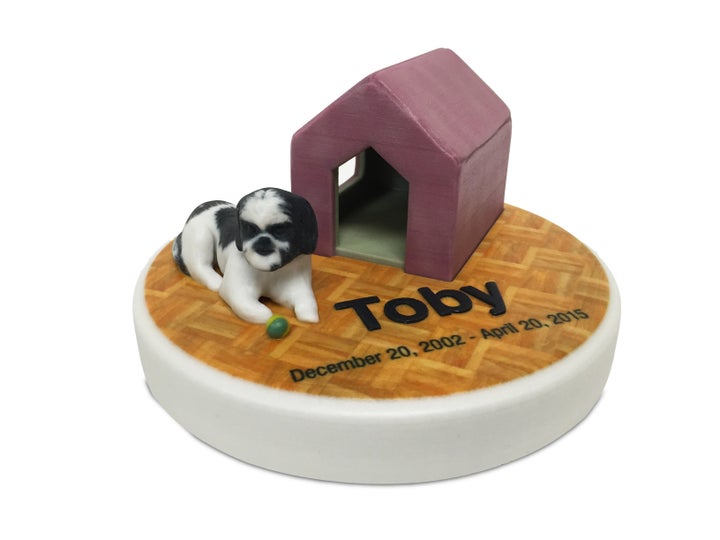 Saari said he holds no judgment against those who choose to go a more traditional route with a casket burial, or even choose a more traditional urn design.
"We don't aspire to influence end-of-life decisions around cremation versus burial or one religion versus another," he said. "We are simply here to help people tell the stories of their lives."
Watch the video of Felipe Herrera's daughter Yvette Wilson and his family presenting him with his Space Shuttle Columbia urn last spring.
Related
Popular in the Community