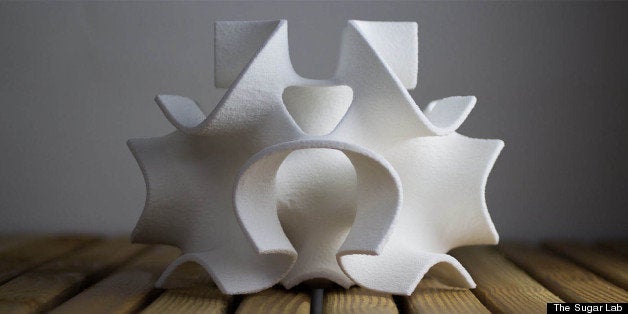 The day of the sugar cube's elegance has come to an end. Its sharp edges and perfect portioning have got nothing on the 3-D sugar sculptures that are being printed -- yes, printed -- by the super impressive folks at The Sugar Lab. We never thought we'd live to see the day where printers had the capability to produce 3-D objects, especially edible ones, but that day has come. And it's pretty cool.
The 3-D sugar is made by a husband and wife team who have a background in architecture. They're hoping to change the face of cake decorating. We think, with their amazing designs, they already have. All sugar projects are custom ordered designs that are printed in their California-based studio, with sugar. (Excuse us, we're still wrapping our heads around this very amazing concept.)
It's official guys, we are living in the age of The Jetsons -- minus the flying cars, for now. Check out the gallery with some of their completed printed projects below.
3-D Sugar