3LW first came into our lives in 2000 when they released the dangerously catchy hit, "No More (Baby I'ma Do Right)." We fell hard and fast for their shiny halter tops, trendy bandanas and amazingly saucy choreography.
">
To refresh your memory, the "three little women" of the group were Kiely Williams, Adrienne Bailon and Naturi Naughton. Williams was not one to mess with. An occasional rapper, she churned out sassy lines like "You promised me a Kate Spade, but that was last year boy in the eighth grade!" (If that doesn't make you feel old ...)
Bailon was the lead singer, whom we later saw on "Keeping Up With The Kardashians" because she dated Rob Kardashian, but we felt too awkward to say to our college roommates, "Isn't that ... ?"
Also, Disney fans will probably be upset if it's left unsaid that Williams and Bailon went on to be members of "The Cheetah Girls" (cheetah sistasss).
Naughton was definitely the most low-key of the group, but the alto singer had undeniably sultry pipes.
Williams and Bailon had to recruit another member. After all, you can't be 3LW with just 2LW. Jessica Benson joined the group in 2003, but their third album (ironically titled "The Point of No Return") was never released.
So where are they now? You may have seen Naturi Naughton portray Lil Kim in the biographical film "Notorious" about late rapper Notorious B.I.G. She also starred in MGM's 2009 remake of "Fame" and has appeared in television shows such as "The Playboy Club."

Bailon is still in the spotlight, as she starred in her own reality show, "Empire Girls: Julissa and Adrienne," on the Style network in 2012 and went on to host her own talk show, 'The Real," in 2013.
Williams has taken a back seat to stardom, with the exception of this NSFW music video for "Spectacular," released in 2010. The ode to blacking out and having a one-night stand is a far cry from the Cheetah Girls.
Regardless of where they've been or where they're going, we will always remember 3LW for their music and for that one time they guest-starred on "Taina" (but that's another "Throwback Thursday" post for another day.)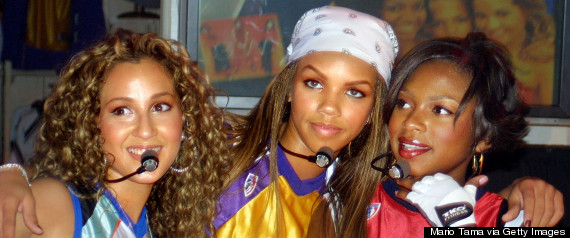 REAL LIFE. REAL NEWS. REAL VOICES.
Help us tell more of the stories that matter from voices that too often remain unheard.
BEFORE YOU GO
PHOTO GALLERY
Celebrities You Forgot Started As Child Stars