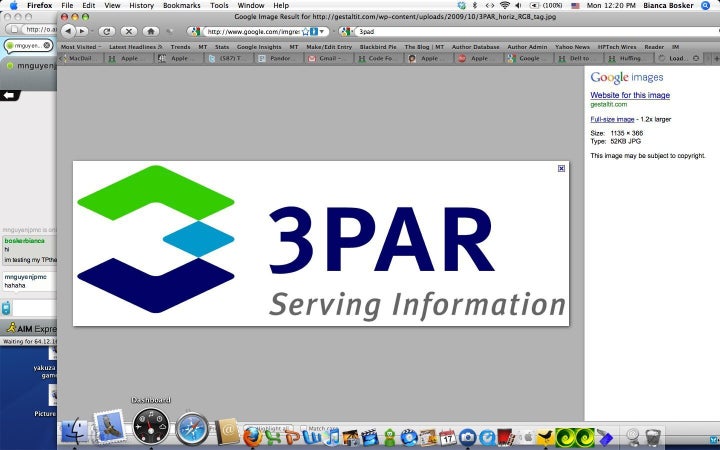 NEW YORK -- Dell Inc. said Monday it's buying 3Par Inc., a maker of enterprise data storage equipment, for about $1.13 billion cash.
Dell is offering $18 per share for 3Par, an 87 percent premium over Friday's closing price for the company of $9.65. In premarket trading, 3Par shares surged to $17.88.
Dell, based in Round Rock, Texas, expects the deal to add to its adjusted profit in fiscal 2012. It says it also plans to invest in added engineering and sales resources at 3Par.
The deal has been approved by the boards of both companies and is expected to close this year.
3Par, of Fremont, Calif., make systems designed to make efficient use of available storage space through so-called "thin provisioning," which makes it easier to add capacity when needed. 3Par had an early lead in this technology, but competitors like NetApp Inc., EMC Corp., IBM Corp. and Hewlett-Packard Co. are starting to catch up. Dell already resells EMC's products under the Dell/EMC brand.
Dell said 3Par's technology is particularly suited to "cloud computing," where many customers may share the capacity of a data center.
Bloomberg observes of the deal, "Dell is seeking to compete with companies such as Hewlett- Packard Co. and International Business Machines Corp. in the market for more complex computer systems and technology services that yield higher profits than desktop and laptop PCs. Dell said in June that it plans to double the size of its data-center and technology-services business in part through acquisitions."
In its latest fiscal quarter, which ended Mar. 31, the company posted a loss of $3.2 million, or 5 cents per share on $194.3 million in revenue.
3Par was founded in 1999 and went public in Nov. 2007 at $14 per share.
Popular in the Community