Press freedom in Egypt is a minefield, but there is freedom to commit suicide through the media, said Ibrahim Essa, an outspoken Egyptian journalist who faces 23 lawsuits for daring to skewer his country's regime.
"There is no press freedom in the true sense," he told this week's "Third Arab Free Press Forum" in Beirut where he received the Gebran Tueni Award. "There are 32 articles (in Egyptian laws) that can send you straight to jail."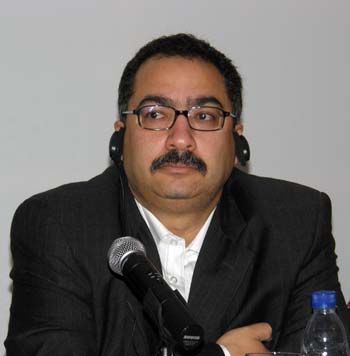 Ibrahim Essa (Abu-Fadil)
Essa is the very biting editor-in-chief of the daily paper Al Dustour, which Egyptian authorities closed from 1998 to 2005 for having published a letter from the militant Gamaa Islamiya group.
In September 2008 he was sentenced to two months in prison for writing that Egyptian President Hosni Mubarak was in poor health and that his son Gamal Mubarak was not fit to succeed him.
The government charged him with "propagating false news and rumors causing a general security disturbance and harming the public interest," but Mubarak pardoned him a month later, although he is appealing another conviction and is free on bail.
In typical Egyptian humor, Essa mocked Egyptian customs authorities that sue private weekly newspapers on claims they distribute 50 million copies without paying their taxes in a country of nearly 80 million, more than half of whom are illiterate, saying that "even China doesn't distribute that many copies."
He disputed his panel's title, "Oblique Government Tactics That Impede a Free Arab Press," arguing the region's regimes did not need such circuitous methods to clamp down on errant media. They just squash them, thereby bringing people's ambitions to their knees.
"What we face is an economic and distribution siege," he noted regarding controls on editorial content, advertising streams, distribution channels, and the very licensing of newspapers that rest in government hands.
Essa also blamed Western governments for supporting corrupt Arab regimes that he said were repressive and stupid in handling non-state media.
Co-panelist Abdel Karim Al-Khaiwani, a former editor of Yemen's Al Shoura newspaper, said Arab states claiming to implement reforms and adopt democratic practices did so only to collect foreign aid.
"These are only slogans," he charged. "Repressive measures have been updated to include besmirching a country's reputation, criminal acts, and supporting terrorism, as charges against independent media that cover wrongdoing in their countries."
A panel on "The Changing Face of Arab Blogging" during the forum organized by the World Association of Newspapers (WAN) and leading Lebanese daily An-Nahar tackled news and opinion blogs' expanding influence, and governments' attempts to block them.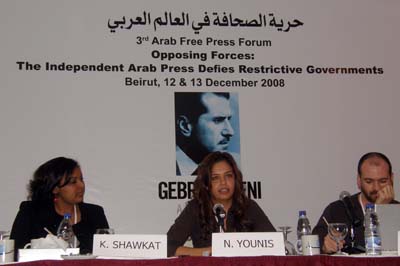 Arab bloggers seek freedom from censorship (Abu-Fadil)
Mohammad Al Rumaihi, founder of Kuwait's Awan newspaper that boasts the first converged newsroom in the Arab world, complained in an editors' panel that Arab journalists were excellent politicians but failures as journalists.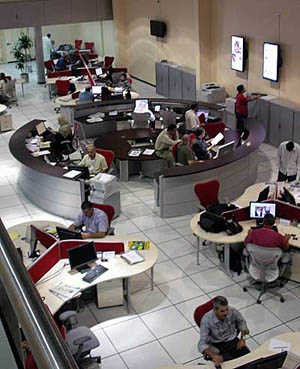 Kuwait's Awan newsroom (Knowledge View)
"My complaints aren't against Kuwaiti authorities' repression but Kuwaiti society's, and the lack of training of journalists," he said, adding that training was essential in changing reporters' knowledge and culture.
Lebanon's publisher of The Daily Star, Jamil Mroue, said there were 44 million Internet users, which dwarfs anything in print, adding that publishers had a chance to become the new (Christopher) Columbus by adapting and innovating.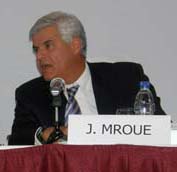 Jamil Mroue (Abu-Fadil)
The two-day forum held in conjunction with WAN's bi-annual Board meeting grouped 160 publishers, journalists and press freedom advocates from the Middle East and North Africa where media liberties have come under increased scrutiny in recent years.
In his opening remarks, WAN CEO Timothy Balding slammed the governments of Tunisia, Saudi Arabia and Syria for barring journalists and activists from those countries from attending the event.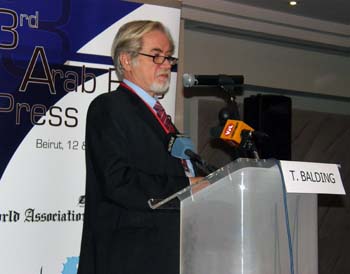 WAN CEO Timothy Balding (Abu-Fadil)
Tunisian journalist Litfi Hidouri, human rights lawyer and writer Mohamed Abbou, and Saudi Arabian blogger Fouad Al-Farhan were stopped from boarding flights to Beirut, and Mazen Darwish, director of the Syrian Center for Media and Freedom of Expression, was prevented from leaving his country, Balding said.
"WAN has vigorously protested these incidents," he said. "In the meantime, we can at least thank the authorities of Tunisia, Saudi Arabia and Syria for this eloquent and timely demonstration of their contempt for, and fear of, free expression, as we open this Forum."

WAN logo
Despite the dark signs, Balding said consolation to the rising tide of repression in the region was evidence of a growing fear in the minds of tyrants that journalists' messages of hope and freedom were gaining momentum and impact.
A special forum panel examined increased censorship and harassment facing journalists and civil society activists in Tunisia. Other speakers at the conference came from Morocco, Mauritania and Jordan.
On Day 2, experts dealt with the business of publishing in the Arab world, with executives from Egypt, Algeria, the United Arab Emirates and Bahrain recognizing the importance of turning to digital and online platforms to disseminate news.
Statistics point to three million Internet users in Egypt -- an area more profitable than print -- said Hisham Kassem, former publisher and editor of Al Masry-Al Youm. He noted that 60% of Egyptians were under-25 and not newspaper readers.
Aspen Aman of Dubai-based BPA Worldwide, promoted the use of audited circulation figures to prompt advertisers to buy space in newspapers despite the economic downturn media are facing.
The closing ceremony paid special tribute to An-Nahar publisher Gebran Tueni -- a former WAN board member -- on the third anniversary of his assassination by a car bomb on the outskirts of Beirut. He was 48.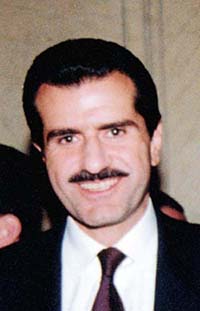 Gebran Tueni (Rodriguez)
WAN and An-Nahar established an award to honor Arab newspaper executives embodying Tueni's press freedom, courage and leadership qualities.
WAN President Gavin O'Reilly, CEO Balding, and Tueni's daughter Nayla, who has since stepped into her father's shoes, presented Ibrahim Essa with this year's award.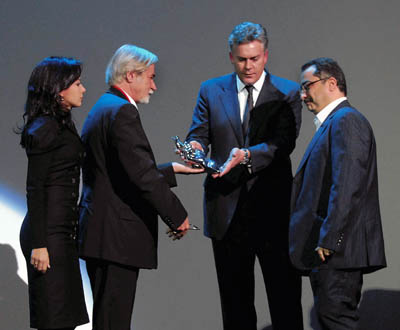 Nayla Tueni, Balding, Gavin O'Reilly, honoree Essa (An-Nahar)
In his final remarks, O'Reilly said the event demonstrated the enormous courage and conviction of independent journalists and publications in the region.
"They continue to push the limits of what is allowed, despite the difficulties and dangers," he said.
Popular in the Community