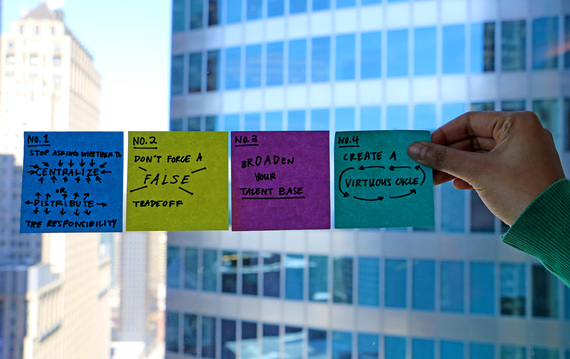 One of the topics that seems to be coming up in virtually every senior executive conversation I have these days is "how should we be organizing our innovation _____________ [function, people, activities, etc.]" Executives are on the hunt for best practices, but there is no one size that fits all. What is right for one organization is not going to be right for another with different orthodoxies, living histories and cultural nuances. But whenever the topic comes up, I have found myself suggesting four consistent themes.
No. 1: Stop asking whether to centralize or distribute the responsibility.
You should do both. A better question is "what should the role of the centralized innovation function (a.k.a. 'the center') be for different levels of innovation ambition?" Innovation in the core business should be owned and driven by the business lines and the center should simply serve as the tracking function of where innovation is happening, how successful it is, and what broader organizational norms around innovation seem to be exposing themselves.
Adjacent innovation should be enabled but not owned by the center - through training on best practices, access to novel research methods, provision of insights around market trends, etc. Transformational or disruptive innovation (likely either completely outside of any of today's businesses or intended to drive value that accrues to multiple businesses) should be owned and driven by the center using specialized resources.
No. 2: Don't force a false tradeoff between creating a Center of Excellence and creating a profit center.
If you can strike the balance described in No. 1 above, the center should serve both as keeper of the know-how around innovation and as driver of profitable growth. That doesn't mean they should own a P&L. But you should use at least a tracking P&L to quantify (and communicate) the dollars that the team is bringing to the company ... lest they come to be seen and resented as overhead.
No. 3: Broaden your talent base.
Stop asking talented business people to suddenly start thinking and acting like designers. A simple rule is that innovation close to today's business is by definition aimed at the "known and knowable" market domain. This is where traditional research methods like focus groups and conjoint analyses can be relied upon to yield pretty reliable information about what today's customers want, what they are willing to pay, how likely they are to defect to a competitor, etc.
It is also where business logic and analytical thinking, coming from the managers of today's business, will be most useful. But once you're operating in opportunity spaces which have never been defined, let alone explored by your company - the "unknown and unknowable" - then those same business assets become liabilities. This is the space where designers (whether you hire them full time or access them on a contractual basis) and the synthetic approach to opportunity development is needed.
No. 4: Create a virtuous cycle between your organic and inorganic growth activities.
Any company that is serious about getting organized around innovation will recognize that M&A and corporate venture capital decisions must be connected to organic innovation activities. Smart deployment of external capital will open up opportunities for innovation ... and an understanding of innovation priorities and activity will open the aperture on possible transactions.
There are lots of variations of these principles in use in different ways, but no single best practice. Start adhering to them and you're likely to find your growth system becoming more productive with a lot less.
Copyright © 2015 Deloitte Development LLC. All rights reserved.
Member of Deloitte Touche Tohmatsu Limited.
Popular in the Community