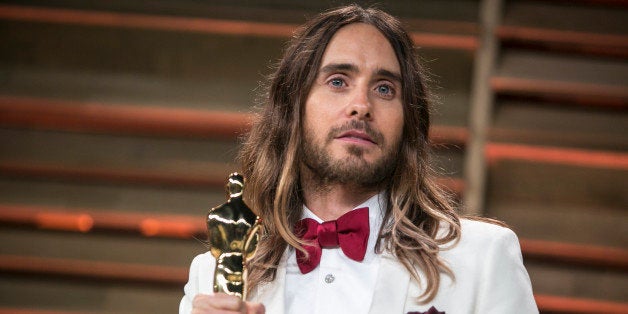 Not to be creepy (or... too creepy) but we've been in love with you since roughly 1994.
When Angela was stalking Jordan, we thought about our own Jordans -- those mysterious, slightly older guys in our high school we never felt like we could have, but always wanted to have. You may have been the show's bad boy, but we loved you. We loved that you had a deceptive amount of depth and every soften, would say profound things mid-makeout sesh. Also, we really really loved your deep blue eyes.
But that was when we were at the Never Been Kissed age, and you were our fantasy. We never dreamed that 20 years later, after so many of our own bad boys, you would stay that fantasy. But you are. Even more so. And it may, potentially, be because (scientifically speaking) -- you are so damn hot.
As journalism requires evidence when proclaiming one's thesis to be valid, I shall aspire to do such here.
Your Brows
Oh, Jared. You may have won an Oscar for Dallas Buyers Club (kudos on that, by the way!), but I'd give him an Oscar as well for AMAZING BROWS CLUB. It's been said that eyes are the windows to the soul, and brows are the perfect curtains.
Oh, Jared. We love your curtains! As brow guru Joey Healy pointed out, Jared's bold, handsome arches frame his eyes and make his baby blues pop. Much like Jordan Catalano of a few (ok, 20) years ago, Jared maintains the juxtaposition of rough and refined -- of party boy gone all man. Roarrrrr.
Your Hair
Not only do you have the best ombre hair ever (actually, we don't even love ombre and we love yours!) but we love that you understand the importance of second day hair. According to a NYMag.com interview, Jared's Oscar style involved a two-day process, including sleeping in Vidal Sassoon Creme Wave Pomade and Wave Primer Spray, followed the next day by a touch of Vidal Sassoon Colorfinity Dry Shampoo and flat-ironing fewer than 10 pieces to enhance his hair's natural wave. Women understand that it's sometimes better to style with dirty hair, but men seldom do. This can be wonderful for our relationship -- you won't scold me for spending so much time blowing out my hair, or being worried about getting it wet. We'll have something beautiful and special in common. At times, I may hate you just a wee bit for having better hair than I do -- but don't fret. Ultimately, it'll bring us closer together.
Your Beard
Now, honestly, once upon a time I wasn't that into beards. I mean, really -- who wants to get a scratched up chin every time they make out? For you, I'm making an exception, and here is why: Your full-on beard at the Golden Globes intimidated me a bit. I'd still totally date you, but I may be a little bit afraid of you. (In a hot way, obviously.) But now, that more coiffed sexy stubble? It says rugged, charming, approachable. Like a dude who can be incredibly raunchy, but also loves his mom enough to clean up when he visits. Also, you!
Your Eyes
I mean, that's what got us from the start. Those incredibly deep blue penetrating eyes. They are so beautiful, it almost hurts to look at you. Sorry, couldn't resist! But really, sexiest eyes ever.
We're almost tempted to add a fifth -- THAT YOU DO NOT AGE, AND THAT MEANS YOU HAVE AMAZING DNA FOR OUR PROGENY -- but that'd be, again, mildly creepy. And we're not trying to go there. But should you ever want to go for drinks and discuss your hair, call me!