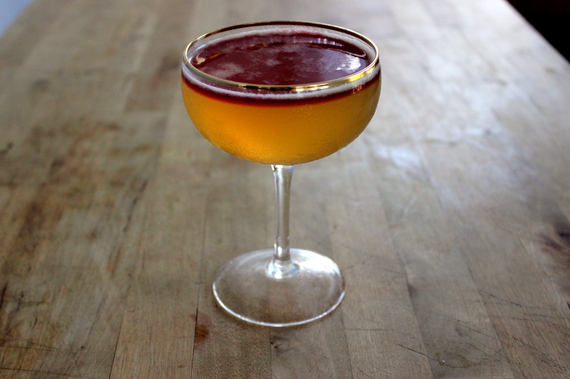 Fall is in the air, the days are getting shorter and Oktoberfest and Pumpkin spice lattes out in full force. But on those days when summer's warmth lingers, acting like it's the middle of November just don't feel quite right to me. That's why I've always been an advocate of a gradual transition to seasonal eating and drinking. After all, the seasons don't change overnight. You don't go from eating watermelon one day to butternut squash soup the next. With that in mind, here are four ideas for cocktails that have flavors that evoke autumn, but are still refreshing enough to sip on a warm Indian summer day.

Sidecar
Broadly speaking, I think of summer cocktails as light, citrusy and refreshing and fall cocktails dark, stiff and spirit-forward. The beauty of the Sidecar is that it walks the line between the two extremes. The Cognac and Cointreau, a full proof orange liqueur, give it the punch and complexity of a Manhattan, while the lemon juice adds the levity of a margarita. It's one of my all-time favorite classic cocktails, but it's often made incorrectly. My version is definitely on the dry side, which is why the glass is partially rimmed with sugar, so feel free to add a little more simple syrup to your taste.

2 oz Cognac (I like Pierre Ferrand 1840)
1 oz Cointreau
¾ oz lemon juice
¼ oz simple syrup (or to taste, optional)
Orange twist for garnish
Combine all ingredients in a shaker, fill with ice.
Shake and strain into coupe or martini glass half rimmed with sugar.
Garnish with an orange twist.
Stone Fence
This colonial classic has taken on many forms over its history. At first it was essentially a boilermaker with dark rum and hard cider. But over time the hard cider was removed in favor of fresh, non-alcoholic cider. Not being one to take sides, I don't really see a problem with either. It just gives you more options. Use just about any aged spirit of your choice. If you choose to use hard cider, you may want to add a little simple syrup depending on how dry it is. Of course, if you happen to have some cinnamon syrup on hand, then you'll really be in business.
2 oz dark rum, bourbon or apple brandy (I like Laird's Bonded)
Hard apple cider or fresh apple cider
Lime wedge for garnish
In a highball or Collins glass, add the spirit and fill with ice.
Add the syrup if you're using it.
Top with cider.
Squeeze in the lime wedge.
2 cups 1:1 simple syrup
1/3 cup crushed cinnamon sticks or cinnamon bark
Combine in a small pot and bring to a boil.
Remove from heat and let sit for 4 hours up to overnight.
Strain out the solids and refrigerate.
New York Sour
For a time in the 19th century, it was fashionable to float a little red wine on top of a cocktail, which was called a "snap" (why it ever went out of fashion is beyond me). The New York Sour, which as you can see is pretty much a whiskey sour with a snap, is one of our go-to classic cocktails at the Clover Club, autumn or otherwise. Not only does the wine add an intriguing wrinkle of complexity to the standard classic, but it looks absolutely gorgeous - pitcured above. A tip - when executing the float, let the cocktail sit for about 5-10 seconds after you strain it. That will give things chance to settle. Then use a barspoon to slowly float the wine. It will rest neatly on top.
2 oz rye whiskey
¾ oz lemon juice
¾ oz simple syrup
¼ oz orange juice (optional)
Red wine
Combine all ingredients in a shaker and fill with ice.
Shake and strain into coupe or martini glass.
Float about ½ oz red wine over the top using a barspoon.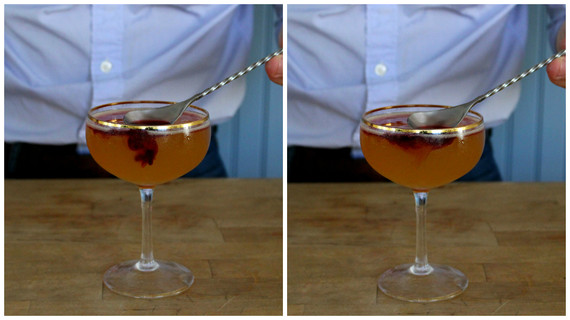 Back Forty
Another whiskey sour variation, this one was created by my dear friend and mentor Michael Cecconi for the bar/restaurant Back Forty. It's about as simple, and tasty, as it gets. Use bourbon or Tennessee whiskey as the base and swap out the simple syrup for maple syrup (use grade B if you can find it). If you have them, add a couple dashes of orange bitters. But if not, don't let it stop you from making this drink. It's dynamite.
2 oz bourbon
​¾ oz lemon juice
¾ oz maple syrup
2 dashes orange bitters
Combine all ingredients in a shaker, fill with ice.
Shake and strain into a rocks glass over fresh ice.
Before you know it, it'll be time for applejack Old Fashioneds and hot mulled wine. But until then, these should tide you over. Cheers... and happy mixing!