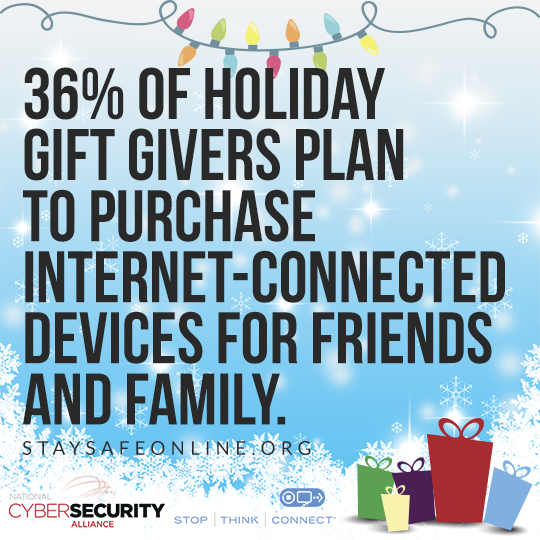 With Cyber Monday just a few days away, it's peak season for holiday shopping. Beyond the obvious influx of can't miss deals and unbelievable promotions, gift-hunting shoppers can expect to encounter a few new tricks, threats and trends.
Looking ahead, here are four of our #CyberAware predictions for the 2016 online shopping season.
Expect More Online Shoppers: Online gift buying is giving brick-and-mortar outlets a run for their money. This year – more than ever before – the combination of a long list of presents to purchase, limited time and a healthy fear of massive, deal-hunting crowds has made online shopping a major convenience for aspiring gift givers. Cyber Monday 2016 – November 28 – is predicted to be the biggest and busiest ever, generating $3.36 billion in sales with 9.4 percent growth compared to 2015. In fact, the National Retail Federation estimates an increase of between 7 and 10 percent in online shopping – with as much as $117 billion being spent online. Whatever site you're on, conduct research and read reviews to see if other customers have had a positive or negative experience. If it seems too good to be true, it probably is.
Online Scammers Will Find New Ways to Phish: Don't let hackers steal the season's spirit. The holidays tend to be very busy for all of us, and the bad guys know it. Using email – and now social media posts and even text messages – they will be out there trying to get unsuspecting shoppers to click on links, open documents or share personal information that they shouldn't. So have your radar on high alert for things that seem suspicious – like urgent notices about failed transactions or shipping issues – and be alert to offers that have pricing way below what every other merchant is offering.
The Internet of Things (IoT) Has Arrived: High-tech, IoT-connected devices will take top billing on holiday wish lists. And, along with IoT, technology is expected to impact the gift-giving ritual like never before with virtual reality, artificial intelligence and mobile and alternative payments taking over the online purchasing landscape. In a recent survey conducted by National Cyber Security Alliance (NCSA), 36 percent of people reported planning to purchase internet-connected gadgets and gear for family and friends. One piece of good news is that many people appear to be trusting their instincts. Of those surveyed, 25 percent had abandoned a purchase in the last year, with nearly 10 percent abandoning two to four transactions; many (47%) because too much information was being asked in relationship to the transaction. It also appears that Americans are getting a bit more savvy about using connected devices. Many respondents reported having taken security precautions, such as changing the password on a device before using it (47%), and reading information from the manufacturer about how to keep the device secure over time (34%). Some even looked into the past history of security/privacy concerns about a device (27%). Still, despite taking proactive steps to secure their devices, 62 percent of respondents admitted to being "somewhat confident" to "not confident at all" about these devices' safety and security. And, an astounding 66 percent are either "not sure" or do not think there is enough information available on how to secure their devices.
Weak Passwords Will Cause Digital Disruptions: Whether it's a major data breach or a personal email hack, it's safe to say after the year that was in cybersecurity, weak passwords will once again cause some Grinch-worthy cyber incidents. One of the most critical things you can do in preparation for the online shopping season is to fortify your online accounts by enabling the strongest authentication tools available, such as biometrics, security keys or a unique one-time code through an app on your mobile device. Your usernames and passwords are not enough to protect key accounts like email, banking and social media so lock down your login – this also means on the new, high-tech devices. Keep in mind, while it's great that levels of awareness and action are rising, more than 50 percent of NCSA survey respondents said they had not changed the default passwords on devices – the main problem that caused the distributed denial of service (DDoS) attack and broke most of the internet in October.
One Last Thing: Get savvy about Wi-Fi hotspots. Free, public Wi-Fi kiosks are popping up in cities nationwide and practically every coffee shop and store offers fast, open access to their networks. It's tempting but if you are out and about, avoid making financial transactions or logging in to key accounts like email and banking.
Calling all HuffPost superfans!
Sign up for membership to become a founding member and help shape HuffPost's next chapter
This post was published on the now-closed HuffPost Contributor platform. Contributors control their own work and posted freely to our site. If you need to flag this entry as abusive,
send us an email
.