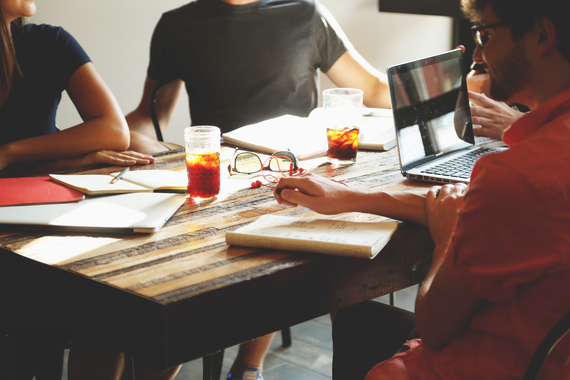 Spending doesn't signal the success of your marketing plan. 'Right' kind of spending boost your business growth.
In this competitive market, entrepreneurs must focus on the budgeting process. Even a tiny step impacts the proceedings of the next year.
Instead of adding more and more, one must cut back expenditure to stabilize the process.
The real test comes in when the businesses have to achieve the target with the finite resources. The whole process of budgeting goes through a lot of stressful moments.
Addition and subtraction take place keeping in mind the customer's expectations; bigger picture gets lost in the confusing statistics, and all the projections look impossible due to complex discussions.
Make the best of your marketing budget by following these four effective tips:
Begin with the End in Mind
It may sound absurd but start with an end goal in mind.
What is the first thing comes to mind while setting end goals in your business?
If you answer is 'annual returns,' you are not alone.
Many business owners confuse goals with outcomes. Profit and revenue are outcomes.
Your end goal must be to delight your customers. Allocate budget in your end goals, you'll see the outcome automatically.
Direct Approach: Invest in your consumers. Work on their pain points. Define your target audience. Define your target audience for understanding customer's journey. Set aside time and money for marketing your strong values.
Indirect Approach: Put aside some budget for after sales services. Customers help in word-of-mouth marketing. If you provide good customer support, they spread your product's news with their family and friends. It brings down your marketing budget indirectly.
Estimate the Cost Involved
It is the most crucial stage of the budgeting process. Calculate the costs of testing, campaigning and tracking separately.
The newbies want their voice to be heard in the market. The established businesses focus on improving the after sales process and the customer retention rate.
Most businesses try to categorize their budget in percentage terms, for example, 1-2 % or 5-10 % of the sales revenue. The costs depend on two major factors:
Your ability to spend: Before spending anything, peep in your pockets. Don't overspend beyond the recovery point.
The competition in the market: If there is more profit margin in your market, invest more money in promoting your business wisely.
Once you have estimated the cost, build the strategy to invest in your goals. Allocate the money based on the current trends.
Nielsen reported, Smartphone users grew to 80% U.S. mobile subscribers in September 2015 from 78% in January 2015.
Your business success lies in the palm of your customer's hand.
Here are some other interesting statistics:
According to Google's local search behavior findings, "50% of consumers who conducted a local search on their smartphone visited a store within a day, and 34% who searched on computer/tablet did the same." search on their smartphones visited.
Action: If you want to tap your local customers, invest in uplifting your local search engine ranking.
A number of worldwide users is expected to reach 2.5 billion, around a third of Earth's entire population, by 2018.
Action: Don't underestimate the growing power of social networking sites. Look out which social media channel works out best for your business expansion.
In January 2016, there were 167 million unique searches on Bing network and 56 million searchers not reached on Google.
Action: For paid advertising, your option is not limited to Google Ads only.
If your want to expand your existing business, direct most of the money on building an asset in a new location.
If your main goal is to improve the effectiveness of your marketing team, inject money to bring in some market automation tools.
Don't take actions at the last moment. Save your time and stay away from last minute decisions. They always ruin the whole strategy. By planning things in advance, put aside some money for emergency purposes.

Track the ROI
Never always stick to one plan. Always be flexible and adapt accordingly. If things are not getting on the desired track, don't think twice before changing your marketing framework.
Know the returns on a monthly, quarterly, or yearly basis. In case, there are significant changes for particular months due to seasonal effect, compare the track record by analyzing the same period of the last year.
Most of the businesses start their marketing campaign without understanding Return on Investment (ROI). Start with a small budget. Study the movements of your competitors. After getting the results, invest in your most successful campaign and scale it up from there. Duplicate your efforts across multiple channels with the target of creating omnipresence, you want to be found everywhere, and don't be afraid of reaching out to explore new routes for attracting your target audience," says Craig de Borba, founder, On Point Internet Marketing.
Suppose, you took the decision to spend more money on the departmental growth.
Did you see any noticeable growth after the new joinings and latest technological investments?
If the answer is no, trim down and transfer the investment for the growth of other sectors.
Access the data to know whether the revenue has increased, decreased, or stayed the same by changing the inflow of money.
Tracking helps the business owners to build the successful roadmap by learning from the past mistakes.