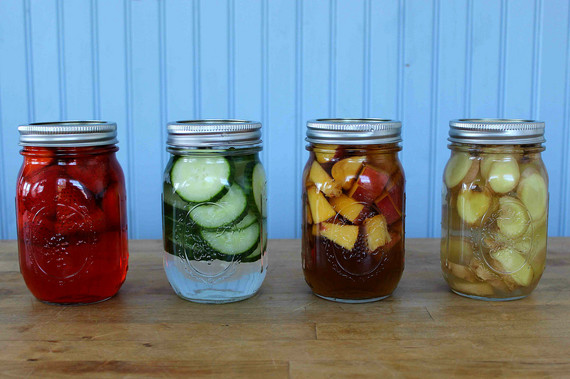 Infusing a spirit is one of the best and easiest ways to add a new flavor to a cocktail. The method couldn't be simpler, combine the ingredient with your spirit of choice and let them sit. How long depends on what you're infusing. For denser ingredients like tea and spices, often you only need a couple hours to a day. For fresh fruits and vegetables, it'll take 2-4 days.

The main drawback with infusions is you are allocating a larger quantity of booze at a time, so you want it to be something you're going to actually use. These four infusions are not only simple, they have multiple cocktail applications. Some of which only require one additional mixer, like soda, tonic, etc.
A few tips when infusing:
Higher Proof Spirits - It's alcohol that's facilitating the extracting, so a little extra proof will give your infusion a boost. 90-100 proof is ideal.
Glass or Metal Container - The alcohol can sometimes seep out chemicals in plastic which will affect the flavor of the infusion. I use mason jars. They work, and look, great.
Taste - It's always a good idea to check an infusion's progress. You might prefer something a little more or less potent, so feel free to infuse to taste. Though be aware of over infusing. If it sits for too long the flavors will become flat, muted, and in some cases bitter.
Mixing in Cocktails - Mixing with an infusion is as easy as replacing it in a cocktail that already calls for that spirit, keeping the same proportions. Cocktails with citrus juice work particularly well. There are a several examples below.
Peach-Infused Bourbon
This natural pairing of southern hailing ingredients is especially useful because peaches are difficult to use in cocktails since they're so inconsistent. A beautifully ripe peach is killer when muddled into a drink, if you can find one. But infusing peaches will always give you the flavor you need, regardless of ripeness.
1 peach, cubed
2 cups bourbon
Method
Combine bourbon and peach in a covered container, let sit for 3 days, agitating occasionally.
Strain through cheesecloth.
Refrigerate.
Cocktails with Peach Bourbon:
Peach whiskey and ginger ale, garnished with a lime wedge.
Bourbon Collins
Mint Julep
Whiskey Sour
Old Fashioned
Cucumber-Infused Gin
You might say pairing cucumber with gin is overdone these days, but it just works so darn well! The cuke's crisp freshness blends seamlessly with bright citrus and juniper of the gin. While muddling a few slices of cucumber is also an excellent way of combining them, infusing the two features its own delights. The gin is more forward in the infusion, with the cucumber more subtle. Fantastic in a gin and tonic.
1 cucumber, sliced (or half a english cucumber), about 16 slices or so.
2 cups gin
Method
Combine gin and cucumber in a covered container, let sit for 2-3 days, agitating occasionally.
Strain through cheesecloth.
Refrigerate.
Cocktails with Cucumber Gin:
Cucumber gin and tonic, garnished with a cucumber slice.
Gin Gimlet
Tom Collins (try muddling in some mint too)
Strawberry-Infused Aperol
Aperol is the lighter, less bitter cousin to Campari - the iconic Italian liqueur. It's one of my favorite warm weather cocktail ingredients, particularly when infused with strawberries, because what's better in the summer than strawberries? This recipe was dreamt up by my partner Julie Reiner and it is now a mainstay ingredient at the Clover Club. Julie also features several great recipes with Aperol in her amazing new cocktail book, Craft Cocktail Party.
1 cup strawberries, hulled and cut into quarters
2 cups Aperol
Method
Combine Aperol and strawberries in a covered container, let sit for 4 days in refrigerator, agitating occasionally.
Strain through cheesecloth.
Refrigerate, will keep for 2 weeks.
Cocktails with Strawberry Aperol:
Strawberry Aperol and prosecco, garnished with a grapefruit peel (optional).
Aperol Spritz - basically an Aperol and Processo with a splash of soda water.
Negroni - In place of traditional sweet vermouth, try using white vermouth, which is clear but still sweet. That's makes it Julie's Summer Negroni.
Aperol & Soda - Add a splash of grapefruit and a squeeze of lemon and we call that a Blonde Redhead.

Ginger & Lime-Infused Rum
Adding a little spice to your cocktail is common practice in the Caribbean, where rum is king. In fact, some of the earliest punch recipes call for nothing more than rum, sugar, lime juice, water (in place of ice) and a little nutmeg grated on top. If you've ever had a dark and stormy you know ginger is another spice that plays particularly well with rum. This infusion uses white rum, which has a lighter, cleaner flavor, and lots of cocktail applications. For another layer of flavor, you can add some lime peels right at the end for a little citrus pop.
1 cup sliced ginger
Peel of 1 lime (optional)
2 cups white rum
Method
Combine rum and ginger in a covered container, let sit for 2 days, agitating occasionally.
If you're using lime peel add it 3 hours before you strain. Any longer and the infusion will become bitter.
Strain through cheesecloth.
Cocktails with Ginger Rum:
Ginger rum and coke, garnished with a lime wedge.
Daiquiri
Dark and Stormy
Mojito
This is just a jumping off point. Experiment with whatever sounds good. Pineapple, raspberries, mango, basil, thyme, lavender. Once fall starts it'll be time to break out the cinnamon, apple and clove. But I'm getting ahead of myself. Enjoy these while there's still some summer left! Cheers!