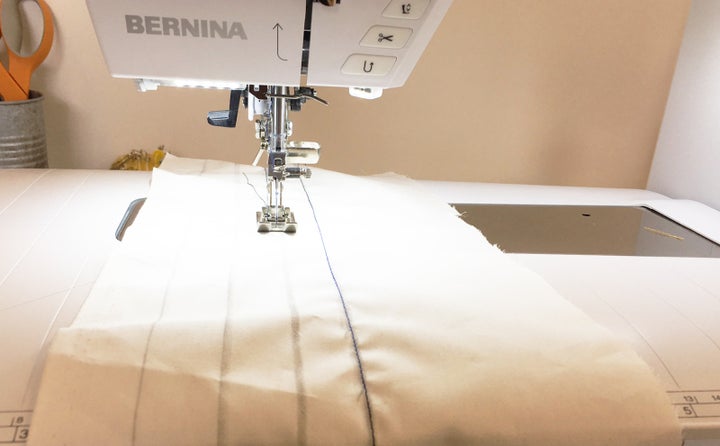 As a beginner sewer the fabric and pattern choices out there can be overwhelming, but the worst thing you can do is choose the wrong fabric. Many people choose the best sewing machine for their needs doing a lot of research but fail in selecting the fabric. As a beginner there are just certain fabrics you should avoid mostly because they're difficult for even experienced seamstresses to work with and partly because they're just too expensive to experiment with. I've seen countless students struggle with their beginner sewing projects because they ignored my advice and went for the pretty and sparkly fabric that caught their eye. Everyone wants to work with pretty silks and luscious leathers, but save these fabrics and others for when your sewing skills are more advanced and you're sure of what you're doing.
Silks, Sateens/Satins/Delicate Fabrics
Delicate fabrics are often shiny and luxurious, but they're also slippery and some of the most difficult fabrics to sew. From the fraying to the ability to easily snag, sewing delicate fabrics like silk is just a pain in the behind, and I've been sewing it for over 20 years! When you're starting out as a sewer, your focus should be on learning how to sew straight lines and finish seams, not how to keep silk from slipping as you try to sew it. Additionally, delicate fabrics are expensive! I've seen some silks go for hundreds of dollars per yard. I don't know about you, but I and most other people don't have hundreds of dollars to experiment on fabric for a project that could go totally wrong. Sewing silk and other delicate fabrics also may require special presser feet, pins, needles, and other tools that can quickly make a dent in your wallet.
Chiffon/Organza/Sheer Fabrics
Similar to delicate fabrics, sheer fabrics like chiffon and organza are slippery and tricky to sew. The transparent nature of sheer fabrics makes even the smallest flaw visible from any angle, so you really need top-notch skills to sew sheer fabrics. The most challenging thing I find about sheer fabrics is stabilizing and cutting them. You have to hold these fabrics extremely taught as you cut them, and it's not uncommon to only cut through one layer at time for some sheer fabrics. For example, if you're sewing chiffon and the project would require you to make a cut in the fold, you have to make two of the pattern pieces, tape them together, and then cut them out so you don't have to put a fold in the fabric. If that just confused you, then yea, you're not ready to sew sheer fabrics.
Denim
Denim is one of the world's most popular fabrics, perhaps the most popular in America, but don't let the popularity of denim fool you– it's challenging to sew. When you sew denim, you want to use the right thread, needles, and presser foot, because the material's thickness will do a number on your sewing machine if you fail to use the proper tools and accessories. Denim is notorious for breaking needles, even when you use the right type. The trouble with sewing denim is that the thick material can cause the presser foot to tilt, which puts undue stress on the needle, so if you don't know how to keep the presser foot level, expect to go through tons of needles and experience lots of frustration. Additionally, believe it or not, denim is well-known for fraying, so if you haven't gotten your seam finishes down perfectly, denim should never be your first fabric choice as a beginner sewer.
Stretchy Knits
The great thing about sewing stretchy knits is that the fabric doesn't have to fit as perfectly as other types of materials, and that's thanks to the stretch. I've made tons of skirts and dresses in stretchy knits simply from tracing other skirts– no patterned needed. However, stretchy knits can be a bit challenging to sew if you're a beginner. Stretchy knit fabrics pose two problems if you don't know what you're doing. Pulling or tugging the fabric can cause stretchy knits to pucker, and on the other hand, the fabric can gather and become quite lumpy in areas where you want it to lay flat, such as the shoulder area of a top or dress. I also recommend sewing stretchy knits with a twin needle to give the seams some extra stretch, so if you don't have a sewing machine that has that capability, it's best to stick to simpler fabrics that only require basic tools and accessories.
Support HuffPost
A No-B.S. Guide To Life
Related
Popular in the Community