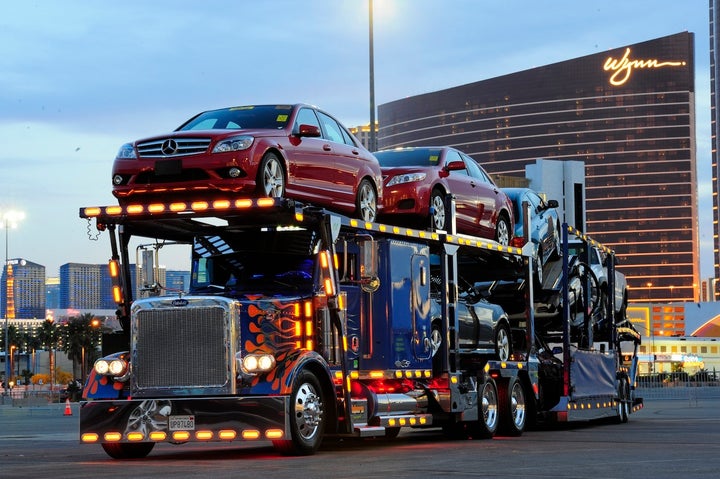 Nowadays, due to the high level of auto transport frauds and specious business practices online, selecting a trustable car shipping company can be stressful. The abrupt increase in complaints against auto transporters and auto transport services encouraged the Federal Motor Carrier Safety Administration (FMCSA) to create a defense against e-auto transport frauds.
Transporting a vehicle can be tough sometimes, but the act of selecting an auto transport company to transport your car can be tougher.
While there are several factors to consider before you select a car transport company, here are 4 factors to consider before selection;
#1 Company's Carrier Shipping Cost (CCSC):
Transporting a vehicle from a particular location to a desired location will definitely cost you some money. In order not to be taken off balance, it is very important that you fully understand the cost of transporting your vehicle.
However, here are two major factors that influence the price to ship a vehicle to its supposed destination.
Vehicle Size/weight: Apparently, some auto shipping companies have specific price quotes for vehicle sizes. Generally, for small cars (sedan) you pay less and for the big cars (SUV or truck) you pay more.
In most cases, the shipping companies go as far as informing you to clear all your personal belongings inside the car (especially those that can easily get damaged during transportation) before weighing.
Interestingly, some shipping companies offer more attractive auto transport services by allowing few extra cargo between the range 40-80 lbs in the car, which the customer might pay for; depending on the company's policy.
Transportation distance: One of the major determinants of shipping price is the distance of transportation. The longer the distance of transportation, the higher the shipping price and vice versa.
So, the location where the car will be picked up and the location where the car will be delivered, affects the cost of transportation directly.
In auto shipping, transportation distance can serve as a barrier and can also serve as the bedrock that convinces several people to hire car shipping companies to transport their cars.
Let's say for example, you already have or bought a Honda-SUV with 123,457 mileage in a country side A. Something came up that requires you to relocate to countryside B; and you desire to get your car moved with you.
Obviously, the Honda-SUV will lose its mileage value if the SUV is driven directly. But if it is auto-shipped, you won't have to worry about the mileage of the Honda-SUV.
#2 Company's Shipping Conditions:
Understanding the company's shipping conditions before selection is very crucial. There are several car shipping companies with distinctive styles of satisfying their customers need.
Having a grasp of the company's shipping conditions practically eases you the stress of selecting the one that meets your level of satisfactions. However, it is very much advisable that you get involve with a vehicle shipping industry whose auto transport services cover maximum protection for your car.
There are numerous vehicle shipping companies out there, so, be very watchful of the gimmick ones before opting for their services.
#3 Company's Carrier Options:
Before transporting a car, one of the key things to consider is the kind of shipping carrier that suits the car.
Apparently, your awareness about the advantages and drawbacks of the company's carrier options make it easier for you to select your preferred option.
· Open Carriers: Transporting a vehicle through an open carrier is rated to be standard in the vehicle transporting industry. It's the cheapest type of transport, and it's built to haul varieties of different vehicles.
According to research on carrier, it was estimated that about 95% of vehicles travel in an open carrier. Though rated to be standard, but the cars are still exposed and vulnerable to rocks and other debris while being transported.
· Multi Carriers: Multi carriers are also affordable carriers that are used by shipping companies to haul vehicles to preferred location. It is less expensive but it takes longer period to transport the car to the preferred location.
· Enclosed Carriers: Enclosed carriers are normally used to transport Classic or luxury car. The cost of transporting a car via an enclosed carrier is about 60% higher than Open carrier.
So, if you have a luxury car that you want to transport, an enclosed carrier method is best fit; because the carrier is designed with standard equipments that safely protect the luxury car from being hit by rocks or debris.
#4 Company's reliability and trustworthiness: When selecting an auto shipping company to haul your car to your preferred location, reliability and trustworthiness are the basic factors that you must consider before selection.
Not all vehicle transport companies present today are true, and the most sensitive part of it all is that both the fraudster and the Actual appear to be real. "All that glitters are not gold;" which is the main reason why you don't just select a shipping company based on advertisement, but through thorough investigation and research.
Here are simple questions that can ease your search for a reliable and trustworthy auto transport company online.
· What kind of reputation do they have?
· Does the company have a strong record of transporting cars successfully?
· Do customers speak well about the company?
· Do you really trust the auto transport agency?
· Can you really rely on them to convey your car to your current position?
Note: Do not ignore negative comments.
Conclusion: Selecting a vehicle company to move your car to your desired position can be challenging at times; but by considering the above factors, it'll be easier for you to select the right auto shipping company.
Related
Popular in the Community