Game of Thrones Season 7 came to an epic close last night. We now have a lot of time to kill, with (possibly) two years of waiting, to see the conclusion to everyone's favorite series.
While you wait, you can become even more obsessed and travel to some of Season 7 picturesque locations. Here are 4 places from Game of Thrones Season 7 that aren't completely CGI. Wear a classic Daenerys outfit, bring a long a toy dragon, and imagine you are vying for the crown.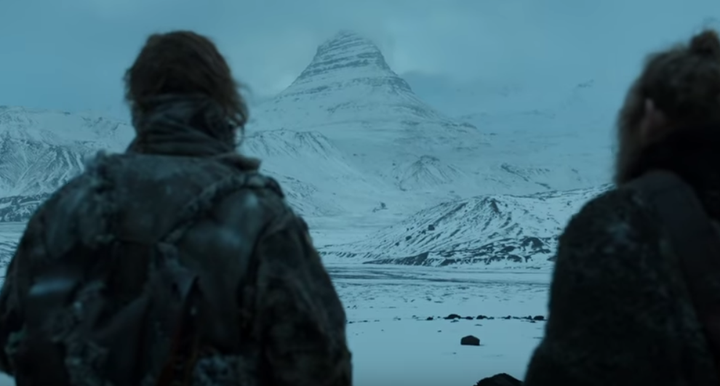 In Season 7 Episode 1, the hound looks into the flames and says he sees a mountain that looks like an arrowhead. Fast forward to Episode 6 and we get an epic #squadgoals team up with 7 of our favorite characters. They head beyond the wall, find the arrowhead mountain, fight the Night King, and of course, Daenerys saves the day.
WHERE IS IT IN REAL LIFE:
The mountain that looks like an arrowhead is actually Kirkjufell a famous mountain and waterfall combination in Iceland. I visited this gorgeous place in 2017 and it is 100% just as gorgeous in real life as it is on the show. Iceland is ridiculously beautiful (a big reason it is used so often in Game of Thrones) so regardless of your GOT obsession, you should travel here anyway.
HOW TO GET TO KIRKJUFELL IN ICELAND
Wow Air, Iceland Air, and tons of other airlines have cheap flights to Iceland. Once in Iceland, rent a camper van and drive the Ring Road to Kirkjufell. A parking lot lies right beside this famous place making it incredibly accessible.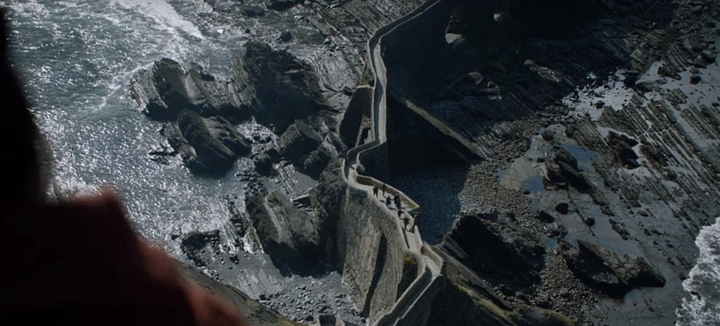 During Season 7 of Game of Thrones we see Dany take up her ancestral seat in Dragonstone. The interior of Dragonstone is filmed on a sound stage in Belfast, but the beach, cave, and footbridge are all real with (very little) CGI added in to make it a bit more epic.
WHERE IS DRAGONSTONE BEACH FILMED?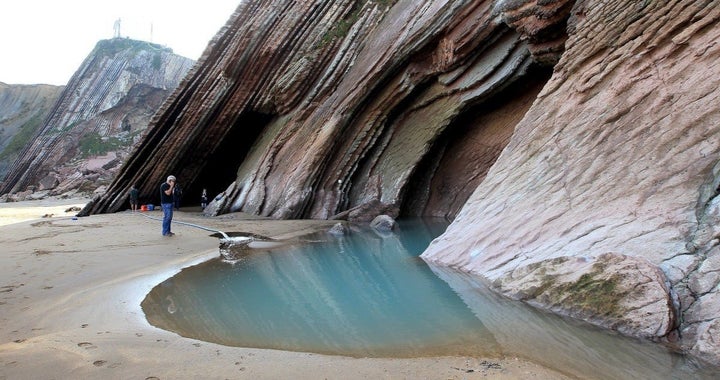 The beaches of Dragonstone are filmed on Itzurun Beach in Zumaia and Muriola Beach near Barrika. Both beaches can be found on the northern coast of Spain. They are 60 miles apart from one another, so choose one to visit.
Itzurun Beach would be the more scenic spot. It has the diagonal cliff sides that we see in many shots with Daenerys and Jon.
HOW TO GET TO ITZURUN BEACH:
WHERE IS DRAGONSTONE'S FOOTBRIDGE FILMED?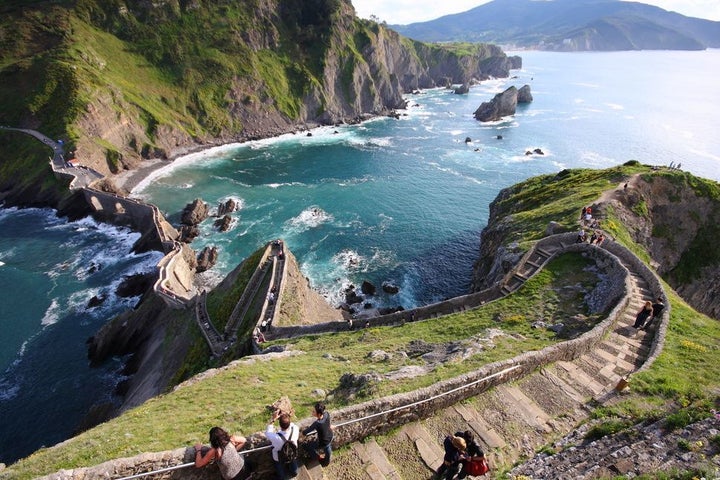 The winding bridge that leads from Dragonstone's beach to the castle in Game of Thrones is actually 100% real. The real footbridge is located in San Juan de Gaztelugatxe in Spain. The gorgeous structure is also located near San Sebastian but is closer to Bilbao. Unfortunately only a small chapel awaits you at the top - not an imposing castle.
HOW TO GET TO SAN JUAN DE GAZTELUGATXE:
Located 3km from the small town of Bermeo, 35km from Bilbao, and 125km from San Sebastian I would suggest renting a car. The footbridge is always open to visitors. The chapel is open Tuesday to Sunday from 11 am to 6 pm and Sundays from 11 am to 3 pm.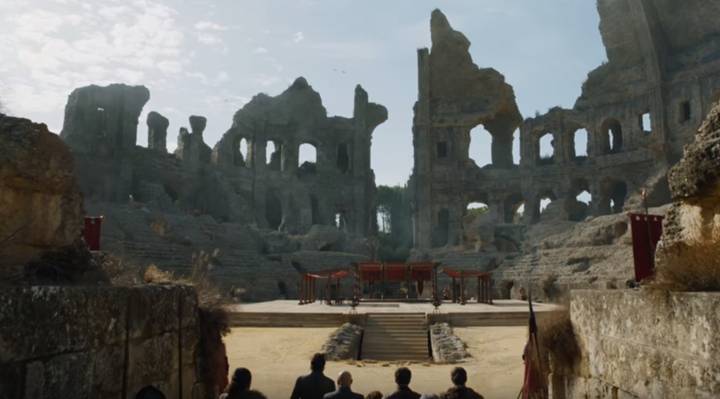 In the season finale of Game of Thrones Season 7, the ancient dragon pit in Kings Landing holds the meeting between Cersei, Daenerys, Jon, Tyrion, and basically, everyone left alive after 7 long, harrowing seasons.
WHERE IS THE DRAGON PIT FILMED?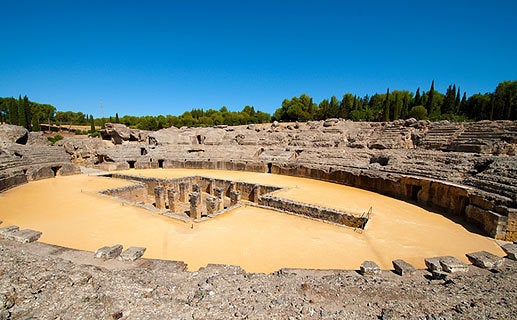 HOW TO GET TO GAME OF THRONES DRAGON PIT:
Fly into Spain and then take a low cost flight (or train) to the smaller town of Seville. The centuries old amphitheater is in the norther outskirts of the city. It is open Tuesday - Sunday from 9 am to 3:30 pm. Please note it is closed on Mondays.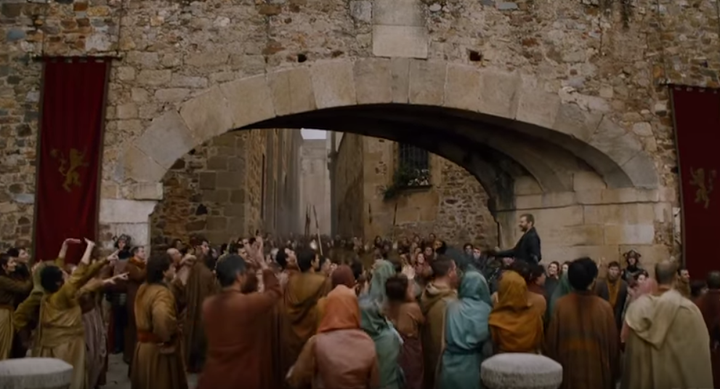 WHERE IS KINGS LANDING FILMED?
The medieval style city of Kings Landing is filmed in Dubrovnik, Croatia and has been a hot destination for Game of Throne lovers for quite some time. The red keep is unfortunately completely CGI but walking Dubrovnik's ancient walled city feels just like walking the streets of Kings Landing.
I will warn you that Dubrovnik is quite touristy. I didn't exactly love it while I was there, but if you are a game of thrones geek it is a must do. There are tons of guided tours that will take you to all the iconic filming locations. No need to book ahead.
HOW TO GET TO DUBROVNIK AND VISIT KINGS LANDING
Fly from Europe to the cheapest possible city and then take a smaller budget airline to Dubrovnik. I suggest staying in the old town to get a full experience. I stayed at St. Josephs and LOVED the experience.
Popular in the Community