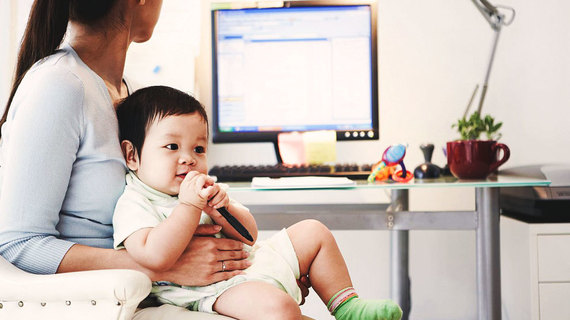 For many, going to work doesn't mean heading out their home. Millions of people work from home, and according to research, the trend will rise with every passing year. Working from home is a great way to maintain the job and earn a good income, especially for moms. Women can continue their job while taking care of their babies. This privilege enables a lady to enjoy parenting without having to sacrifice her work.
However, working from home may bring some challenges, particularly in the context of your body and health. The abundance of tempting snacks in the kitchen, the lack of physical activities and the persuasion to work in an ergonomically unstable position, such as in the bed or sofa, can all incapacitate an otherwise righteous worker's best health objective.
To combat this, the following are some tips to stay fit and control your physical appearance for moms who work from home.

1. Create an office space at home

Avoid making your bedroom or living room your office. Create a specific area that is solely dedicated to your work. The main reason most women who work from home gain weight is their unstable position. Don't use your couch, bed or sofa while working.
And wherever you have designated as your office should have the physical impression of one. For instance, your office should include a full desk and chair that is appropriate for your body posture.
2. Get up frequently and take a break once in awhile
Your kids may require you to get up frequently. While it's tempting to stay put, don't stick in your seat. Get up and play with your kids, then walk around to stretch your body at frequent intervals. This means you should take a break from your work and go outside at least once in awhile.
3. Set an agenda and follow it

Waking up late and working at unusual hours might appear comfortable with kids, but it can impact your health negatively. Make a plan for the day, according to the schedule of baby and follow it strictly.
According to Chris Richardson, fitness expert and founder at Discovery, setting an agenda and sticking to it will make the difference in how fast you achieve your physical fitness goal.
"We recommend that people who work from home adhere to a daily workout plan. While we often provide stimulating fitness goals for most people, it's important that you do not allow your working pattern to interfere with your fitness process," he said. This is more important when it comes to your diet.
"Having a solid dietary plan and following your personal trainer's fitness guide will help you stay in great shape without compromising your working model," Chris added.
4. Schedule workouts

One of the drawbacks of working from home is the challenge of failing to keep to your schedule. While it's easy to lose focus of your goal and fall into old acts, you should avoid skipping your workout session for any reason.
If you are unable to go to the gym for reasons such as having a new baby, hiring a professional fitness trainer could be an alternative. A professional trainer can come to your place and work with you to create a fitness agenda aimed at putting you in a great shape. The professional trainer should create a tailored plan that combines a diet and physical activities that won't disturb your work model.