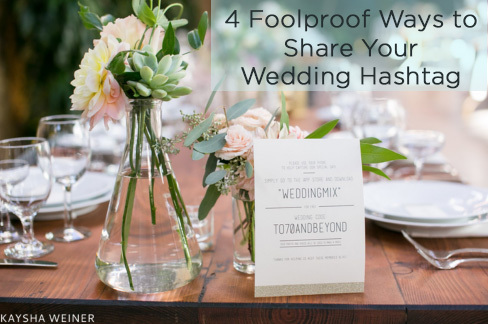 Your personal papparazzi will be filming every moment from the proposal through the last dance on your wedding day. You need a plan to make sure you get a copy of every photo and video.
I polled our brides to find out how they wound up with an astounding average of over 372 photos and videos from their guests just using the free app.
Before getting started -- make sure you have a unique hashtag. Last thing you want is someone else's wedding in your feed.
Keep reading to get links to all the free downloadable tablecard templates and see the surprising least effective way to share your hashtag.

1. In person -- hint: the best way!
Getting together for showers or a girls weekend? That's the best time to share your hashtag. A little wine, a little video... s'all good.
WeddingMix bride Taryn had a destination wedding and showed her guests as soon as they arrived and were sitting poolside. She explained, "Feel free to take videos as much or as little as you want of ANYTHING (seriously, anything) you want. As much as we'd love to capture all of the "standard" wedding moments, we'd also love you guys to video your ride down, getting ready, any well wishes, etc. Have fun with it!"
WeddingMix couple Scott and Mary Alice actually filmed this ridiculously funny video to ask their friends to film clips for their wedding video a few years ago!
Ok, maybe you won't go all out like Scott and Mary Alice by setting a green screen and filming your own promo video, but you can still put your hashtag info right on your wedding web page.
The great thing about telling your guests on your website is that they can always find it, instead of hunting for an email. Plus, it can contain direct links to install whichever app you use.
Here is a simple blurb you can copy and paste right onto your website.
Here is an email template you can send to friends, so they can start using your hashtag before your wedding.
Even if some of your guests can't make it to the wedding, they can still film video greetings for you to include in your wedding video.
Mary Ann's aunt did a Salt n' Peppa parody of Masterpiece Theater for the beginning of their wedding video. NSFW warning:
4. Tablecards/Invitation - last resort
We all love those pretty pinteresty signs and tablecards, but honestly, if you wait until the wedding reception, your guests are far less likely to install an app or enter a hashtag on their phone.
No worries though. Even if your guests don't use your chosen app at your wedding, they will likely be filming all those candid moments on their phone. They can always import to the app and upload later.
Ariane Fisher writes at the WeddingMix blog about all things DIY wedding. To get useful tips for turning those photos and videos from your wedding planning, big day and honeymoon into a fun video memento, follow her...
Popular in the Community