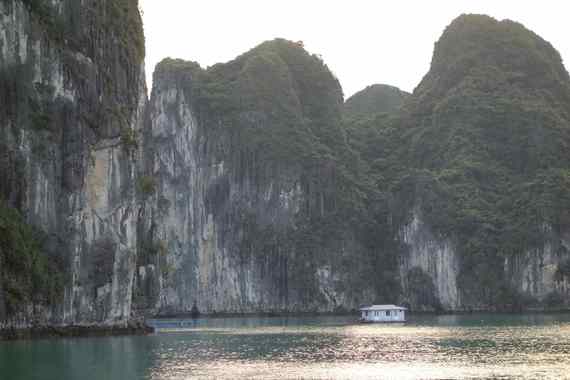 The days after Christmas can be bluesy, a let down after the build-up of all that good cheer. Looking forward to a good post-holiday trip can keep spirits bright, and spirits will be even brighter if the far away place that beckons is inexpensive. Yes, you can travel to some amazing places and refresh yourself for the new year on a post-holiday budget.
You've been to sugar-sand beaches dozens of times. You've seen a million tourist attractions. And you're sick of family-style resorts. So where should a budget-minded world traveler like yourself go?
I came up with a few unique vacation ideas steeped in fascinating history that will pique your curiosity and show you parts of the world you've never seen before without bankrupting you (that's important). Check them out!
1. Pura Luhur Batukau
Bali, Indonesia
Bali can be a very expensive place to visit, but due to hotel prices dropping about 12 percent this year on the Island of the Gods, it's more affordable than ever. Pura Luhur Batukau is a beautiful, historic hillside temple that is popular with tourists. It's one of about 10,000 such temples in Bali! Make sure to hit these bucket-list-worthy attractions:
Black sand beaches
Amazing surfing and diving
Misty jungles
Ancient temples
Dormant volcanoes
Royal palaces
For overnight accommodations in Bali, The Indigo Tree is worth checking out. It isn't far from both natural beauty and metropolitan attractions. There are coconut trees on the property, a turquoise-hued pool, and incredible views of jungles and rice terraces. Rooms start at about $70/night.
2. Halong Bay
Halong City, Vietnam
Halong Bay literally means 'The Bay where the Dragon descends into.' Lonely Planet explains the legend behind the name:
"Legend claims the islands of Halong Bay were created by a great dragon from the mountains. As it charged towards the coast, its flailing tail gouged out valleys and crevasses. When it finally plunged into the sea, the area filled with water, leaving only the pinnacles visible."
It's a beautiful area, one of the most popular in Vietnam, and some say it's similar to southern Thailand. If I had to describe Halong Bay in one word, it would be 'mystical.' Don't miss out on the bay's natural attractions:
Secret caves
Water-worn grottoes
Sandy beaches
Wild islands
Tropical beauty
Dung Khuc works in the Vietnam tourism industry and says that he sees tourists come unprepared more often than you'd imagine: "They [tourists] can get wrapped up in the excitement of the trip and forget the basics. Make sure you remember to carry insect repellent, hand sanitizer, aspirin, medicines for stomach troubles, etc. And don't forget to bring your original passport, swimsuits, sunglasses, cash or credit card, and sunscreen!"
We found highly rated hotels around Halong Bay for as little as $19/night. Many of the "Chinese junk" overnight tour boats are quite classy with great food, and very inexpensive. According to TripAdvisor, this destination is one of the best values on this list for budget-minded travelers.
3. Great Barrier Reef
Cairns, AU
Expedia says flights to Cairns, AU are unusually low right now -- up to 40 percent less than last year! Take advantage of this limited window of opportunity and hop overseas to see the GBR!
Did you know it's the only living thing on Earth that can be seen from outer space? There are 1,400+ miles of healthy, living reef to explore --you'll never get bored. Here's what you can look forward to if you visit the GBR:
Snorkeling with 1000s of tropical fish, sharks, turtles
World-class scuba and free-diving
Sailing to the reef
Glass bottom boat tours
Exploring nearby Whitsunday Islands
Quick Internet searches turned up tons of hotels and accommodations close to the Great Barrier Reef under $90 a night. If you're looking for a nontraditional traveling experience, try staying at a hostel or AirBnB rental.
A special note: The Great Barrier Reef is a delicate ecological marvel and must be treated with care. If you decide to visit, follow the old hiking rule: Take nothing but pictures, and leave nothing but tracks -- or in this case, waves.
4. Easter Island
Chile-Polynesia
Easter Island brings to mind images of the nearly 900 gigantic stone figures that 'populate' the historic island -- the moai. And yes, they're just as amazing in person as they are in pictures.
The moai figures are all complete "human" forms, some with their trunks buried under the ground. We still don't know exactly why these figures were carved, or how they were moved around the island. 'Tuff,' the porous rock used to carve them, is light, but the size of the figures still makes them very heavy (around 13 tons).
Visit Hanga Roa on the western coast of Easter Island, the island's largest village. Things to keep in mind for your trip:
Tons of underground caves to explore
A few volcanoes
Subtropical climate (sunny and dry)
Spanish is generally spoken
There are more than 900 stone figures on the island
There are no natural harbors
Check out Cabanas Rapa Nui Orito for an affordable, cozy place to stay here -- rooms start around $90/night according to TripAdvisor.
Have you taken a vacation abroad on a tight budget? What places would you add to this list? Leave your answers in the comments section!