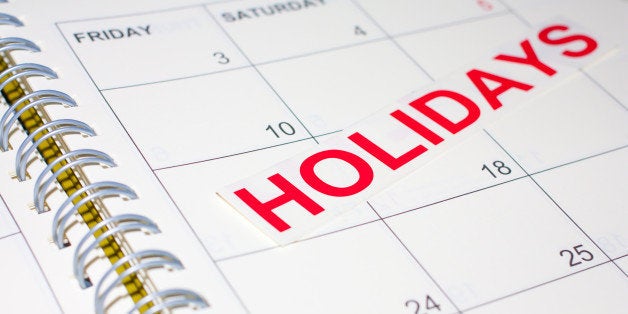 With the Holidays coming up it is super easy to get disorganized and out of your element. There are sales, family gatherings, and holiday parties with friends, at a time when it is extremely important to keep your head on straight and your eyes on the prize (the prize being successfully surviving the holidays, of course.) Thankfully, there are a ton of inexpensive tools available to help you stay organized. Below are a few of my favorite, free resources for corralling the holiday crazy.

1. Dropbox
If you aren't using Dropbox, I'm about to change your life. Dropbox allows you to save files to a cloud-based storage box so that you can access them from just about any device. Gone are the days where you email yourself a file and then have to go searching for it later. Simply upload your file to Dropbox and then access it whenever you need it, wherever you need it.
Dropbox also allows you to share files with friends. You can upload your vacation album or your holiday photos for easy, secure sharing. Dropbox is a great tool for even the most casual of organizers.
2. Google Docs
If you don't follow me on Instagram, you may not know that I have an assistant now! Bringing another set of hands on board has been essential to growing my business this year. That being the case, I now have to share and edit files with someone else - and it's not exactly easy to email things back and forth with changes. Thankfully Google Docs lets me share word documents, spreadsheets, and more. You can also choose if you want to allow others to edit your file. It's super easy to use and all you need is an email account!
Say you want to make a simple spreadsheet for your Thanksgiving dinner: who is bringing what. Just share the document and let everyone else fill in what they wanted to bring. Google docs are also perfect for keeping an updated mailing list for holiday greeting cards.
3. Clipix
Clipix is an awesome, virtual clipboard that lets you save just about anything you find on the internet. You can make a clipboard for anything you'd like, and with the holidays coming up that could be gifts for your friends and family, recipes, or DIY Ideas! Then when you find something you want to save for later, just clip it so you don't have to go searching for it later. It's like Pinterest and Evernote had a baby that's a little bit more user friendly to use than either of the two alone. This tool also distinguishes itself because you can "clip" anything: internet, docs on your hard drive, digital files people send you. It doesn't limit itself.
Clipix also has the feature to share clipboards with anyone you like, making it a great collaboration tool (and ensures your significant other knows your Christmas wishlist.)
4. Overtask
Do you ever get on the Internet to do something specific and then inexplicably end up on Facebook? I do. So when I looked into organizing tools to help me better manage my life, I wanted to find something that would keep me on the task at hand. Overtask is a chrome extension that lets you organize your tabs into specific tasks that you then complete.
Say you know you need to look up Black Friday sales: make a task for it and then open the tabs you'd need and save. You can then do whatever else and when you start that task, it'll bring up the tabs you saved without you having to manually search and open them again. You can even re-open tasks after you complete them if you know it'll be a task you have to do often.