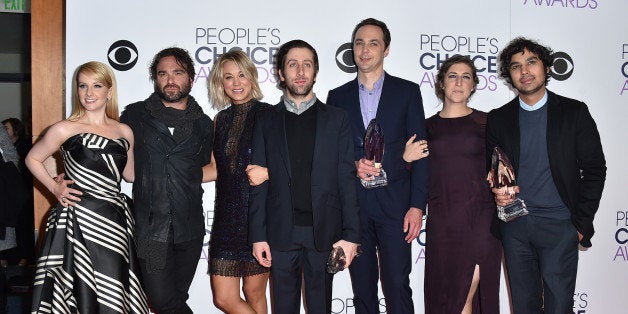 Two of the main characters from the hit TV show, The Big Bang Theory, announced that they are having a baby. Mere moments after Bernadette told Howard the news, the father-to-be was fretting about how they would raise their child since they come from different religious backgrounds. "How's this all going to work? You're Catholic, I'm Jewish. What religion do we raise it?! And if it's a boy, do we get him circumcised?"
While their different backgrounds have bubbled up in past episodes, I imagine that Wolowitz' rant in this scene hit home for many interfaith couples. Navigating two distinct backgrounds is often quite simple... until someone is holding a positive pregnancy test in hand.
When does the topic of religion usually come up in interfaith relationships? Some begin talking about religion before anything gets serious, especially when a faith background is very important to one or both people. But the reality for many couples from different religious or cultural backgrounds is that they only start to discuss these potential differences well into their relationship. For those who plan to have kids, conversations about raising children often occur only after having them. Bringing a child into the world can rouse religious questions for the first time. In fact, the least religiously connected time for many people's lives is young adulthood, so when they meet a partner, religion may be the last thing on their minds.
My advice is to talk early and often. Try introducing the topic with these conversation starters--either before having kids or when they are young:
1. Talk about your respective backgrounds. Do you both come from a religious heritage that is significant to you? Or just one?
2. Imagine your life about 5 or 10 years down the road. Do you picture particular religious rituals occurring (ie. baby namings, baptism, bris/Jewish ritual circumcision, bar or bat mitzvah, confirmation, etc)? Religious education? Explain to each other what is important to you and why -- even if you never had to articulate it before.
3. Talk about holidays and milestones. Which will you celebrate? Why are they important to you? With whom will you spend them? How will you explain your decisions to your child so they feel pride and ownership over their identity or identities?
4. How will you include family members who don't share traditions and celebrations you choose to observe?
You don't have to have it all figured out right this minute, but setting the stage will help tremendously. You will develop a shared language and a better understanding of what is important to each of you. When issues do arise, it won't be the first time you've thought about religion together. The clearer you are about the decisions you are making, the clearer you can be with your kids, in-laws and other extended family and friends. Don't shy away from talking about religion. You will actually become stronger as a couple when you learn to communicate about delicate subjects without fear of threatening the relationship between the two of you or extended family. Plus, as you learn more about one another's backgrounds, hopes and desires, you could actually be uncovering stories that allow you to know each other on an even deeper level. If you feel more comfortable having a guide with you as you broach these questions, seek out supportive religious leaders and resources from your respective traditions. For those looking for Jewish guidance, InterfaithFamily is here to help.
Are Bernadette and Howard too late to figure out the logistics of an interfaith family? Not at all. But better to not be taken by surprise.
Calling all HuffPost superfans!
Sign up for membership to become a founding member and help shape HuffPost's next chapter