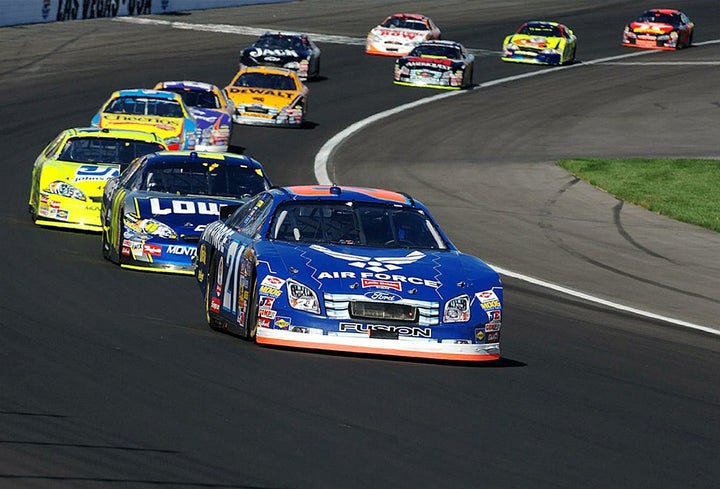 I have been following Dale Earnhardt Jr.'s recovery since he sustained a concussion in a June 12 crash at Michigan International Speedway.
Dale Jr. regularly updates his fans about his recovery via Twitter, Instagram, and Facebook Live, and I admire his open and honest account of his symptoms and recovery regimens.
In one video, he takes you on his journey to the grocery store where he admits that he is suffering from anxiety and overstimulation — which are some of the most invisible and misunderstood symptoms of concussion.
These videos are SO relatable to anyone who has suffered a concussion, and I applaud Dale Jr. for taking the initiative to simultaneously help others who are going through similar experiences, while educating the general public about the invisible "stuff" that lurks under the surface, unseen by the outsider.
Additionally, NASCAR has been outstanding in their handling of Dale Jr.'s situation. Nothing but positivity and support has come from his team and the NASCAR association. Be sure to check out Part 1 of "Dale Jr.'s Concussion Story" on NBC Sports.
Here are four racing metaphor lessons I have learned from NASCAR:
1. Take Yourself Out of the Race
Don't get back into the car again until you're cleared to race (literally and figuratively). It's not worth the risk — you're putting your own life in danger, as well as those around you.
2. Watch for the "Caution Flag"
Listen to your doctor, understand your symptoms, and be diligent about your recovery therapies. Remember that symptoms can vary from person to person, and accident to accident. No two concussions or recoveries are the same.
3. Celebrate the Victories
Celebrate the small victories in your recovery. Like Dale Jr.'s grocery store outing, it's the little things that makes us aware of the symptoms, and keeps us moving forward in our recoveries. Sure, there will be setbacks and bad days, so always cherish the good days.
4. Know Your Position
With every sport and activity that we participate in, there is always a chance for concussion. Understanding the risks and being aware of the symptoms is key in getting proper treatment—and getting it as quickly as possible.
Earnhardt has stated that he eventually wants to get back on the racetrack, but for right now his focus is on healing and getting better. He is taking his recovery seriously and putting racing on the back burner until he is cleared to race again.
What Earnhardt's public statements say to the world is that "this happened to me," and "this is how it affected me." His words help enlighten the public to the possible symptoms anyone with a concussion may have, and empower the 2.5 million Americans who will suffer a brain injury each year.
Knowledge is power, and brings about understanding, patience, and empathy in others.
Amy Zellmer is an award-winning author, speaker, and advocate of traumatic brain injury (TBI). She is a frequent contributor to the Huffington Post, and has created a private Facebook group for survivors and also produces a podcast series. She sits on the Brain Injury Association of America's Ambassador Council (BIAAAC) and is involved with the Minnesota Brain Injury Alliance. She travels the country with her Yorkie, Pixxie, to help raise awareness about this silent and invisible injury that affects over 2.5 million Americans each year.
I leave you with "Rubbin' is Racin" from Days of Thunder.