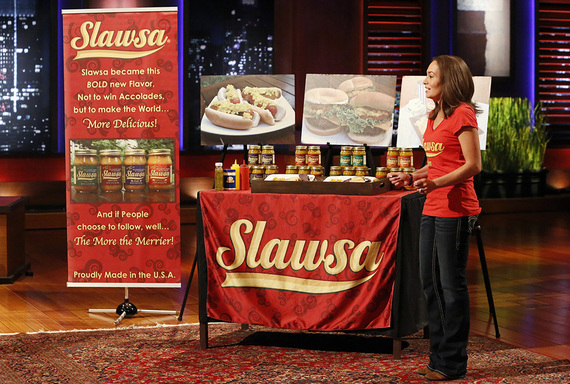 To say that I walked out of ABC's Shark Tank in a state of complete shock might qualify as the biggest understatement in the world, ranking right up there with, "Michael Buble can hold a tune," and "Tom Colicchio can cook a meal."
Slawsa is a cross between salsa and coleslaw, and it's sold in thousands of North American shops as well as online on our Shopify store.
For the life of me, I couldn't figure out how Slawsa's numbers and growth, our massive retailer confidence, and especially my efforts and commitment to the company didn't make for a highly investible opportunity. After all, you hear all the time that the Sharks "invest in the entrepreneur." Why not me? It was a question that haunted me for months after that Sunday night taping in July.
While I wasn't given any feedback from the Sharks on what I could improve upon or what to do differently, I thought I'd share bits of knowledge from my experience. I hope it's valuable for all of my fellow entrepreneurs and those considering starting their own business.
Here are four lessons I learned from being in the Shark Tank:
1. Be the Jack-of-All-Trades.
When most small businesses start out, they can't outsource many services because every penny counts and, let's face it, entrepreneurs are not made of money. It frustrates me to hear someone say they can't do something because they've never done it before. I loathe excuses.
The reason why I felt so comfortable in the Q&A with the Sharks is the fact that I knew my business inside and out. I maintain control from managing the books and selling to retailers, to initiating marketing and pitching media.
That confuses some people. I don't have a communications background, yet I can write a press release and pitch media? I don't have an accounting background, yet I can keep the books? Say it isn't so!
If you have weaknesses or fears in any area of your business, you need to get over it. I find the most effective leaders are knowledgeable of every aspect of their business.
2. Surround Yourself with the Best.

While Mr. Wonderful referred to me as a one-woman show who did it all, I actually rely on a huge network of companies, individuals and services to make my business run like a well-oiled machine. That network includes a valued co-packer; backhaul, freight and warehouse partners; merchandising teams; and even having my website managed through Shopify.
You can make your life easier if you surround yourself with the best. We live in a day of technology where outsourcing can be more effective than hiring within, especially if you're small. But believe me, you'd rather be the quarterback who understands the game and can call the plays versus having three guys who sit on the bench.
Quality surpasses quantity every time, and making wise decisions to align yourself with the best will help your business run efficiently.
3. Take the Risks - Be Prepared for the Unexpected.
It was no surprise that my "story of fiscal responsibility" was highlighted, and I'm so blessed to have received accolades from the Sharks on the lifestyle choices that allowed me to fund my business debt-free.
It was the family-related sacrifices that I chose not to communicate that brought out the emotion you saw, but I am quite proud that my husband and I do not live beyond our means. Given the "borrow and spend" society we live in, where our own government is over $17 trillion in debt, it became a very relevant topic. The support from America after the airing of my appearance has been overwhelming.
The reality is that when I became involved in the company, not one jar of Slawsa was being sold in one retail store. A great deal of work needed to be done to get Slawsa "retail ready" before approaching grocers.
After my full-time commitment saw Slawsa placed in over 4,000 stores nationally, I got the unexpected request to buy out the equity from my former partner. It was a shock to say the least, but given everything I had personally put into the company, in finances, time and effort, how could I not find a way to make that happen?
While my risks have significantly increased as a result of the buyout, it's a decision I take full responsibility for. In life, you cannot predict when an illness, tragedy or opportunity will arise. Make the decisions to be prepared for the unexpected and those hurdles will be possible to jump. I didn't say easy, I said possible. There's nothing about starting a business that is easy.
4. Never Let Someone's Inability to See Your Value Determine Your Worth.
You know the girl who got dumped after a few dates and was devastated because she came to the realization that, "he just wasn't that into me"? Even though I'll probably never know why I didn't get an offer in the Shark Tank, that girl isn't me.
The comments I received from the Sharks validated that I am indeed on the right path. While I would've loved to have a Shark at my side through my journey, what I want most is a partner who sees value in me.
I am so appreciative of the opportunity to share Slawsa on a national platform. My sleeves remain rolled up, just as they always have been, and I'll continue to pour my heart and soul into growing this great brand.
Success is not defined as making a deal on Shark Tank. Believe it or not, the voice of America reigns louder than that of any Shark, and those are the voices that matter most.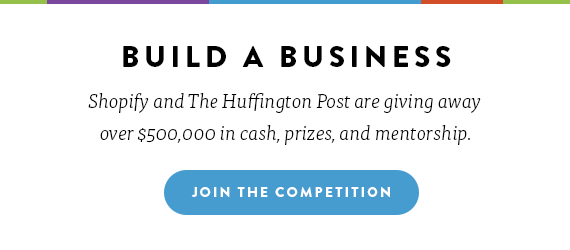 Julie Busha launched the Slawsa brand to the market in 2011 with rave reviews and retailer confidence that saw placement in over 5,100 stores in the US and Canada within two years. Prior to becoming an entrepreneur and landing a coveted spot on Season 5 of ABC's Shark Tank, Busha spent her entire professional career in the world of sport marketing. She worked with many Fortune 500 clients, starting with IMG and most recently leading the marketing efforts for an agency owned by NASCAR driver, Bobby Labonte - a company she was recruited to build in 2007. She is proud to have worked with General Mills for nearly a decade. Busha graduated with three departmental honors as Academic All-American and Order of Omega from Winthrop University and has since been published through various media outlets. She resides with her husband Brett and two weimaraners in Cramerton, North Carolina. More information about Slawsa, including a store locator, can be found at www.slawsa.com.
This year, Shopify's Build A Business Competition is bigger than ever. Shopify is giving away more than $500,000 in cash, prizes and mentorship in its fourth annual competition. Contestants create a store and try to sell the most in their category for a chance to win $50,000 and a VIP trip to NYC to meet their mentor.
Related