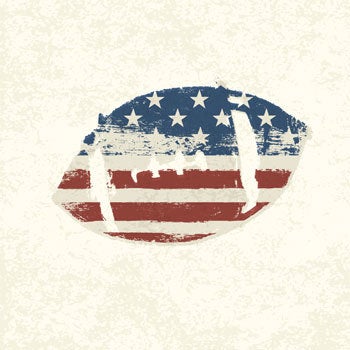 I was never much of a football fan. I preferred art galleries and concerts.
In college I used to give my boyfriend a hard time for watching his beloved Bengals until one afternoon he said to me, "you don't like football because you don't even know what you're looking at." Well, that got my attention.
Life then took me to Asia and I lost the little knowledge I had of football until recently. I am now married to a Patriot fan. And let me tell you, I've learned a whole lot about football.
And so it was that he and I were sitting on the couch this past Sunday afternoon, knowing we were about to watch a tough game. We'd seen the Falcons mow down the Green Bay Packers to clinch the NFC championship. Not only were the Falcons strong and disciplined, they had All Star players. And the Patriots?
Well, they're the Patriots.
As the Falcons kept putting points on the board during the first half, I started to wonder how on earth the Patriots were gonna win. Nevertheless, I was still hopeful by halftime until the Falcons shut the Pats down and then scored. Now it was 28-3.
But here was the thing, the Patriots never stopped. So often in football, it seems like one team flags and quits trying. Not on Sunday night.
Days later, I'm still in shock that the Patriots pulled off the greatest comeback in Super Bowl history. My husband and I have watched the replays three times and I keep scratching my head. How the hell did they do it?
As I watched the plays, I kept having this nagging feeling that there was a life lesson in here for me, which slowly began to coalesce.
1. Failure was Never an Option
It seemed that no matter how far the Patriots were down, it didn't matter.
The only way to not succumb to failure thinking is mindset – the belief that you can – no matter what.
That means ignoring the negative thoughts in your head as well as being deaf to the naysayers around you. This is mind training at its very best and is 100% an inside job.
Perseverance is defined as "steady persistence in adhering to a course of action." In other words, it's when you keep trying even in the face of imminent failure. And I have to say, 28-9 to start the 4th quarter sure seemed like imminent failure.
But perseverance is exactly what happened. There was no giving up. The players had to be exhausted. Frustrated. Injured. But this Patriot team persevered. They played intense and hard – as did the Falcons. They stayed on course to the very last second.
In Tae Kwon Do, indomitable spirit is described as, "incapable of being overcome, subdued or vanquished, unconquerable."
I can just guess that's how the Falcons felt about the Patriots. They were warriors and they just wouldn't quit. It was not only difficult but proved impossible to defeat them. This trait, like mindset, is an inside job.
Self control is about discipline.
It's staying patient despite setbacks. It's not giving in to frustration. It's keeping your head and wits about you. It's remaining focused, on task, and in the moment. Put simply, it's doing "your job."
That's exactly what we saw in that 4th quarter over and over again. Bullet accuracy in passes, incredible catches, tough blocking.
Super Bowl LI was a remarkable game played by two incredible football teams. I am truly in awe of the extraordinary athleticism and determination I saw on Sunday night.
And the big takeaway for me is to remember what I witnessed and use it in my every day life. So that when I'm faced with adversity or a tough situation, I can remind myself to lean on these four principles to help me achieve my goals, manifest my dreams and win this game called life.
Shakti Sutriasa is the Founder of Decide Differently which provides tools for personal development and self transformation including: one-on-one support, workshops, meditation and more. Shakti's unique approach combines modern psychology and spirituality to help people align to purpose, experience greater happiness, as well as release anxiety, and stress. Shakti is a Licensed Clinical Social Worker, and has an MA in Education. Learn More
#Patriots, #Superbowl2017, #perseverance, #winners, #lifecoaching, #personaldevelopment, #decidedifferently