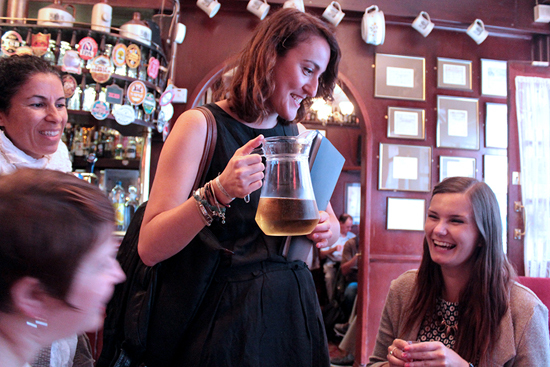 In a city as diverse and expansive as London, there's no shortage of things to do when visiting. But if you want to explore the city beyond Big Ben and Buckingham Palace, there are any number of tours that delve a bit deeper into London's unique and interesting history. Whether it's a food tour through London's East End, learning about the graffiti scene in Shoreditch or spotting little-known highlights from the world's most popular children's book, each of these tours explore London through a different lens.
This 3.5 hour walking tour in London's East End is the perfect way to get acquainted with London's most trendy borough. While it's definitely a food tour (you're certain to sample British food staples such as fish & chips, bread pudding and other East End classics), the tour also visits historic sites such as the Old Spitalfields Market, the Truman brewery grounds and several notable areas with graffiti and street art. The tour leads visitors through East London's diverse and often complicated history -- one tasty bite at a time.
Street Art London offers both walking and bike tours across East London highlighting notable graffiti artists from London and abroad. Each tour is a little different than the last, as new street art pops up and old ones get vandalized or removed. On the tour, you're just as likely to discover new works as you are from London's more famous artists (Banksy for one). The tour is run by an organization that also promotes and distributes artists' work in London and online.
Are you a fan of JK Rowling's Harry Potter series? Whether it's the books or the movies that fascinate you, this tour covers it all -- including JK Rowling's favorite street in London, which was the inspiration for Diagon Alley. The tour highlights several sites that you probably wouldn't uncover in London otherwise, interspersing London's unique history throughout to keep both adults and children entertained. Though the tour is set up for families, it's still enjoyable for adults who have any sort of passing interest in the Harry Potter series.
Unseen Tours show London's historical and cultural quirks in an unusual and (hopefully) entertaining way. Tours are led by homeless Londoners through areas such as Covent Garden. While it's not a tour of homelessness in London, the guides are likely to highlight issues of social injustice along with relevant tourist sites. The organization even won this year's Observer Ethical Awards from The Guardian in June. Unseen Tours won in the travel category for their efforts in leading the way for ethical and responsible tourism.
Related