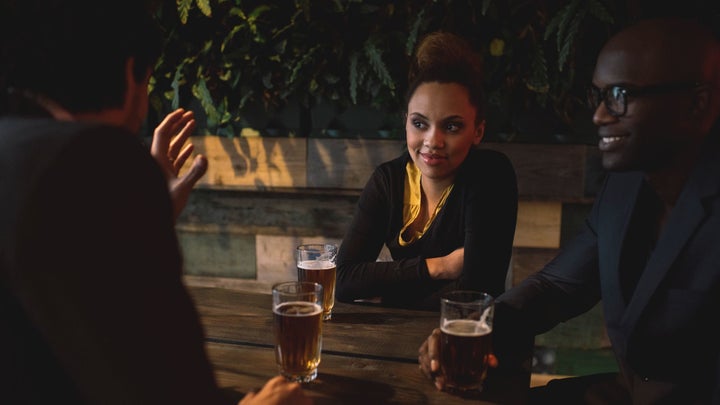 Many of our professional paths lead us to landmarks discovered by knowing someone who knows someone.
One might assume that extroverts have a natural advantage in this regard. After all, the outgoing thrive in a sea of people sipping cocktails and exchanging business cards. But can a wallflower compete from the sidelines?
I considered this question recently while observing a CEO address his company's annual meeting. He opened his remarks with the admission that he dreaded large groups like the one seated before him. His aversion to meeting new people was so strong that he once hoped his new iPhone's Find Friends app might eliminate the need for nervous introductions.
Ultimately, the app sparked an idea for a location-based service that represents the organization's most significant technical innovation in years. And it's worth noting that the CEO is beloved by countless colleagues, largely because he doesn't let his introversion stand in his way. In fact, his willingness to admit vulnerability makes others feel at ease.
Despite first appearances, I believe this CEO and other introverts can enjoy long-term success in the networking game. As we build our networks, introverts and extroverts alike can experiment with four strategies to strengthen our social context:
1. Be someone's hero
HR leader Jennifer Bouyoukos is a networking marvel. A self-described introvert, Jennifer invests in relationships by finding ways to serve and support others. When Jennifer attends a large social event, she looks for someone who appears to be there alone. "Anyone standing on the fringe looking for someone to talk to needs my help," she believes. "If I engage them in a quiet conversation, they are going to be grateful. And their gratitude puts me at ease."
Introversion expert Lisa Petrilli uses social media to let people know that they have a fan. "Reach out via LinkedIn, Twitter, and even Facebook to people who will be attending conferences…Let them know you're looking forward to meeting them."
Who doesn't appreciate having an admirer, especially one whom she hasn't yet met?
2. Optimize your environment
Author Dorie Clark prefers "minimally stimulating environments" over swanky parties and cocktail receptions. Instead, she hosts dinner parties for interest groups of new contacts, from female journalists to business authors and fellow attendees of a conference.
When we must attend a large event, we often have some control over key variables. For example, if my introverted husband must go, he goes early. The smaller, quiet crowd appears less intimidating, much more approachable than a mosh pit of tipsy loud talkers. During an event's first half hour, people's friends haven't yet arrived, so they are more willing to chat with someone they don't know.
We always have the option of building our network through one-on-one meetings. If we invest time in one coffee meeting each week for a year, we would have more than 50 new or strengthened relationships on hand.
I like to combine this strategy with a service mentality and an eye for efficiency. Each week, I block one hour in my calendar to call people who want to "pick my brain" (an expression I loathe, but have yet to escape). Working remotely and one-on-one, I can help three people in an hour, and I always learn something new too. What began as an experiment has now become my favourite way to broaden and strengthen my network.
3. Make Emily Post proud
Each year, I receive a phone call on my birthday from a former colleague. We haven't worked side-by-side for nearly 15 years, but my name remains in her calendar. Because I follow her example, birthday check-ins allow us to catch up at least twice each year.
Thoughtful courtesy that reminds us to write thank-you notes can also sustain and strengthen relationships. If the prospect of approaching a conference speaker overwhelms me, I strike up a conversation after the event via email. And when you attend a conference, why not write the organizers to applaud their success?
4. Go big or go home
If we are going to stretch outside our comfort zone, we might as well enjoy a big payoff. Corporate director Josée Morin recently taught me a bold technique for making our networking efforts highly productive:
"Big conferences with assigned tables often put the VIPs in the front third of the room. Rather than taking my place at the back, I look for spaces up front that remain open when somebody can't attend.

These clusters of well-connected leaders represent a great opportunity to engage one-on-one. If you are going to strike up a conversation with a stranger, you might as well make the effort pay off."
A noisy cocktail party mixer can be intimidating for even the most boisterous extrovert. Fortunately, we can all build our professional networks through a variety of low-risk strategies.
Regardless of your personality type, I hope you give these ideas a try and make a new friend.
This post originally appeared on tamarapaton.com. Republished by kind permission of the author.