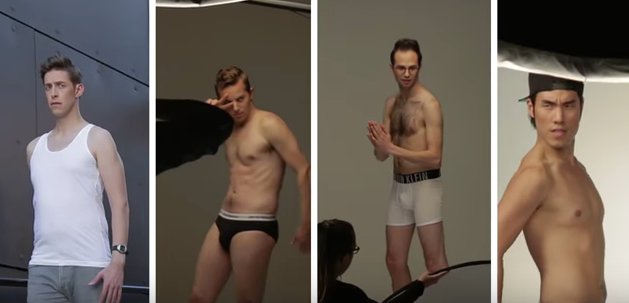 "My fear is that I'm going to like the way I look when I'm professionally photographed and then it's just a reminder that I don't look that way," Zach Kornfeld says in the beginning of a new BuzzFeed video. 
Kornfeld -- along with BuzzFeed's three other "Try Guys," Eugene Lee Yang, Ned Fulmer and Keith Habersberger -- tried getting photoshopped in a new video published on May 15. Each of the guys chose a picture featuring their ideal celebrity body type and recreated that photo with the help of a photographer, makeup artists, stylists and some helpful photo retouchers.
Before the shoot, each guy grappled with how the end product would make them feel. "I might feel dismayed that I am not that, but seeing the fantasy of that might be really exciting," Fulmer said.
"I have this fear of seeing the final photo and being crushed and knowing that I can never achieve that ideal," Kornfeld added.
Take a look at all of the guys' final photos, both before and after retouching, below. 
1. Zach Kornfeld --> Justin Bieber
"I look huggable. I feel like Bieber is supposed to look f**kable not huggable."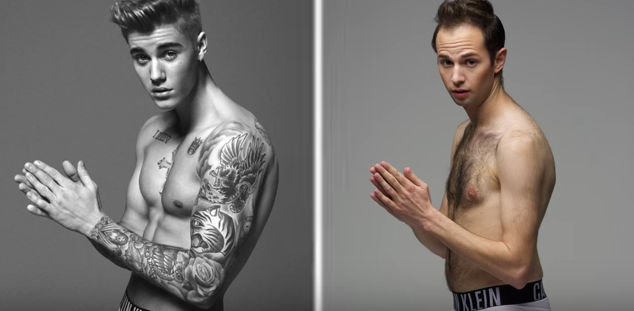 2. Eugene Lee Yang --> Channing Tatum
"I've always wanted to look like this, but seeing this now in front of me makes me realize that I'll always have a problem with my body."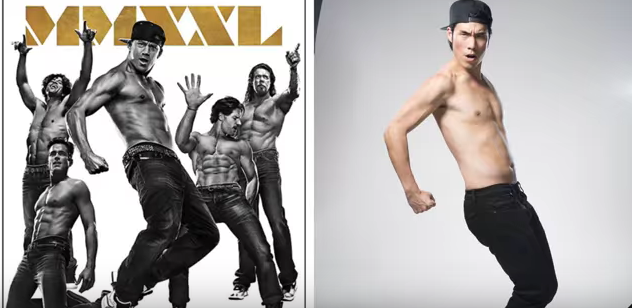 4. Ned Fulmer --> Cristiano Ronaldo 
"If I wanted to look like this and have my job and spend time with family -- there's not enough hours in the day."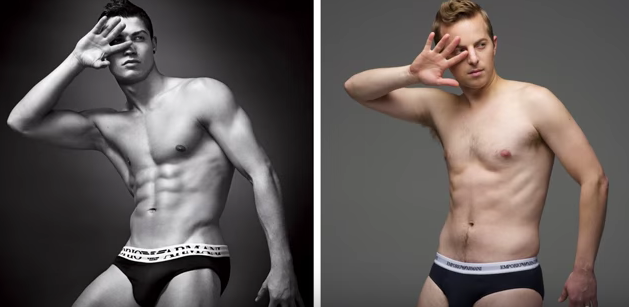 3. Keith Habersberger --> John Krasinski 
"While I lament that my body's not better, I don't know if I want to look like that. Maybe I like my soft body more than I thought."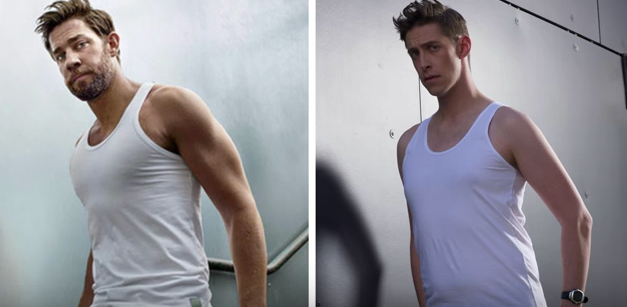 As a man, Kornfeld said, he's never had to qualify his attractiveness purely in physical terms before. 
"When I think of my attractiveness I think of my personality, but as guys you don't often think of your body as sexual," he said, adding: "Overall, I think that a lot of people don't know or won't accept that many men out there have body image issues and we should be more open about discussing them."
Watch the full video below. 
REAL LIFE. REAL NEWS. REAL VOICES.
Help us tell more of the stories that matter from voices that too often remain unheard.
BEFORE YOU GO
PHOTO GALLERY
'Ideal' Male Body Type In 19 Countries