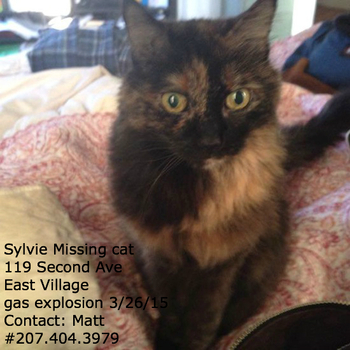 Yvonne Collery's apartment at 125 Second Avenue was being used "24/7 as a lookout" for fire fighter and rescue efforts following the tragic gas explosion that occurred last Thursday, March 26th in New York City's East Village. Her two beloved cats, Laszlo and Lulu, were missing. On Monday (March 30), Yvonne asked two fire chiefs if they would bring her ID and some clothing from the apartment as she was still not allowed to enter. Deputy Chief Brosi brought the items to her. As he approached, he said, "Let me ask you, do you have any interest in the cat that's hiding in a closet?"
Missing cat Laszlo was found! Her companion, Lulu, remained missing at that point.
ASPCA first tells residents after initial quick sweep of building: "There's absolutely no pets in the building"
The ASPCA went through the building on Saturday, two days after the explosion, looking for animals, according to Yvonne, and conducted "a quick sweep." They came back to the residents and said, "There's absolutely no pets in the building." After Laszlo was found in the building on Monday, this may have inspired them to do a more thorough search of the premises.
Picture of Kathleen Blomberg reunited with Kitty Cordelia:(ASPCA)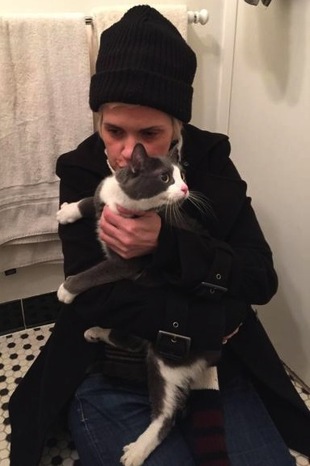 Four cats have now been found that were missing at 125 Second Avenue. There are additional animals missing from that building and other buildings nearby.
"There are two cats missing from the completely demolished buildings," Yvonne said. Those are the ones they should have been looking for first." These two cats are Leather-Face from 123 Second Avenue (below) and (above) Sylvie from 119 Second Avenue, both buildings came down at some point after the explosion.
Residents believed that McSorley's, which has a backyard court yard, might be a likely place for some of the cats to take refuge and suggested placing cat traps there but, to date, the ASPCA and New York City ACC (Animal Care & Control) have not followed through on the suggestion. It is now a week since the explosion occurred.
Yvonne's other cat, Lulu, remained missing until Wednesday (April 1) when Yvonne was able to get permission to go back inside 125 Second Avenue for ten minutes with the fire chief. Remembering that Lulu would sometimes climb up the back of the bedroom bureau and hide in the drawers, she realized this might be where her cat was hiding. Blown out windows were stacked against the bureau. Yvonne said, "I pulled out the windows. I pulled out the drawers and ... I found her!"
When she told the fire fighters, one said, "No way! No Way!" Lulu was so scared that "It took all three of us to get her into the cat carrier."
Four Cats, One Dog Still Missing, Possibly More
Last unofficial tally of missing animals was initially seven cats and one dog, four cats have been found. Two turtles and five fish were also rescued. The number of missing cats has gone up by one with the addition of cat Sylvie, pictured at top, missing from 119 Second Avenue, a building which ultimately came down.
Tortoiseshell Sylvie is the cat of Matt and Nora Brooks who were at the Metropolitan Museum of Art at the time the explosion happened. Their roommate tried to pick up the feline but she couldn't grab her; the short time she had she was only able to get her sneakers and flee.
Matt wrote, with the accompanying photograph of his cat, "I don't have a lot of hope, but this is our Sylvie who was in the apartment when disaster hit. We don't know her fate."
Here is hoping for Sylvie.
Ryce, a cat who "crawls into your heart" and is "a good hider," still missing from 125 Second Avenue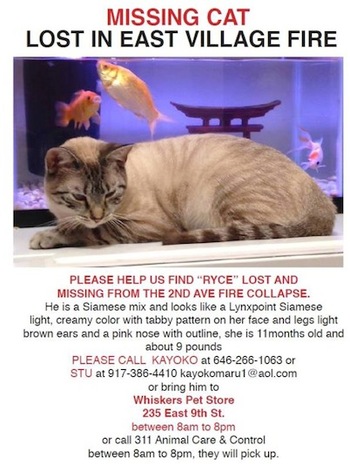 Ryce is an eleven month old feline who lives with Kayoko, her husband Stu and 12 year old daughter Hannah at 125 Second Avenue. The 11 month old cat has been with the family since she was 6 weeks old; they adopted her from outside nearby Whiskers holistic pet store from a woman who rescues cats in Queens.
At the point they were allowed back into their apartment after the explosion, they only had ten minutes inside with a police officer outside monitoring. They were able to grab their other cat, Muffin, but Ryce went into hiding.
"Ryce is so fast," Kayoko explained. "It's a small apartment but sometimes we can't find Ryce. She is a good hider and not a big cat. She can make herself very flat. Other apartment doors are open in the building so it is possible she could be in another apartment." She said the ASPCA placed cat traps around the building with food and also powder on the floor "so we may be able to see a footprint."
Stuart woke up in the middle of the night thinking of a place where Ryce might be hiding. "Next door at 123 Second Avenue there is a broken window where there is an airshaft and a tiny, tiny space," Kayoko said. "My husband thinks maybe she jumped into that area." They were going to attempt to get access to the area yesterday.
"Half of the area around 7th Street is closed off but buses go by, traffic goes by. So it is approachable but there is a big high wall [around the explosion site]," Kayoko explained.
Lack of Immediate Media Attention to Plight of Animals
The explosion, the result of a gas leak caused by dubious circumstances, occurred Thursday, March 26th at 121 Second Avenue. Two people tragically died and ultimately the buildings next door at 119 and 123 Second Avenue came down. Nearby buildings were impacted and vacated.
There was very little media attention about missing animals in the days following the explosion and no mention by public officials of their plight.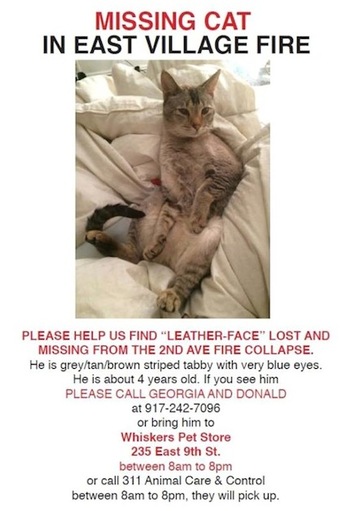 Yvonne Collery, guardian to found cats Laszlo and Lulu, confirmed the lack of media interest and said for days she and others tried to get news outlets to report on the missing and possibly hurt building animals. Yvonne said she could understand maybe not immediately covering the issue but agreed that the lack of media interest and follow-through was baffling and unfortunate. Finally, the media is now somewhat reporting on the missing - and found - animals.
Yvonne said that Laszlo and Lulu have "PTSD" (post traumatic stress disorder) and both went to the veterinarian yesterday to be checked for trauma and also get their lungs checked for smoke inhalation on the advice of a vet who wrote her a note suggesting she do so. While hiding in the off-limits apartment, both cats went days without food and water; they were rescued with assistance from the firefighters.
Also missing are 4 year old cat Leather-Face (above) from 123 Second Avenue and Sago from a building nearby. It has been said a dog, a pit-bull named Pepper, is also missing. It is possible there are other animals missing or not reported. Rescue efforts need to be expanded for the remaining animals.
"I lost everything but I have my cats," Yvonne said.
Kathleen, whose cat friends Sebastian and Kitty Cordelia were found, said, "I now believe in miracles."
Let's hope for miracles for Ryce, Sylvie, Leather-Face, Sago, and Pepper and any other animals who may be missing or injured.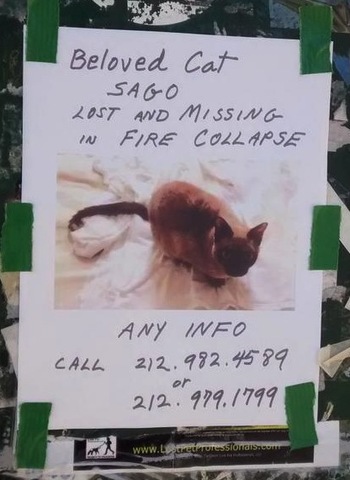 Contact information for known missing animals:
Cat Sylvie: Matt, #207.404.3979
Cat Ryce: Kayoko #646.266.1063
Cat Leather-Face: Georgia/Donald #917.242.7096
Cat Sago: #212.982.4589, #212.979.1799
Dog Pepper: Whiskers #212.979.2532 or call 311 and ask for the ACC
Cathryn Swan also has reported on the issue at the Washington Square Park Blog:
Related
Popular in the Community