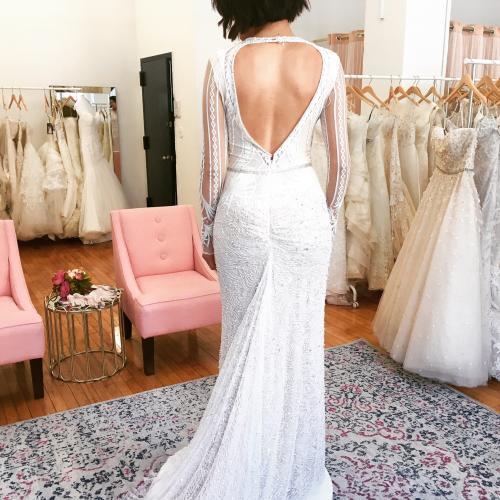 With the wedding cost average skyrocketing to $35,329, according to The Knot 2016 Real Weddings Study, it's no surprise that brides today are looking for a savvy way to cut costs without sacrificing style and quality. With fashion start-ups like Rent the Runway and Le Tote becoming mainstream, the savviness of bringing designer options closer to consumers at a fraction of the cost has trickled down to wedding fashion. Consider Vow to Be Chic and Azazie, which enable bridesmaids to rent gorgeous dresses, or The Black Tux or Menguin, both modern options for online tux rentals.
More recently, Our Story Bridal, NYC's first luxury consignment boutique for designer wedding dresses, has joined the ranks of these savvy options. Its co-founders, Jacquelyn Ward and Ana Maes, both recent newlyweds, met at Wharton Business School, where they coincidentally fell in love with their future husbands. After struggling to sell their wedding dresses online, they knew there had to be a better way for both sellers and brides wanting an intimate, luxury environment to try on like-new wedding dresses at a great discount. Our Story Bridal was born, and they've been building the dream wedding experience for savvy sellers and brides alike ever since.
Yet, despite its budget friendliness, a wedding dress with a back story often causes brides to hesitate. In an attempt to address these second thoughts and the misconceptions associated with them, I sat down with Ward and Maes.
1. Pre-owned wedding dresses aren't good quality.
The term "pre-owned" often conjures images of outward secondhand use and defects, such as stains or rips. While this is possible, the likelihood of this actually being the case is slim — especially if you're looking at a shop that specializes in pre-owned dresses, as it's unlikely a consigner will accept pre-owned gowns if damages are evident.
"We only accept dresses in impeccable condition, and even then, each dress undergoes a deep cleaning process," says Ward. "Brides to be and our team wear gloves in the showroom, and we all follow strict handling and storage policies."
"Pre-owned wedding dresses are often in better condition than sample sale dresses because sample dresses are tried on so often that they can get ruined quickly, resulting in defects such as tattered lace and distressed hemlines," continues Maes, adding that Our Story Bridal's fast turnover prevents the dresses from receiving wear and tear. For them, it's all about the quality, from the dress itself to the intimate environment and appointment only setting that creates the ultimate luxurious experience.
2. Pre-owned wedding dress are bad luck.
Weddings aren't without superstitions, among them the idea that wearing a pre-owned dress brings bad juju because the bride isn't the dress' "first," as it's already associated with another marriage. Think of it this way: a dress worn by another bride is already touched by love and sentiment — consider it pre-loved. When passing through more than one wedding, it will continue to pick up happy feels, which in a sense, makes it quite a lucky dress. And, as Maes points out, many weddings are departing from the traditional in favor of the unique and personal — even if that means "violating" a superstition. For example, white dresses have been the conventional norm, but more brides are saying "I do" in a softly-hued gown. It's also always been considered bad luck for the groom to see the bride before the ceremony, but couples have been increasingly opting for the tender choice of a "first look." Besides, scoring a great deal on a gorgeous designer wedding dress sounds like good luck to me!
3. Pre-owned wedding dresses aren't as special.
Many women have been envisioning their dream gown since a young age, fantasizing something perfectly complementary to their shape, style, and personality, and fear that a pre-owned dress will detract from the "this was meant for me feeling."
Yet, it's hard not to get this special feeling when faced with a unique selection. Our Story Bridal carefully sources and curates their collection to include everything from mainstream designers like Vera Wang to hard to find Israeli designers such as Inbal Dror to indie designers — think Lucia Cornejo from Argentina — so that brides can fall in love with special pieces hard to find elsewhere.
And if the dress still doesn't feel completely yours, Ward suggests adding custom alterations to your dress to help make it more special and personalized. "We add really creative alterations such as lace trim at the end to extend a train or long sleeve, or even a bit of bling or embellishments to make the dress more unique," she says.
4. Pre-owned wedding dresses means the styles are dated and there are limited options to choose from.
It is becoming more and more common for brides to resell their dresses soon after their wedding — which means that the dress will still be "in style" and that there will be plenty of choices. And consigners know what sells and what doesn't — like an '80s flashback with sleeves bigger than your hair. Unless you're specifically looking for a vintage confection, most of the quality dresses you'll find will be an average of 2 ½ years old or newer, as that's usually what sells best.
For example, Our Story Bridal only accepts dresses trending with their brides. "We listen to what our brides want and thoughtfully curate a wide selection of nearly 400 dresses in a variety of sizes that our brides will fall in love with," adds Ward.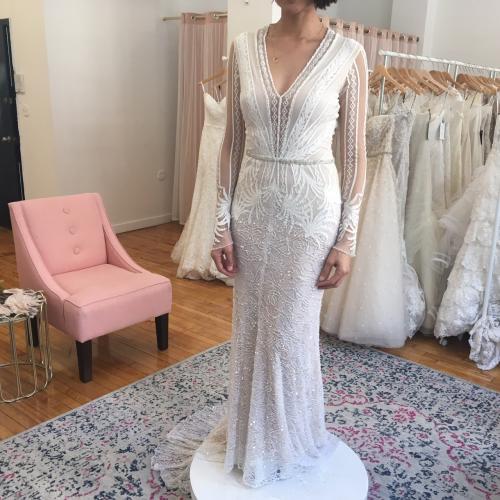 See Ward and Maes' wedding photos and more pics from Our Story Bridal's collection here.
Popular in the Community