I have clients that drink one or two protein shakes every day and many of them have no idea why. When I ask them if they know what their recommended protein needs are, I get a deer in headlights kind of look and they answer, "no." This is when I explain to them the importance of trying to meet their daily protein needs by eating real food first. If the client is not obtaining enough protein from food, then we discuss the option of adding a protein shake as a snack between meals.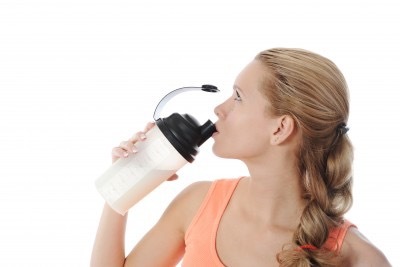 Here are a few important questions you should ask yourself before you start drinking a protein shake:
How many grams of protein does my body need each day?
Am I meeting my protein needs with my meals?
What are good sources of protein?
If I do need to supplement, when should I drink a protein shake?
Protein is a nutrient that plays an important role in maintaining, building, and repairing tissues in our body. While protein is essential for muscle growth, consuming too much will not result in an above average physique.
The Recommended Daily Allowance (RDA) for adult men and women is 0.8 grams of protein per kilogram of body weight. This is the minimum amount of protein needed to support a healthy immune system. The Academy of Nutrition and Dietetics, Dietitians of Canada, and the American College of Sports Medicine recommend 1.2 to 1.4 grams per kilogram of body weight for endurance athletes and 1.2 to 1.7 grams per kilogram of body weight for strength and speed athletes. To calculate your protein needs, divide your weight in pounds by 2.2 kilograms. Then, multiply your weight in kilograms by the appropriate number from the ranges above. For example, if you are 160 lb (73 kg) endurance athlete, you might select 1.4 grams per kilogram, which equates to 102 grams of protein per day.
Keeping a food journal of all your meals and snacks eaten throughout the day will help determine if your protein needs are being met. If you need help tallying your intake, there are numerous websites and apps that can help you calculate the amount of protein in your meals.
A study published in the Journal of Nutrition found that muscle growth was 25 percent higher when protein was evenly distributed across breakfast, lunch, and dinner. Most people can meet their daily requirement by eating 2-3 servings of protein rich foods throughout the day. Did you know 4 ounces of grilled chicken breast and 5 ounces of baked salmon each provides 36 g of protein?
Good sources of protein include: low-fat dairy products, seafood, poultry, pork, and lean beef. If you prefer plant based proteins; peanuts, beans, lentils, and soybeans pack a generous amount of protein per serving. The foods listed above also contain a generous amount of leucine. If you are a body builder you know how important leucine is for muscle growth. For those that don't know about this powerful essential amino acid, the body does not manufacture it. Therefore, you have to consume foods high in leucine to reap its muscle building benefits.
If your protein needs are not being met through food alone, then, yes, shakes are a convenient option to help you obtain your daily requirement. Studies show that the muscles are most sensitive to nutrient intake after exercise. Whether you choose to supplement with a shake or meal, it is best to do so within 40 minutes of exercising for optimal growth and repair of muscle tissue.
Always remember, the healthiest way to meet your daily protein needs is by chewing and enjoying real food.
Would you like Personal Nutrition Coaching from your mobile device? Try the 24_7 dietitian app today!