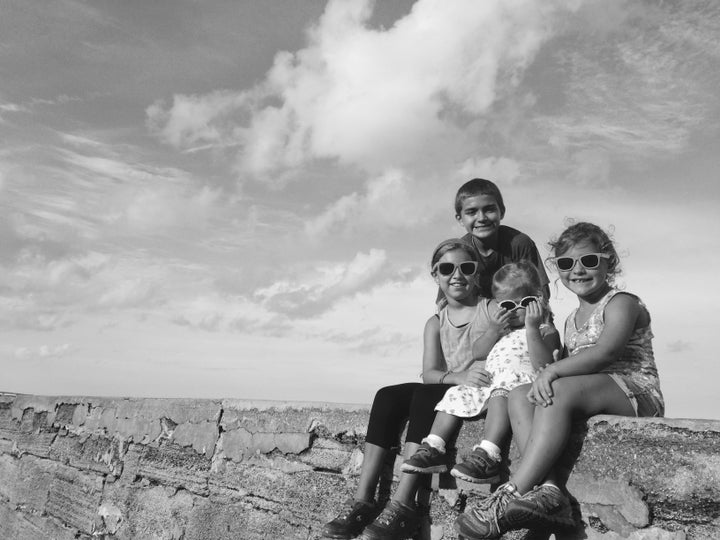 I know. The title throws you for a loop but, it's true. Four kids has been a roller coaster of emotions! And sometimes, I really hate having four kids. Yes, the good days far out weigh the bad by billions and millions, but there are a few times that it just sucks.
1. I HATE that I will miss milestones.
When you miss a really big moment, because you had to leave early. "Mom! I hit my first home run!" I was so happy I started to cry and I think I was more sad for me, because I missed it. My husband was there coaching so I got the play-by-play, but I wanted to be there. But we didn't have a sitter, the little girls were exhausted because it was a night game during the week, so I had to leave early. The joys of tag team parenting... at least one of us was there. But I wasn't there to get a picture. I didn't get it on video. I didn't see it in person. I know I'm bound to miss other milestones, because with four kids it is inevitable.
2. I HATE multiplying everything times 4 or 6.
Everything you buy is four times as much. The dentist, an art class, a lunch, an ice cream cone. Multiply that individual price times four and that's what I'm paying. Birthday parties, birthday gifts for other kids, teacher appreciation gifts, price per kid for miniature golf, Christmas, Easter basket crap, cute Valentine's Day shirts, yearbooks and even a trip to the frozen yogurt store will set you back. Start looking for ways to save on activities because the price tag alone on a vacation will send you running.
I think we can all agree as a collective group that homework stinks. But start by multiplying a rather large number of subjects times four kids (and yes, I'm counting the three-year-old too because even learning how to hold a pencil or holding a scissors requires me to help) and then take that number to the 4th power and maybe now you'll see just how many hours it will take me to finish one night of homework with four kids in a small amount of time before after school activities begin. Thankfully as the kids are getting older, they are able to do more things on their own. Yes, sometimes when the big ones finish theirs they can help the younger ones but don't hold your breath.
4. I HATE silence when they all leave.
To me, silence is deafening. When they all leave my house, and right now it is only for three days a week, at three hours a time, I have a hard time with the silence. I have grown into a mother who never dreamed of having a full house, and I hate it when they're all gone. I loathe it when they are here and want them out, but at the same time, it's deafening when they are gone. This full house is loud, busy, full of energy, laughter, crying, arguments, smiles and love. I hate that one day it will be empty. I sometimes crumble under the weight that is four kids and all the responsibility they bear, but I do it. We do it. Everyday. No matter what. One day at a time.
Not many will truly understand what my life is like with four kids, but when it's all said and done, I'm sure I'm going to hate that I didn't have more. And I hate that one day, I will look back at the crazy busy life I am leading now, and I'll never be able to go back.
Related