Every time he opens his mouth, I'm inspired to make the world more awesome.
His name is Renaut van der Riet, and I had the opportunity to interview him on the Inspiring Awesome Podcast. All of our guests are inspiring, but this interview was on another level...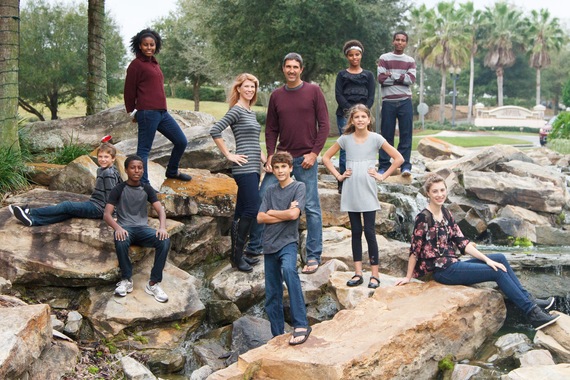 A few years after planting the church, Renaut started Axum Coffee, expanded Axum from a single coffee shop into multiple ventures, and currently gives away 100 percent of the company's profits to world-changing endeavors in Axum, Ethiopia.
But church planting and entrepreneurship weren't enough for Renaut. In 2012, he and Brooke (his wife) adopted four children from Ethiopia into their home... bringing their grand total to eight kids.
You read that right... I said EIGHT!!
Renaut makes decisions every day that are hard. He makes decisions that are risky. He makes decisions that are borderline crazy. But it's those decisions that have led him to changing the world in bigger ways than most of us will ever experience.
Do you wanna change the world? You better be ready to do things that others aren't willing to do.
After our interview with Renaut, I came up with four reasons most people will never change the world.
1. They Won't Take Daily Action
You can't change the world if you're not taking purposeful, daily actions that eventually lead to the goal you're trying to reach.
Renaut didn't just wake up one day and own a coffee enterprise that gives away 100 percent of it's profits. He woke up every day for three years and made tiny decisions that eventually led to Axum Coffee and the global impact that it's making.
What purposeful actions are you taking today?
2. They Won't Consider Their Legacy
Renaut mentions in our interview that his daughter will be a more effective world changer than he'll ever be.
Renaut and Brooke's decisions are not only impacting people on the other side of the world, they have a profound effect on their own children. Their kids get to see the joy, the pain, and the adventure that comes along with living a life that's focused on loving God, loving others, and serving the world.
To the van der Riet kids, immense sacrifice, irrational generosity, and radical faith are normal. So when these kids become adults, they'll come out of the gate understanding that they can (and will) change the world -- no matter the cost. Because their parents showed them what it looked like.
What standard are you setting for your kids?
Are you showing them what it looks like to change the world? If so, they just might do it.
During our interview, Renaut told us: "You can always do more than you think. When something seems impossible, it's just the beginning of a story."
Axum Coffee wouldn't be funneling money into world-changing initiatives had Renaut and Brooke given up after three years of struggling to find a location they could afford.
Four kids from Ethiopia would have a painfully different future had Renaut and Brooke given up after government officials in Ethiopia told them it was impossible to adopt their children.
Do you wanna change the world? Be ready to fight for it.
4. They Aren't Willing to Risk Everything
"If you start with the assumption that everything you have can be risked, that opens up the world for you." -- Renaut van der Riet
Renaut explains that so many of us don't step into risky, world-changing things because we're afraid of what we'll lose. He continued by telling us, "If you're not willing to lose something, the impossible is out of reach for you."
Everything Renaut has, he's willing to risk in an effort to change the world...
During the interview, Renaut explains how risky (and stupid) it is to adopt older boys into a home with younger girls... but he did it anyway.
Note: Before you head off and adopt an older boy into a home with a younger girl, make sure to listen to the entire interview. Renaut and Brooke strongly discourage couples from doing what they did, apart from extremely clear direction from the Holy Spirit.
It's easy to read Matthew 10:39 ("... whoever loses his life for my sake will find it."), and breeze right through it without considering the implication of its application to our lives.
"Losing your life" requires risk.
Renaut and Brooke are willing to risk everything for the sake of the Gospel... are you?
I've listened to our interview with Renaut on several occasions. Every time I listen to it, I'm inspired in a new way.
I'm inspired to persevere.
I'm inspired to risk everything for the Gospel of Jesus Christ.
To listen to our entire interview with Renaut, click one of the links below:
Know someone that inspires awesome?
Calling all HuffPost superfans!
Sign up for membership to become a founding member and help shape HuffPost's next chapter