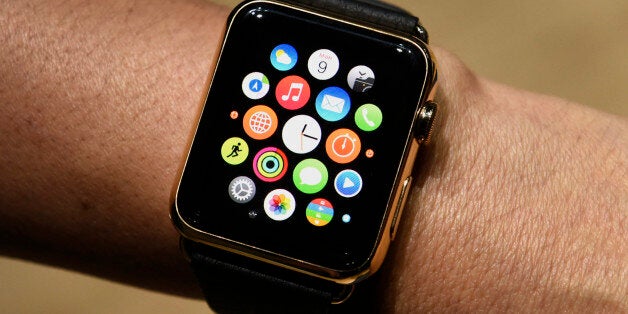 Apple's smartwatch will likely be popular but is a few generations away from being the Dick Tracy fantasy we are all waiting for.
Let's be clear. The new Apple smartwatch is an elegant and beautiful device with the ease of intuitive use that has made Apple so successful in the technology space. Analyst predictions about the device's sales vary widely but are generally upwards of 7 million units this year and 20 million in 2016.
But despite these factors, it's important to recognize that the watch is far from being the "iPhone of watches" and at least a few models away from being the game-changing device that the company would like it to be, for the following reasons:
Apple is entering a crowded arena.
Unlike the smartphone market, which the iPhone took by storm with its revolutionary design and functionality, the smartwatch arena is already filled with competitors with comparable, if not as advanced, products. These include Motorola, LG, and Pebble.
None of these are quite at the level of the Apple smartwatch but do share some basic features, like a heart rate monitor, barometer, and accelerometer. More importantly, they cost $50 to $100 less than the cheapest Apple version ($349). That's not to say that Apple couldn't take the lion's share of the market in the long run, but for now that's unlikely.
The smartwatch doesn't replace the iPhone.
One major drawback of the Apple smartwatch is that you still need to carry your iPhone with you to enjoy the watch's functionality. That makes the new watch a far cry from the Dick Tracy fantasy that this type of device conjures up. Until Apple figures out a way to effectively replace the iPhone with its smartwatch, the watch will remain more of a useful toy than a high-tech game changer. The future lies in carrying fewer devices, not more.
The value added is limited.
The primary purpose of a watch is to tell the time. But as more people use their smartphones to check the time (25 percent of mobile users checked the time on their phones in 2012; a 2013 report by Kleiner Perkins showed that smartphone users checked their phones 18 times a day for the time), the usefulness of a watch is becoming questionable.
In addition, the ability of Apple's smartwatch to provide health-related alerts and information can be replicated by devices like Fitbit, which also run on phone apps and are already popular. The remote control features which will allow you to open garage doors or control electronic devices are similarly replicable on a phone itself. So unless a watch can really do a lot more for us beyond the basics, its perceived utility will be limited.
Luxury watch users are unlikely to switch from traditional analog.
While most of Apple's devices sell widely, a whole new product usually has to go through an adoption lifecycle starting with high-end users, which are the company's core target base. But selling a digital watch to luxury watch enthusiasts who wear handcrafted engineering masterpieces from European watchmakers like Rolex, Piaget, and Jaeger LeCoultre will be tough.
The status conferred on the wearer by such timepieces are a big part of their appeal and Apple might find it difficult to get past that hurdle anytime soon. (Can you imagine James Bond wearing anything but a precision analog watch from Omega?)
Of course, this could change over time as smartwatches become so advanced that their sheer usefulness outweighs any aesthetic concerns or snob appeal. But that is still far into the future and many generations of smartwatches away. In the meantime, Apple may enjoy robust sales from its smartwatch launch, but investors should be cautious about ascribing too much value to this new product.
Sanjay Sanghoee is a business commentator. He has worked at investment banks Lazard Freres and Dresdner Kleinwort Wasserstein and at hedge fund Ramius Capital and has an MBA from Columbia Business School. Follow him on Twitter @sanghoee.
Calling all HuffPost superfans!
Sign up for membership to become a founding member and help shape HuffPost's next chapter