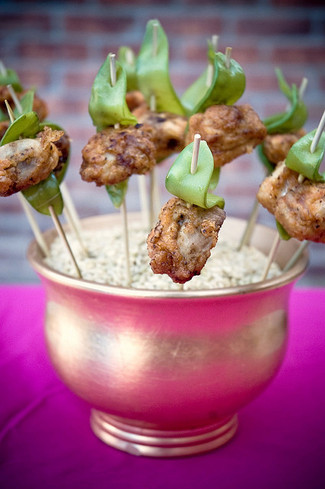 For most couples, the price of catering a wedding is daunting. With costs ranging from $50-$300 per person, many couples have started to seek alternatives to caterers such as booking a restaurant, hiring a part-time caterer, or having friends chip in to make the dinner and desserts. For those who want a traditional sit down dinner, however, I am a huge fan of in-house or exclusive catering at wedding venues, and here are some reasons why:
1. Professionalism: An experienced catering staff knows when to be out of sight, when to be polite (always), and when to bring on more food. Bringing in an outside caterer might sound appealing, but in-house and exclusive caterers know the ropes. The catering director will ensure that there are enough people on staff to serve your guests at all times. They know where to set up for prep so that they out of the way of guests, they understand the etiquette of working a large formal event, and most importantly, they know which restrooms to send your guests to.
2. Liability: In-house caterers are insured and often hold a liquor license. When thinking about hiring a part-time caterer, this is one cost that might not have crossed your mind. Catering directors or managers are often on-hand at your event, in case something goes awry. They are familiar with all of the safety techniques behind serving food and they will ensure that your event is up to snuff.
3. Choice: You may think that having an in-house caterer means limiting your cuisine choices, but you are dead wrong. Most venues have skilled chefs on staff that would be willing to tweak your menu any way that you would like. I have eaten delicious traditional Italian food and delectable authentic Mexican food, all from the same vendor. Be sure to inform your caterer of your food choices before the tasting appointment, so that you can try out your specialty items before the big day. Another important thing to consider is that in-house caterers will often provide cocktail hour and dessert options, often included in your cost per person.
4. Quality: Catering a large formal event is very different than cooking in a restaurant. It takes a lot of skill and practice to mass produce your three or four entrée options without letting some diners go hungry or letting other plates get cold. An in-house caterer knows the kitchen, with all of its quirks and limitations. You do not want to wait an hour between your salad and first course because someone in the back doesn't know how to use the oven. I have seen beautiful restaurant quality dishes at many weddings, and I would not hesitate one minute to hire an in-house caterer for my next formal event.
While in-house or exclusive caterers often seem pricey, their professionalism, experience, and quality cannot be matched by someone who is inexperienced at catering weddings. Of course, as with any of your vendors, you should always get to know your caterer and all that they can provide to you on your big day.
Popular in the Community